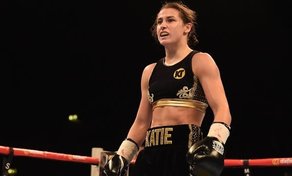 Ross Whitaker's sports documentary 'Katie'.
The IFI Documentary Festival is looking for original and exciting documentary films from Irish filmmakers to be included as part of its 2019 edition, which will this year run from September 26th to 29th.
Submissions are now open for Irish short documentaries (under 20 minutes) and Irish feature-length documentaries (over 60 minutes).
To apply, click here.
Now in its 18th year, the IFI Documentary Festival has screened acclaimed Irish documentaries including 'The Man Who Wanted To Fly', 'An Engineer Imagines', 'Kevin Roche: The Quiet Architect', 'In a House that Ceased to Be', 'Mattress Men' and 'The Liberties'. International hits such as 'Minding the Gap', 'The Silence of Others', 'A Syrian Love Story' and 'The Imposter' have all had their Irish premieres at the festival, which has attracted many guests filmmakers from around the world to present and discuss their work.
The deadline for submissions is 6 pm on Wednesday, June 19th, 2019.