IFTN caught up with TG4 Director General Alan Esslemont to discuss 'Bliain na Gaeilge', Irish language feature film and the important steps being taken to develop relationships with international co-producing broadcasters.
Hailing from Braemar in Scotland, Alan Esslemont has had a long career in the TV content sector across Ireland, Scotland and Wales. Firstly becoming one of Telegael's earliest employees, Esslemont joined the senior management of Teilifís na Gaeilge (TnaG) in 1996. A key content executive, Alan played a large part in the re-positioning & re-rebranding of the channel as TG4 in 1999. He became Director of Television (2000-2007) where he oversaw the station's large increases in audience share and awards.
In 2008, Esslemont joined MG ALBA in Scotland as Head of Content and together with Head of Service, Margaret Mary Murray; he led the launch of BBC ALBA, the only BBC-licenced TV service run in partnership. An outstanding success, the channel is watched by over 600,000 viewers, which is ten times the total Gaelic-speaking population of the country.
Esslemont was appointed TG4's new Ardstiúrthóir (Director General) in 2016 and succeeded the retiring Pól Ó Gallchóir who held the position of Head of Services since April 2000. Since then, Esslemont and TG4 have set out on a number of key initiatives to help further the station's status and reach both nationally and further afield, internationally.
IFTN journalist Nathan Griffin caught up with Alan at the launch of TG4's autumn schedule in Galway.
IFTN: Firstly, I wanted to speak to you about 'Bliain na Gaeilge' and how it has gone so far. TG4 received additional funding of €1 million from the state and I know that the overall plan is to try to get the budget back to pre-recession standards. Could you tell me a bit about the 'Bliain na Gaeilge' initiative and the aims to get back to full funding?
Alan: "If we look back on why we did 'Bliain na Gaeilge' - it's a national campaign but we were in discussions quite early with Conradh na Gaeilge but as a strategy, I think what TG4 strives to do is to try and focus on big things. Last year, rather than pushing single programs, we've been trying to push big ideas. The big idea that we tried to push last year, for instance, was the idea of women in sport. Our main campaign was called 'Proper Fan'. I think that actually had a huge impact in that the crowd that went to the ladies final last year. It wasn't an increment of other years; it was actually a huge jump forward."
"Having been encouraged by 'Proper Fan', when we heard about Conradh na Gaeilge & 'Bliain na Gaeilge', we thought this was absolutely the kind of thing that TG4 does and does so well. We looked at how we could push 'Bliain na Gaeilge' in various ways. We started off 'Bliain na Gaeilge' with our first ever new year's eve show from Paddy O'Sé's Pub and since then, we have rolled out a variety of programming that is pushing 'Bliain na Gaeilge'."
"As far as the campaign itself, we sat down and we looked for something that was simple and that said a lot and was inclusive, both for your native speaker of Irish and also for people who don't speak Irish that much, but feel that through the Irish language they've got a connection to Ireland."
IFTN: TG4, Screen Ireland and the BAI recently established Cine4. An Irish language cinema production fund that has commissioned two new projects 'Arracht' & 'Finky'. Can you tell me a little bit more about the two Irish language feature films and is it an area that TG4 plans to expand into in the future?
Alan: "Drama is key to TG4 but it is also a very expensive genre so we are slightly restricted in some ways. However, as far as TG4 is at present, it's a four-year scheme and it's also a closed scheme in that basically, we're not expecting producers to go chasing extra bridging funding. It's to allow them to build up the skills and the production of feature films.
"The way it works is that we have a call out for scenarios and at every call out, we then give development money for five scenarios. The development money is quite good. It's €25K. Then, out of those five scenarios, when they come back into us, we choose two for production. We're very happy with the quality so far, and of what has been pitched to us. For the next four years, we will be putting two Irish language feature films into production.
"I actually genuinely believe that there is a chance of a foreign language Oscar because of the quality of people working in Ireland. Also, there is an awareness of Ireland in the Oscar community, which may work well for us if we present something strong in the Irish language."
IFTN: On your return to TG4, you set up a new production model focusing on areas such as programs, Gradam Ceoil, drama and arts, which closed in April. Have those decisions been finalised and how have you find the selection process?
Alan: "The audience strategy recognizes that the more Irish you speak, and to be honest there are only 200,000 who speak Irish every day / every week, the more you would use TG4 and that, what we call the core audience, those 200,000. They used TG4 very much like English speakers in Ireland would use RTÉ One or English speakers in England would use BBC One. They come to us for our news, for our entertainment, for our drama and also for our factual events, if it talks to them."
"That core audience tend to use TG4 in a very different way than the national audience. The national audience will come into our orbit for certain genres. They come to us in very big numbers for sport and they come to us in very big numbers for our music output, and they'll come to us in very big numbers for our national factual. I call it a twinfall strategy; that the audience are looking for different things from TG4. Over the week, we can supply that, but it is a little bit of a balancing act. If we don't serve the core audience, then we're not doing our job. We're failing."
"However, if we don't create national resonance for TG4, then that fails the language as well. I do think that language in Ireland has to have national resonance. One of the biggest ways of creating national resonance is through TG4. It's clearly been one of the best initiatives for the Irish language since the foundation of the state."
"That's the audience strategy and it's actually a strategy that you can see in our logo, 'TG' is about the core audience, and the '4', is about the national audience."
"As far as production is concerned, when I came in, probably because of the way the downturn had just happened, we were dealing with lots of very small companies; who I felt were in a dependent orbit around TG4. I don't think that is the right way for the sector to be. We are a publisher/broadcaster and we want our companies to be independent. We want them to work, not only for us, but also other broadcasters in Ireland, but also more and more we want them to work internationally. That won't happen if they're single one man bands."
"One of the big changes that we brought in was to set up what you could call volume deals, but it's basically multi annual contracts with companies. The aim is probably to work with less companies, to work with those companies to make sure that they are stronger and that they've got more visibility of how they're going to work with TG4, but also that we're pushing them to work internationally. I think that the creative economy for Ireland is a huge opportunity. It has been a huge opportunity for England."
"On a smaller scale but probably with better talent, I think that the creative economy is a massive opportunity, as long as our companies stay towards the international market. So we're giving them, in general, four year deals. They know what they're going to be doing. We expect them to develop ideas. We expect them to develop talent, and we expect them to develop new staff, but we also expect them to work internationally."
"Quite recently this year, we've brought in two initiatives. One, we started working with Korean broadcasters and the Korean fund, and you think that would be unusual, but in actual fact, it allows us do programs of international quality. Not only Korea actually, but it allows us into that blue-chip area that the BBC is probably by itself, by co-producing with S4C in Wales and with a Korean broadcasters and getting access to a Korean broadcast fund. It means that we can do very high quality programming."
"The other is maybe to create a difference access. There is an access in Dublin, which is basically Dublin-London, but I think that there can be a different access that uses the strength of the broadcasters in Scotland, Wales, Northern Ireland and the Republic of Ireland, and to see how we can co-produce together. So, recently we've launched what we call the Celtic International Fund. It is done in the context of the Celtic Film Festival at the Celtic Media Festival. It's about getting our producers to work better together and then see how they can work internationally."
IFTN: Can you explain to me how a Korean broadcaster is one that TG4 partners with?
I understand that as much as the English language is prominent internationally – its reach in terms of it being a first language doesn't extend beyond a core group of English speaking nations (Ireland, UK, Australia, Canada and America).
Why do you feel that co-production is an area that could really help develop TG4 as a broadcaster?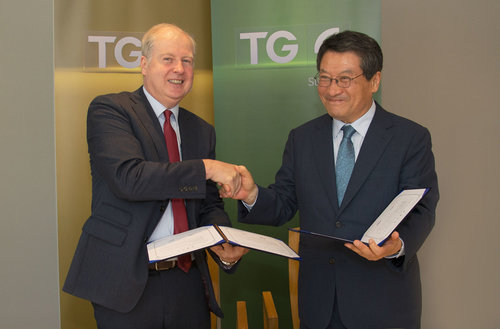 Alan: "For those reasons, we have a fixation on developing through English and English is probably the most widespread language in the world and a lot of audio visual programming travels through English, but there's an awful lot of audio-visual programming that doesn't travel through English. "
"I do think that, to a certain extent, it's a little bit of laziness in that it's easier to talk to the English and the Americans than to actually seek out the Germans, the French, which is are huge markets, and then to seek out markets outside of Europe altogether. Why the Koreans? S4C, the Welsh channel, who we work very closely with, they've done the legwork on this. They have a very large budget, they have a budget of, I reckon, £120 million sterling every year. They would contest that, but if you actually do the figures, they've got a very big budget."
"They began working with the Koreans and they were surprised to find how well it worked for them. On one project, we came in with S4C and the Koreans, and we found that worked really well. We thought we should actually formalize this and do it on a yearly basis. Even if there's only one or two projects coming through, you never know in the international market how that is going to open doors for you, especially in Asian markets. I do think that Korea have a key role within Asian markets in that they understand Japan very well, they understand China very well, but they're independent of all of those things."
"Creating a partnership with Korea as a first step into getting our companies into the Asian market, I think it does make sense. I do think that people will continue to co-produce in English and with America and the UK, there's no doubt about that. I think that TG4, because we use a different language than English, that we actually have a central role in developing other non-English language markets worldwide for producers, no doubt."
IFTN: How exactly does the dynamic between an Irish language broadcaster and a Korean broadcaster work in terms of co-production?
Alan: "Fairly easily. At present, we are working on a documentary series about walls or wherever walls could be. That could be the Berlin Wall, it could be the border between the North and South of Ireland. The Koreans are interested in that kind of programming because it's international and they know that we can produce quality programming. We will end up with, I think, a world class series of programs that we couldn't do by ourselves, that will be produced to a really high standard. They're co-produced to a really high standard. A lot of the funding will have come from Korea, because it's exactly the kind of program that they want to get into."
IFTN: Do both productions have their own presenters on set for their respective broadcaster?
Alan: "The way it works is that we'll send our own presenter to the places that they're doing and they'll send a presenter. The Welsh, if they want, they can also send a presenter. The programs that you'll look at, you will think actually they were created 100% for TG4. The Korean's will look at them and say, "No, they were created 100% for us." That's the beauty of co-production if you get it right, if you use your presenting talent right. They're here, with a ropey voice over, over wonderful pictures. It's about our Irish producer being key in the co-productions. It's not a producer somewhere else producing something for us, we will have an Irish producer co-producing this. They'll understand exactly what the Irish audience want and what the TG4 audience is looking for."
IFTN: Finally, when speaking at the TG4 Autumn Launch, you mention that you wanted the station to focus on creating an Irish intellectual originality. Can you tell me a little bit more about this idea?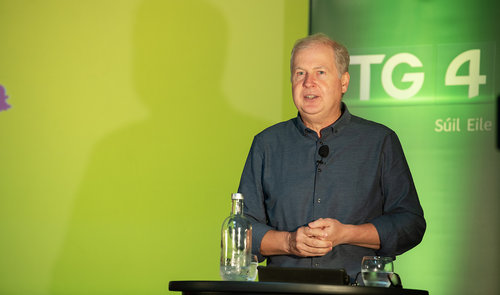 Alan: "I've got five kids between 21 and 31 and back in the day, it used to take forever for trends to travel from America to Britain/Ireland. Now, it's happening at the same time. It's very easy to buy American series or UK series and put them out on primetime television in Ireland, and they'll do really well. Maybe, over the last period of time as well, Irish broadcasters have been catching on, saying 'actually, if we buy American formats or the UK formats, then the audience will have heard about that brand before, and all we have to do is just an Irish version of that'."
"That's becoming very commonplace in primetime in Ireland, both on Virgin Media and on RTÉ. It's really hard to fight against that because the numbers they do are stellar, but I do think that TG4 has a role in pushing for Irish intellectual originality. I think, at the end of the day, if we hand over all of our money to foreign intellectual property, all we will do is actually weaken the sector here. We're not the big broadcaster, we are not RTÉ and we are not Virgin Media."
"In the same way that Channel 4 did this in the early days, I do think that we have a role in pushing for originality, in pushing for creativity. If we open the door for producers to work with us, then, they may be able to take that on to a bigger stage. I really welcome that. If you look around at the on screen talent throughout Ireland, about half of them started with TG4. I really welcome that. The Irish language shouldn't be a burden on anyone. It shouldn't restrain anyone. I think that the people who are a working as talent in the English language, but who are Irish speakers, they recognize the value of TG4."
"I think lots of people recognize the value of TG4 in a place where we can actually promote new talent and new creativity. I think that's part of our DNA. It's also a part of Channel 4's DNA. I think it's part of our DNA that we really want to cherish. Going down the road of non-original acquired intellectual property, may work for audiences, but I think would be wrong for TG4."