The 2018 IFTA Film & Drama Awards were announced Thursday, January 11th, celebrating the best of Irish film and drama from this year's productions. In the build up to the awards, which will take place on Thursday, February 15th, IFTN will showcase some of the most interesting categories and productions, as well as bringing attention to some new faces that have made a name for themselves in 2017.
This article will be focusing on the Feature Documentary category, which is named in honour of the legendary pioneer of documentary making in Ireland, George Morrison, who gave us the iconic 'Mise Éire' and 'Saorise?'. Irish documentary making is consistently held in the highest regards, and this year was no different with the five nominees diversely highlighting key cultural events and stories at home and abroad. These nominees include: 'The 34th'; 'A Cambodian Spring'; 'The Farthest'; 'No Stone Unturned'; and 'The Silver Branch'.
The 34th – Linda Cullen / Vanessa Gildea
'The 34th' tells the story of the driven and dedicated people who formed Marriage Equality in Ireland and developed it into a highly effective grassroots force with one clear goal in mind - the extension of Civil Marriage to same sex couples. Through revealing interviews and archive material, former board members and staff outline the strategising, fierce battles, sheer hard graft and personal cost of running such an all-consuming campaign.
From the KAL (Katherine Zappone & Ann Louise Gilligan) case to a YES vote on 22nd May 2015, this documentary spans a decade culminating in the 34th amendment to the Irish constitution, allowing same sex marriage.
A COCO Production, 'The 34th' was produced and directed by Linda Cullen and Vanessa Gildea.
Speaking after their IFTA Nomination - Linda Cullen, Director and Producer said:
"Myself and my co director and producer Vanessa Gildea, are very honoured to be nominated for the George Morrison Best Feature Documentary IFTA. Heartfelt thanks to the Irish Academy and to our small but brilliant team, Cúán Mac Conghail, Paddy Jordan, Hugh Fox, Bjorn Mac Giolla, Screenscene and our supportive friends and colleagues in COCO Television. Huge credit for this film goes to the Marriage Equality family who fought tirelessly for equality over many years, and especially to Katherine Zappone & her late wife Ann Louise Gilligan who were brave and bold in taking their case against the state."
A Cambodian Spring - Chris Kelly
How much would you sacrifice to fight for what you believe in? 'A Cambodian Spring' is an intimate and unique portrait of three people caught up in the chaotic and often violent development that is shaping modern-day Cambodia. Shot over 6 years, the film charts the growing wave of land-rights protests that led to the 'Cambodian Spring' and the tragic events that followed.
Chris Kelly produced the project with Edwina Forkin of Zanzibar Films, Christopher Hird of Dartmouth Films and Bob Moore of Montreal-based EyeSteelFlm as executive producers.
'A Cambodian Spring', which received the 'Special Jury Prize' at Hot Docs, follows mothers Toul Srey Pov and Tep Vanny, and Buddhist monk Venerable Sovath, as it examines the complexities – both political and personal, of fighting for what you believe in.
Speaking about the documentary - Chris Kelly, Director said:
"'A Cambodian Spring' is for me a deeply personal film, which took nine years to complete. It is an exploration of what motivates us, what gives our lives meaning, and what happens when our personal desires colour and shape our actions. It is an unapologetically subjective portrait of my time in Cambodia, of the people who shared their lives with me and of the shifting landscapes, both physical and emotional, that I found there."
Speaking about the IFTA Nomination he added:
"We are delighted to have been nominated for this award; it is a huge honour to have been selected from so many brilliant films this year."
The Farthest – Emer Reynolds
It's one of humankind's greatest achievements. Over 12 billion miles away a tiny spaceship has left our Solar System entering the void of deep space - the first human-made object ever to do so. 'The Farthest' celebrates the Voyager mission, the men and women behind it and the vision that propelled them farther than anyone could have hoped.
'The Farthest' is written and directed by Emer Reynolds, produced by John Murray (Crossing the Line) & Clare Stronge, and edited by Tony Cranstoun. The score is by Ray Harman, Visual Effects are by Enda O'Connor, and the cinematographer is Kate McCullough.
Lawrence Krauss, the theoretical physicist and cosmologist who is Foundation Professor of the School of Earth and Space Exploration at Arizona State University, and author of many books including his most recent "The Greatest Story Ever Told.. So Far" is interviewed in the film. He had this to say to IFTN about the film:
"The movie puts in remarkable and exciting perspective one of humanity's boldest adventures so far. Watching the film at its premiere I found myself not only fascinated by the fact that the Voyager mission was a success beyond any expectations I would have had at the time, but also by how much science here on earth has progressed even as these two lonely spacecraft continue their voyage to the stars. And of course I am heartened to know that no matter what happens here on Earth, the Voyager spacecraft will provide some evidence, out in the galaxy, for perhaps millions or maybe even billions of years that our civilization once existed."
Speaking after the IFTA Nominations were announced – Director, Emer Reynolds said:
"On behalf of our wonderful team from The Farthest, I can't tell you how delighted, proud and humbled we are to receive five nominations, including Best Feature Documentary, at this year's IFTAs. It's been a stellar year for Irish film, and the list of films and nominees really shows our industry is in rude health! Very exciting times ahead. We are honoured to be among such fine company, and can't wait to celebrate together on the night!"
No Stone Unturned – Trevor Birney
'No Stone Unturned', the latest film from producer Trevor Birney and exec producer Brendan J Byrne at Fine Point Films ('Bobby Sands: 66 Days') and written and directed by the Oscar-winning and prolific American-documentarian Alex Gibney ('Taxi to the Dark Side'),
On 18 June 1994 in the small village of Loughinisland, County Down, three gunmen burst into a pub with assault rifles and fired on the customers, killing six civilians and wounding five. The pub was crowded with people watching the Republic of Ireland team playing in the 1994 FIFA World Cup. No one has ever spent a day in prison for this, one of the more awful crimes of the Irish "Troubles".
In the film, Gibney ignites a fire under this cold case that has frustrated the victims' families for more than 20 years. Through interviews with victims' families, former terrorists, officers of the Royal Ulster Constabulary and other government officials as well as piecing together official documents and previously uncharted leaks of information, Gibney explores the incongruities of the case and connects the dots between mass murder and official malfeasance, between memory and sanctioned amnesia.
'No Stone Unturned' was written and directed by Alex Gibney and produced by Trevor Birney for Fine Point Films in association with Jigsaw Productions and Kew Media Group.
Speaking about the IFTA Nomination – Producer Trevor Birney said:
"Director, Alex Gibney and everyone at Fine Point Films are delighted to be nominated. For the Loughinisland families, recognition for the film is further recognition that their story has finally been told."
The Silver Branch – Katrina Costello
The Silver Branch is a philosophical vision-poem which is an uplifting & emotional celebration of people & place. It captures the delicacy of the natural world; the heart and soul of a farmer-poet Patrick McCormack & the ancient rural spirit of Ireland Patrick longs to farm in the quite pace his ascendants did but is called to Battle in the Supreme Court to decide on the fate of this wilderness.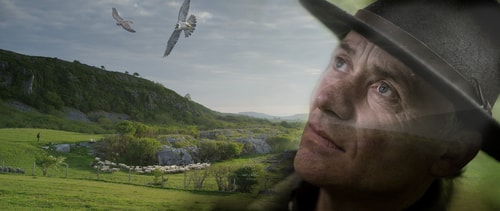 Katrina Costello assumed the role of director, editor and DOP on 'The Silver Branch', which was chosen by Donald Clarke as his Fleadh pick at the Galway Film Festival last summer.
Speaking about the film, Clarke said:
"There was another campaign at the heart of Katrina Costello's breathtakingly lovely The Silver Branch, but her film is first and foremost a character study of a remarkable man. Patrick McCormack has, like generations of antecedents before him, worked a patch of land that rubs against the beautiful, austere Burren. Costello's rich images offer elegant underscores to the subject's pastoral verse. A fox lowers itself. A horse makes efforts to care for a calf. The film gains a different momentum when McCormack gets drawn into the campaign against the controversial Burren Interpretive Centre. The film does trust that we share its subject's passion for nature, but it will win over even those agnostic about the philosophy."
Speaking after the IFTA Nominations were announced – Director Katrina Costello said:
"Never in my wildest dreams did I think the Silver Branch, my first film, would be nominated for Best Feature Documentary in the IFTAs. I'm thrilled and excited, it took me five years to make this film and this nomination is a gratifying acknowledgement of its worthiness in Irish Film. Thanks to all the wonderful people that helped make it happen and Patrick McCormack for sharing his most intimate thoughtfulness and poetic insight in describing our unique and beautiful ancient Irish culture."
The IFTA Film & Television Awards take place on Thursday, February 15th in the Round Room of the Mansion House in Dublin.