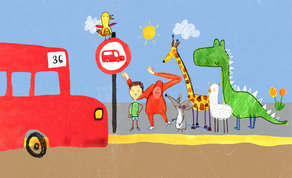 Pablo
The series was created and produced by Belfast-based company, Paper Owl Film, with the animation being done by Dublin-based company Kavaleer.
'Pablo', marks the first children's TV series to include a child with Autism in the leading role. It is also the first ever TV programme with an all-autistic core cast.
The new series is due for broadcast on RTÉjr and CBeebies on Monday, October 2nd with this pioneering production set to combine live action with 2D animation and aims to provide a unique new voice in children's television.