Exclusive behind-the-scenes footage of the refurbishment of the National Gallery of Ireland which officially reopened on Wednesday, July 14th.
It is set to air on RTÉ One on Tuesday June 27th at 21:35.
'Portrait of a Gallery' is produced and directed by Adrian McCarthy (Pull Like a Dog) of Wildfire Films with support from the BAI.
The documentary has been three years in the making, from January 2014 to June 2017, tracking the ups and downs of the building schedule while observing the day-to-day running of the gallery.
NGI Director Sean Rainbird coordinates on-going exhibitions and preparing the collection for the largest re-hang in the Gallery's history while dealing with 700,000 yearly visitors.
The wider team includes Adriaan Waiboer (Head of Collections and Research), Brendan Rooney (Irish Art) and Adrian Le Harivel (British Art) as they meticulously prepare for months in advance of the re-hang.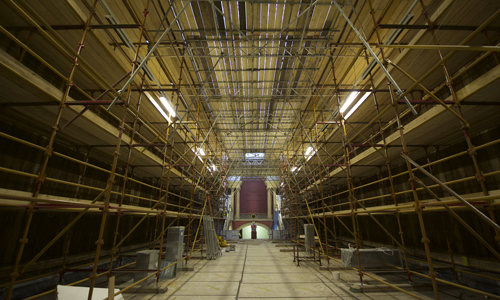 'Portrait of a Gallery' is one of a number of arts and factual documentaries due to air on RTÉ One in the coming weeks.
Other are 'This is Christy' on Aslan frontman Christy Dignam, 'Giles', a profile of sports legend Johnny Giles, Nathan Carter in 'Nashville', in which the singer meets stars of country, and U2 agus 'An Arc', an Irish language music documentary which looks at the band's early days and their gigs at the Arcadia Ballroom in Cork.
'Vermeer, Beyond Time' chronicles the life of one of the most treasured artists in the world. And RTÉ One will screen 'Meetings with Ivor', Alan Gilsenan's film about psychiatrist Ivor Browne.
'Too Old for the Road?' next Monday 19 June at 9.35pm follows the challenges for older Irish motorists and 'A Different Country' on Wednesday 21 June at 9.35pm chronicles the stories of members of the LGBT community about a time, pre-decriminalisation, when they were almost hidden.