IFTA winner Ned Dennehy (An Klondike) is to appear in Jimmy McGovern's new landmark six-part BBC One drama 'Broken' alongside actors Sean Bean (Game of Thrones) & Anna Friel (Tomato Red)
'Broken' is described as a "State of the Nation Piece". The new drama tells the story of a Catholic priest Father Michael Kerrigan (Sean Bean), who presides over a Northern urban parish.
A modern, maverick and reassuringly flawed, Father Michael is a man who must be confidant, counsellor and confessor to a community struggling to reconcile its beliefs with the realities of daily life in contemporary Britain.
The six episode drama series, which as created and penned by McGoven, is produced by LA Productions and stars Sean Bean (Game Of Thrones), Anna Friel (Marcella), Ned Dennehy (Carl), Adrian Dunbar (Line Of Duty), Paula Malcolmson (Ray Donovan), Mark Stanley (Dickensian) and Muna Otaru (The Keeping Room).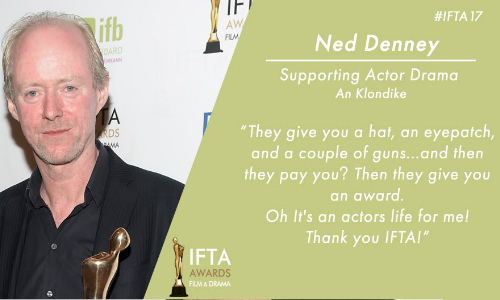 The executive producers are Lucy Richer, Sean Bean and Jimmy McGovern
Broken' will premiere on Tuesday May 23rd at 9pm on BBC One.
Series Credits:
Father Michael Kerrigan - Sean Bean
Christina Fitzsimmons - Anna Friel
Roz Demichelis - Paula Malcomson
Father Peter Flaherty - Adrian Dunbar
P.C Andrew Powell – Mark Stanley
Carl McKenna - Ned Dennehy
Helen Oyenusi - Muna Otaru
P.C. Dawn Morris - Aisling Loftus
Daniel Martin - Danny Sapani
Chloe Demichelis - Lauren Lyle
Jean Reid - Rochenda Sandall
Created by Jimmy McGovern
Written by Jimmy McGovern, with Nick Leather, Shaun Duggan and Colette Kane
Directed by Ashley Pearce and Noreen Kershaw
Produced by Colin McKeown and Donna Molloy
Executive producers for LA Productions - Jimmy McGovern, Colin McKeown and Sean Bean
Executive producer for the BBC - Lucy Richer