The 23 year old Irish actress from Carlow has been cast to play the historical role of Mary Stuart in the upcoming 'Mary Queen of Scots' film to be directed by Josie Rourke (Much Ado About Nothing) with Irish award winning cinematographer Seamus Mc Garvey (Nocturnal Animals) also on board.
The project is currently in pre-production stage. It won't be the first time Irish talent Ronan and Mc Garvey have worked together in a film production. In 2007 Mc Garvey was Oscar nominated for his work as Director of Photography on Atonement which starred Saoirse who also received an Oscar nomination for Best Performance by an Actress in a Supporting Role for her portrayal of Briony Tallis opposite Keira Knightley in the film.
It was announced this week that Australian actress Margot Robbie has also been cast in Mary Queen of Scots, the former Neighbours star who left the soap in 2011 to pursue more film roles most notably as Harley Quinn in last year's big box office hit Suicide Squad.
Margot will be playing Queen Elizabeth I in the film Mary Queen of Scots, which will follow the historical tale of Mary Stuart's attempt to overthrow her cousin, Queen of England, Elizabeth I off the crown, but instead finds herself condemned to years of imprisonment before facing execution.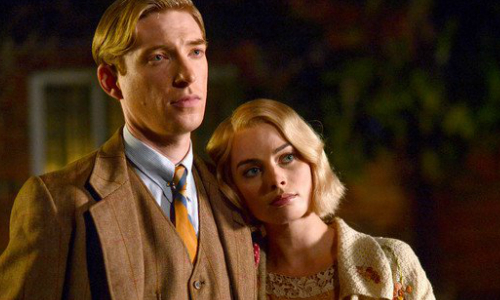 Margot Robbie pictured playing Daphne Milne with Irish actor Domhnall Gleeson who will play the author A.A. Milne in the upcoming Winne the Pooh biopic Goodbye Christopher Robin
Michael Hirst is one of three writers currently working on the screenplay for Mary Queen of Scots. Having worked as Writer and Executive Producer on popular TV series Vikings and The Tudors both filmed in Ireland. Hirst has experience of historical writing relevant for this screenplay having previously been the writer on 1998 Biography drama Elizabeth starring Cate Blanchett in the leading role and more recent than that in 2007 as a Writer and Executive Producer on Elizabeth: The Golden Age, again with actress Cate Blanchett portraying Queen Elizabeth I.
The other two writers working on the screenplay for Mary Queen of Scots include House of Cards writer Beau Willimon and Penelope Skinner writer TV series Fresh Meat. Tim Bevan (The Big Lebowski), Eric Fellner (Fargo) and Debra Hayward (Love Actually & Atonement) have been announced as Producers for the film with Jane Robertson ( The Danish Girl) as Co-Producer.
No further details of cast have so far been disclosed for Mary Queen of Scots but keep an eye on the IFTN website for updates and future news about the film, which is currently in pre-production stage.