IFTN Speaks to Producer Aidan Whelan, about 'Inside I'm Racing' ahead of its official launch & screening event at the Mansion House, Dublin on April 4th. It tells the story of a young autistic boy fascinated with motorsport who unexpectedly finds a chance to put his passion to the test.
Well known Irish talent who helped out on the production included award-winning Costume Designer Joan Bergin, best known for her acclaimed work on the television shows 'Vikings' and 'The Tudors', as well as for working on landmark Irish films such as 'My Left Foot', 'In the Name of the Father' , 'Dancing at Lughnasa'. and most recently Jim Sheridan's IFTA nominated 'The Secret Scripture'.
'Game of Thrones', 'The Lost City of Z', 'Brooklyn' and 'Calvary' credited Precision Driver, Gary Greenberg who also came on board to be a part of the filming. Considering the films strength builds on its lead characters passion and relationship with driving, Gary's addition to the production along with the goodwill of so many people involved really helps create this film into a story you will watch and then want to share with others.
'Inside I'm Racing' is a short film about a fifteen-year-old with autism who has a fascination with race cars. Set at Mondello International Racing Circuit in Naas, Co. Kildare this large-scale production demonstrates the early ambition of Wildflower Pictures productions.
IFTN: As the Producer on 'Inside I'm Racing' can you first tell me about how you got involved with the project? & what drew you to it?
AW: I'd made a decision about three years ago, when living in London, to produce a film which would launch a production company in Ireland. The first two years my time was spent travelling across Europe circling film markets, popping up at writing conventions, and chatting to anyone who I felt had an interesting story to tell. I wanted to tell someone else's story whilst learning the craft of writing for screen.
I met Aleks [Aleksander Szeser], the writer/director of 'Inside I'm Racing' less than a year ago, in Dublin. I asked if he had a small project he would like me to produce, he said he did and that he'd send it on to me. I'm still waiting for that screenplay, and I question to this day Aleks' interpretation of the word 'small'.
The screenplay he did manage to send me was 'Inside I'm Racing', and when I read it, something gripped me. It was a fantasy to think we could make this and I credit Aleks for playing on my inexperience here. That was until I returned home to Ireland. Aleks managed to lure me into the realism of the project and from the moment I set foot on the famous race track at Mondello Park I knew one thing, it was time to roll up the sleeves.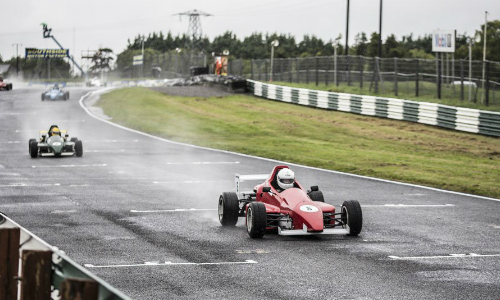 IFTN: What was it like to be a part of the project?
AW: It was a privilege to be part of this film. It's not every day you film at an international race track and get to play with powerful race cars. We had a nice balance to our team, the work ethic was amazing.
I'm very pleased we managed to work with such talented actors as we had a daunting schedule. The professionalism from all involved has stayed with me, I can't really speak highly enough about our entire team.
IFTN: Is there any memorable moments from filming on set?
AW: Our first day at Mondello Park. I was up in the control tower waiting, and waiting, praying more so for everything to run smoothly. Tapping my watch as we had our partners at Formula Sheane scheduled to arrive with the cars. We also were waiting on a bus bringing a load of kids from Friends of Autism, and P.S. Creative Drama School. I'll never forget it, David Sheane, who I know won't mind me giving his age away, is in his 70's, a wonderful, wonderful man, comes over the horizon in his Formula Sheane truck with the biggest smile on his face.
Then followed a yellow bus, the ones you often see at an American high school, just behind in close pursuit with a bunch of excited kids. This was Goodwill on wheels, and for me, I made a little promise to a young girl, Nicola, a week earlier to say she would be involved in a film, and to see her come off that bus completed the miracle. I'll be forever grateful, the level of effort was immeasurable.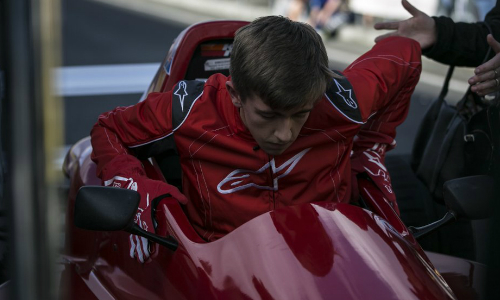 IFTN: What reaction are you hoping to receive from the audience at the 'Inside I'm Racing' screening?
AW: We will show the film to guests at the Mansion House in Dublin on the 4th of April. I'm very pleased that we will mark 'World Autism Awareness Day' in our own way. Their reaction? I don't know. I hope a mixed reaction, as in one of surprise, enjoyment and understanding.
I believe our audience will understand we are independent filmmakers, they will know we faced many challenges, and to be all sitting together watching the film at the Mansion House is a nice way for us to say thank you. We owe a lot to so many.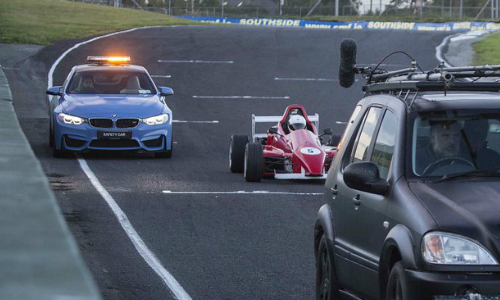 IFTN: Why is it important that a film like 'Inside I'm Racing' is made? What message does it tell us about Autism?
AW: We will have a panel talk after the screening at the Mansion House, touching on many themes from the film. I've learnt a lot on this journey, always there's awareness for early intervention, recognising the signs of autism as early as possible - and doing something about it, action is required.
Then there's another side, adults with autism are fighting for independent living, some limited by societies view of their ability. Yeah, I guess our film can challenge this, and bring awareness to the workplace. We are now partnered with Accenture, who have a global voice, so our film being made is important, Accenture taking this message seriously demonstrates the power of our film.
There's a responsibility on all of us to do a little more to try to relieve the plight of others. When passion drives ability the world will change, and change for the better.
To officially launch the film 'Inside I'm Racing' there will be a special screening held at the Mansion House, Dublin on Tuesday, 4th of April from 6.30pm. Including a facilitated panel discussion in recognition of World Autism Awareness Day, which will follow the screening.
For more information about 'Inside I'm Racing' and details on its official launch event and sponsors please visit the Wildflower Pictures website.
'Inside I'm Racing' Credits:
Writer / Director: Aleksander Szeser
1st AD: Niamh Flanagan
2nd AD: Tara Muphy
DOP: Tommy Fitzgerald
Producer: Aidan Whelan
Production Manager: Trisha Flood
Costume Designer: Joan Bergin
Sound / Composer: Brian Keegan
Precision Drivers: Gary Greenberg, Sean Doyle & Kevin Sheane
Actors:
Ethan Dodd
Kelly Thornton
Patrick Rocks
Clodagh Downing
Maire Hastings
Frank Blake
Jed Murray
Mark Lambert
Adrian Hudson