Ballyfermot College of Further Education animation students celebrate after scooping several awards at the annual Dingle Animation Festival held at the Dingle Skellig Hotel over the weekend.
Winners included 'The Banshee's Comb' and 'Define Intervention' the latter won in categories including Best Art Direction, Best Director and the overall Student Animation of the Year Award.
Speaking to IFTN the Deputy Principal of Ballyfermot College of Further Education, John Moriarty spoke about the student's achievements at the festival and the inspiration they get from attending the event.
"Our students and our college love the Dingle Animation Festival. As a college it's something we have attended for many years. The students always come back over the moon from the event. When they go to Dingle they get inspired by what they see on the screen and from listening to the key note speakers.
"It's a great opportunity for them to meet with the many guests and animation companies that are there. They also get to talk to former students who have graduated and have gone on to gain success within the animation industry.;
"They definitely come back with a buzz and our students that win at the awards are delighted to get recognised for their talent. We've had a lot of ex-graduates that have been previous winners at the awards so this year's to get four wins is a great achievement and again adds to a long line-up of success stories."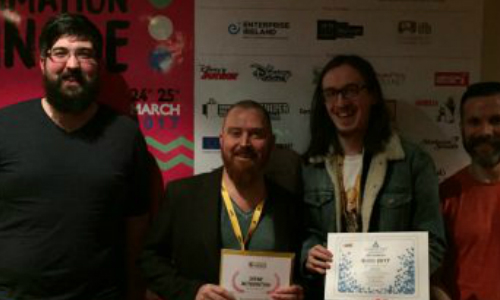 'Define Intervention' production team with Darragh O'Connell from Brown Bag Films. From (L to R) Paul Kavanagh, Darragh O'Connell, Sean Cunningham & Padraic Byrne.
Earlier in the Festival BCFE Animation Student Chris Craig won a 6 month internship in Jam Media when he won the Pitch Competition at the festival competing against 6 other finalists shortlisted from over 70 entries.
In February 'Define Intervention' won Best Animation at the RTS Republic of Ireland Student Television Awards. It has also received a 2017 IFTA Film & Drama nomination for Best Animated Short alongside 'Don't Forget the Bread' (Gary Gill), 'The Lost Letter' (Kealan O' Rourke) and 'Second to None' (Vincent Gallagher).
BCFE student and Director of 'Define Intervention' Sean Cunningham had this to say about his recent IFTA nomination: "I'm thrilled and honoured that our final college film has been recognised by the IFTA's among a collection of other amazing works. We spent the last few months of production on this film crammed in my parent's back garden shed, staying up all night to get it done, stuff like this makes that experience more and more worth it."
'Define Intervention' is a sci-fi animated adventure about an Irish priest who comes face to face with God, Jesus Christ and his own inner struggle with faith, none of which turn out to be what he expected.