With this year's St. Patrick's Festival Parade set to be the biggest and most colourful yet. IFTN spoke with COCO Television's Managing Director and Executive Producer, Stuart Switzer. Finding out about the logistics behind the production of the live broadcast coverage for RTÉ, on Ireland's most celebrated Saint's Day.
Des Cahill, Bláthnaid Ní Chofaigh and Aidan Power will be on RTÉ One from 12.15 for the broadcast as they take to the streets of Dublin for live coverage as the parade rolls through the heart of the capital.
Stuart told IFTN that this is COCO Television's tenth year working on the production of the St. Patrick's Day Festival Parade broadcast for RTÉ. "We'll hopefully get over a 50% share on broadcast that afternoon and for us the important part of the coverage is to try make the TV experience as close as you can get to being there."
"We'll have 150 production crew in total working across the entire broadcast on the day, it's a big job with lots of logistical operation. The rigging will begin this evening [Thursday 16th] and continue throughout the night. Then we've a crew call for 5.30am Friday morning."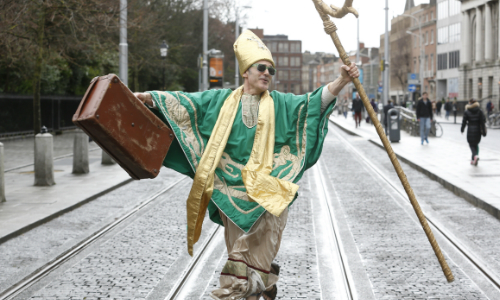 Production Set Up
Talking about the set up and equipment being used to cover the Parade Stuart commented: "Set up wise this year we'll have two stage positions, one on O'Connell Bridge and then a new second one which we are trying for the first time on Dame Street. The idea with the second stage area is to enable us to see a bit more of the city.
"We'll have ten camera's set up in various spots and a 90 metre hoist on D'Olier Street which will give us our big scale coverage spanning across the city. TVM Television Mobiles based in Cork will be our OB and technical partners for the coverage.
IFTN asked Stuart if COCO Television would be using any drone footage throughout the coverage. "No unfortunately that would have been great but it's impossible to get the license at such a big event especially when the Gardaí have their chopper in the air space but we will have our 90 metre hoist set up."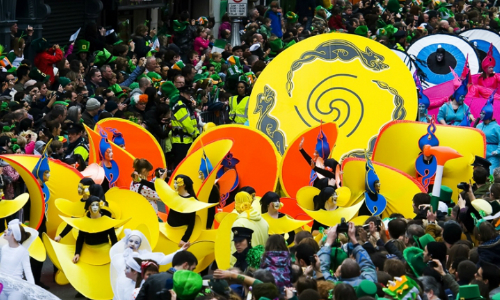 Movement of Parade
"There's a change of route this year because of the Luas works taking place on O'Connell Street which has allowed us to open up the coverage a bit more with the placement of the second stage."
"If it all works, hopefully the weather holds out but if it rains it rains. There's expected to be about 500,000 people on the streets and with any live evolving event there's lots of potential for elements to pop up that we have to be prepared for. An example would be the speed of the parade. We try to schedule its movement as best as we can, because timing on air and off is important and we have a specific time frame to keep within."
'Ireland You Are' is the theme for this year's festival parade and in the run up to the main event coverage, broadcaster Aidan Power will be immersed in all of the backstage colour and pageantry, while Blathnaid Ní Chofaigh and Des Cahill hold their perfect viewing positions on O'Connell Bridge.
Viewing for Irish Abroad
RTÉ Player will be bringing the festivities to audiences around the world. Available to watch worldwide for free, RTÉ Player will stream the St. Patrick's Festival Parade live and on-demand for audiences at home and abroad.
RTÉ Player will also show a special news report on St. Patrick's Day celebrations around the world, as well as regional parades from across Ireland and a collection of great Irish documentaries, food, comedy and Irish language programmes. So, wherever you are in the world, you can celebrate St. Patrick's Day with RTÉ Player.
It's Friday, so that means that Ryan Tubridy will present another Late Late Show full of chat, music and entertainment with a nod to the day that's in it. Viewers will get a unique insight into the ancestry of some well known personalities, finding out, through DNA testing, what they're made of and whether they have some unexpected cousins lurking in the family tree.
Live Sporting Action
It's a busy day of sport and RTÉ will also be bring viewers live coverage of the Women's 6 Nation's Rugby decider between Ireland and England at 7.50pm (Kick-off 8.00pm) on RTÉ2.
On RTÉ2, this will be followed by highlights of the AIB Club Finals at 10.15pm, as Ballyea take on Cuala in the Hurling Final and Slaughtneil face Dr Crokes in the Football Final.
There will be lots to view and engage with across television, radio, online and mobile to bring you as close as you can get to what is another colourful and action-packed feast of parades, music, live sport and nostalgia as Irish people all over the world come together to celebrate all things Irish.