As one of the most highly contested categories in this year's Film & Drama Awards, the short film line-up is a key indication of the calibre of upcoming talent in Ireland, and the muscle with which young filmmakers are handling difficult, topical issues.
'Terminal' is one such project, as it explores two women with hugely contrasting circumstances meeting by chance at an airport, embarking on their journeys to seek respective abortions.
The project is produced by Waugh and David C. Lynch (Says), with cinematographer Eimear Ennis Graham (Lily) and editor Eamonn Cleary (Narcan) also on board. Irish actresses Andrea Kelly (Joyriders) and newcomer Aoife Doyle star.
Waugh talks us through approaching the divisive issue, shooting on a low budget and how the project has been received at its many screenings since wrapping up.
IFTN: Firstly, a much overdue congratulations on the festival marathon and awards collection for 'Terminal', which has been honoured at Irish Film Festival Boston, the London Critics Circle Film Awards and Indie Cork in the last number of months.
Thank you! It's been a really amazing year for 'Terminal', and I'm really grateful that it's been so well received. It's quite surreal at times.
IFTN: Can you walk us through the early stages of the script and how it evolved to focus on two characters at such different stages of life?
"I wrote the script after I was inspired by the stories of women who had to travel abroad to seek safe and legal abortion. When I began hearing more and more women come out about their experiences, I thought about the scenario of two of them meeting, and sharing their feelings about the traumatic journey that was awaiting them, and the reasons that brought them to that moment. I wanted to put a face on the stories that are almost always faceless. I wanted to understand it better, and I wanted other people to understand it better too. I wanted to give these stories a voice. I felt they needed to be listened to.
"In doing so I wanted to share the fact that there are so many different reasons that women choose to have an abortion, and so depicted just two of them. Both women are at very different stages of their lives, and their circumstances are totally unrelated.
"The older woman's storyline was a little different initially, but during the development of the script, I was researching testimonials, and following coverage in the press that, at the time, was discussing fatal foetal abnormality. It's such a crushing reality for so many women. I decided that having a story line involving a fatal foetal abnormality was needed to really ground the story.
IFTN: Was there a defined festival strategy for the project?
"I think the key strategy was to aim to get it into as many as possible, as is the case with most shorts I suppose! However, I knew that I wanted it to get into as many Irish ones as we could. With the subject matter being very central to Irish women, I felt that the key audience was here in Ireland where we could get Irish audiences to think about what the 8th amendment was really doing to half the population. Obviously I wanted to get the film abroad too. Having a community of Irish festivals abroad has been extremely supportive.
"I was also quite focused on getting the film out to niche festivals that focused on feminism, women in film, and women's rights. These are all hugely important to me as a woman and as a filmmaker. I hoped that 'Terminal' would be well received with audiences that were looking to engage with feminist issues. It's great to have communities of festivals like these that are, not only hosting the film and screening it, but allowing the film, by default of us being in the programme, to put the word out.
"Overall there has been a multitude of festivals of different kinds, from all over the world, which have welcomed Terminal, and continue to do so. It's been really amazing."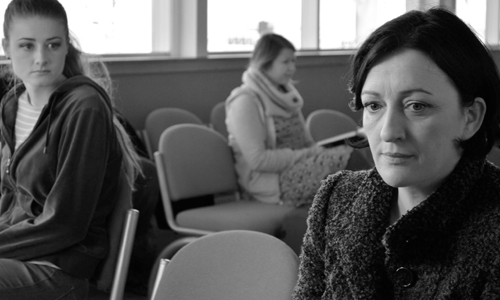 IFTN: Abortion is certainly a topical issue, especially in the current Irish climate. This being said, did you envision the project provoking such a response from audiences?
"Yes and no. Some of it has been what I was hoping for in terms of its festival selections, and some has been truly unexpected in a really positive way, like our London Critics nomination, and our IFTA nomination too.
"I definitely expected to get some criticism. Abortion is such a divisive issue, which I respect, so I did envisage some opposition. I'm happy to say I haven't had any. I was never really sure how it would be responded to overall. It's hard to know. I had moments where I was so unsure during and after we'd made it. I tried to engage with everything as much as I could when I was developing it, in order to fully capture the gravity of the situation that the characters are in.
"I was worried I hadn't done that correctly, and that I hadn't portrayed it accurately within the narrative. Thankfully, the response to it has been really warm, and also emotional. Women have opened up to me after seeing the film. That's so humbling."
IFTN: Talk us through the shooting process, perhaps with a focus on the location, highlighting what your challenges were and the supports you found as a short filmmaker.
"I think for myself and my producer David, one of the biggest challenges was securing a location that held some kind of production value and realism. It's not easy trying to secure an airport terminal, and even trickier trying to find a place that looks just like one! We didn't have the budget to recreate a convincing terminal either. One day, very close to our shoot date, I got a tip about the ferry terminal in Dun Laoghaire. It had been abandoned for just over a year at that point, and it was being let out to productions and events. I made some calls, and we secured it. It was perfect. We got some airport props in, and it was ready. I don't think we could have found a more ideal set.
"After that, budget in general was a factor. We knew what we wanted to achieve, knew what we had to spend, and although we didn't have a lot, we just made it work. The film is entirely self-funded, so we weren't able to put as much money into certain areas as we would have liked to, but myself and David have other experience in self-funded low budget filmmaking to know how to roll with it and make the best of what you have.
"The best support came from our amazing cast and crew who were really dedicated, and extremely hard working. It was a very reassuring experience to work with them, and they all gave up their time for nothing. The same goes for the crew in post-production. Shooting is one thing, sculpting the film in post is another, so being able to take the rushes and place them in safe hands was a relief! Especially with the budget we had!
"As well as that, the rental houses that we secure gear from were always an amazing source of support, allowing us the get everything we needed where possible. They know how this all works too. We couldn't have done it without that support.
IFTN: Looking at your other work, 'Running Commentary' also focuses on a contemporary issue affecting women—the male gaze, while 'The Betrayal' also explores domestic violence and female sexuality. Would you say there is anything in particular driving you to pursue these issues?
"I've found myself increasingly drawn to anything that succeeds in justifying women's rights, and the need to protect those rights, and establish them in some cases. I feel I have a responsibility as a woman and as a filmmaker, to tell stories that may connect with and relate to that. I like being able to use film for social change. I can't say that I will always be making films about key feminist issues, but I will always be thinking with a feminist mind set, and I will always try to bring that into my work."
Follow the #IFTA17 Conversation
View all 2017 Film & Drama Awards Nominees