The multi award-winning project from 'Callback Queen' director Graham Cantwell tackles the combined themes of bullying and LGBT youth in the short form.
We catch up with the cast and crew including director Cantwell, producer Sharon Cronin and actors Amy-Joyce Hastings, Clara Harte, Leah McNamara and Dean Quinn.
IFTN: The last time we spoke you had won the award for Best Narrative Short at the Santa Fe Film Festival and now you've been honoured at home with the top prize at ADIFF. Did you know starting off the film would generate such a positive reception from your peers?
Graham Cantwell: You never know how a film is going to be received. I had hoped that the story would resonate with people in the same way it had with me when I first read Eamon Farrell's article about being bullied as a boy in school. I put everything I had into making the film as compelling as possible, pulled in a lot of favours and spent a long time finding the right cast. We worked and reworked the script, trying to find the right balance between humour and drama, then we rehearsed as much as we could, bringing in Fight Director Keith Ward to choreograph the violent scenes and I spent a lot of time with the principal cast getting the relationships right, refining their choices. The fact the film has been so well received is down to a lot of hard work from a great number of very talented people who invested in the project as much as I did.
Sharon Cronin: Lily was made with very little funding and a lot of goodwill so during the filming process we were extremely focused on getting the best film possible and doing the storyline justice. The success of Lily is a testament to the ferociously hardworking cast and crew who showed up every morning and contributed to making this film. Having a film win an award at any festival is an incredible experience but winning at a festival at home is always extra special and the whole team were ecstatic. We are all extremely proud to have been involved in a project that has provoked such a positive reaction.
IFTN: Given that the film tackles the sensitive issues of bullying and sexuality with young protagonists, what has the range of responses been from audiences, whether educators, parents or teenagers?
GC: The response we've gotten from younger people, particularly teens and college students in the LGBTQ community, has been the greatest reward. I've had young people from all walks of life in various communities approach me after screenings, and in emails to tell me how strongly they connected with the material. The theme of self-empowerment seems to have struck a nerve, which is incredible. At the same time far too many young people have told me they can relate to what Lily goes through in the film, the trauma, the cyber bullying, the marginalisation. I'm hoping that if enough people see the film and connect to it, we can open up a debate about bullying in schools, particularly bullying of gay teens, and begin to discuss potential remedies to the problem.
On the other end of the scale, in terms of responses from parents and educators, the response has been similarly positive. Many have responded with empathy and understanding, and congratulated us for tackling the subject in a sensitive and realistic manner. There have been a few responses from adults who have questioned how realistic the events portrayed are though, in one case flat out refusing to believe that teenage girls would be capable of such physical and psychological abuse. Unfortunately research and first-hand accounts have only reinforced how widespread the kind of bullying Lily is subjected to really is. It only serves to highlight how important it is to raise awareness, not just among those affected by the issues, but among the people responsible for their safety and well-being.
Amy-Joyce Hastings (Oonagh): It was important with a story like Lily to ensure the message of the film never came across as preachy, something I feel Graham has really achieved - blending humour into the harder hitting dramatic notes of the story. That's very evident with the two 'ally' characters of Simon and Oonagh, who are both really funny and pretty sharp tongued - at least on the surface - but are the two characters who most help Lily towards her resolution. Graham was very determined to avoid a patronising saccharine moral but still wanted to get a very important message across to younger audiences. We workshopped Oonagh's dialogue a lot and it really evolved through rehearsals to make sure she wasn't just a vox pop character but was a charismatic personality in her own right, beyond putting across what it was we wanted to say with the film. That's been borne out by the responses at all the festivals we've screened Lily at - particularly where there's been an LGBTQ program - the audiences have noted the authenticity and complexity of those characters' voices and that's been very positive feedback for us.
SC: We all knew there was something special about this film but we never expected such a profound reaction from audiences. People really engaged with the characters in Lily and invested in the storyline. Everyone has been affected by bullying at some stage in their lives or been a friend or parent or teacher who has had to respond to someone being bullied so we often find people have a very emotional reaction to the film. As filmmakers we are privileged to be given the chance to highlight issues like LGBTQ bullying and draw attention to the very serious mental and physical side effects it can have that people often aren't aware of.

IFTN: Are there any plans to continue with a festival run or further screenings in 2017?
GC: The film is being repped by Derry O'Brien and Sadhbh Murphy of Network Ireland Television, and they have a strong festival strategy in place that should take us into early next year. We've recently screened in Ontario in Canada and Bangalore in India. Next up is the Irish Film Festa in Rome, The Boston Irish Film Festival and the Festival du Film d'Aubagne in France. We're hoping to have news of further screenings in Ireland and abroad soon.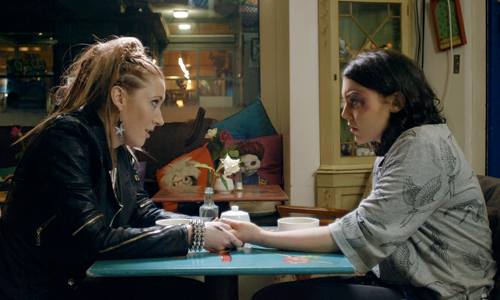 IFTN: Do you feel, given the success of 'Lily', there may be room to build on your current achievements with a feature length project?
GC: We have discussed it, and a script has been written. With such a great reaction to the short and the huge amount of support we've had from the LGBTQ communities, who feel it is an issue that still needs to be explored, we have been encouraged to develop a feature length version. It's a very topical story, our cast and crew, Filmbase and the community the film represents are all behind the idea of taking the story further. I was initially reluctant, feeling that the story played out on the appropriate canvas, but I recently figured out a way to expand the story without having it feel like a short film puffed out to feature length. I'm very excited about where we can take the narrative, and the opportunities to continue to spread the message of Lily will only be strengthened with a longer version. We're in talks with potential funding partners to take the next steps towards making it happen.

IFTN: Especially as a short form film, 'Lily' has given an extraordinary amount of exposure to your young cast members Clara Harte, Leah McNamara and Dean Quinn. What are their upcoming projects this year?
Clara Harte (Lily): It's been a whirlwind! I'm just so grateful for all the positive responses to the film and that the story is reaching and impacting on people. I've just finished up on a comedy The Family Way which was directed by Nuno Bernardo and will be coming out in the summer. A move to London is looking imminent too with a few things lining up both at home and in the UK.
Leah McNamara (Violet): Lily was wonderful to work on and the life it has continued to have is amazing. The experience I gained from working on the film was invaluable. I'm now currently working on Vikings and have just finished filming a feature film called Cellar Door.
Dean Quinn (Simon): Being a part of LILY has been easily the best experience so far in my career as an actor. Having the opportunity to work with a group of the most wonderful cast and crew, who worked so hard on this project, has been really inspiring. The feedback we have received from audiences around the country and abroad has been phenomenal, especially from those who have been in similar situations to Lily's when struggling with their own identity. I'm currently studying for my leaving certificate so my plans for filming are on hold at the moment, but in saying that I do have a few auditions lined up and I am ready to embark on another incredible journey.
IFTN: Most finally what are your personal plans for further projects in the coming months? Are there any projects in development or pre-production we should keep an eye out for?
GC: I've got several irons in the fire right now. Some are in the very early stages of development, others are closer to being greenlit, it's just a case of waiting to see which one is ready first. I'm attached as a director to one project I'm particularly excited about, an adaptation of a Jennifer Johnston novel with an incredible writer based in Albuquerque, and I'm working on a new draft of a World War II era script with Northern Ireland Screen that has the potential to be very exciting.