'The Great Guide to the Future' is an ambitious, informative and visually stunning science-travel documentary series that will reveal what our future will look like. It premieres on TV3's newest channel, be3, on Sunday 26th February at 7pm.
Leave the time machine at home, and join science Journalist and Broadcaster, Jonathan McCrea, as he channels the spirit of adventurers from yesteryear, and takes us on a journey into our future. "If we are to meet the challenges that face the planet and protect the creatures that live on it, we can only look to science.
"As a keen traveller, I wanted to make a series that crossed the globe to find the people who are trying to find answers to today's most important questions. The Great Guide was a dream realised. I met inspirational innovators, researchers and visionaries in some of the most extraordinary places on earth, from the Galapagos Islands to Ukraine to Bengaluru," Jonathan said.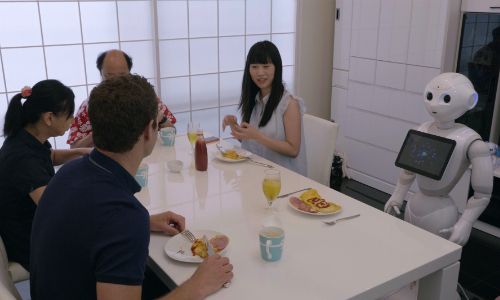 Series Director and Writer, Martin Dwan notes that, "In this series we explored the incredible world of science and nature, meeting remarkable people in extraordinary locations along the way. I hope the viewer enjoys the ride, and that 'The Great Guide to The Future' can hopefully inspire the next Irish Steve Jobs."
Over six, twenty-three minute episodes, the Tile Films series will feature stunning 4K UHD footage, and incredible locations rarely explored on screen. From Robot Restaurants in Tokyo, to exotic wildlife sanctuaries in the Galápagos Islands.
Cameras will sweep in to find Jonathan immersed in a universal issue. Relationships, Wildlife, Housing, Tourism, Energy, and E-Waste. What do they look like today, and what will they look like in the future?
Producer Stephen Rooke, says, "Science changes the way we live every day of the week. When you look to the future, the prospects are amazing. What we have tried to do in this series is to reveal this to an Irish audience in an entertaining and engaging manner, because the discoveries made by scientists today will have profound effects on all our futures."
Through the episodes Jonathan talks with leading scientists and innovators from Ireland and across the globe to discover how their ground-breaking work will shape our planet.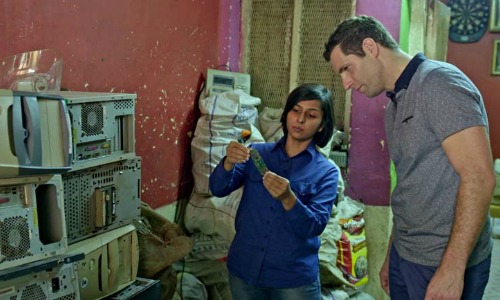 We will witness the engineering that will revolutionize our homes, and meet an inventor who believes that we are ready for a robot society. We will learn how the power of virtual reality could be the key to protecting our most cherished sites, and find out if there is any hope for our rapidly disappearing wildlife.
This ambitious series is produced by multi award-winning filmmaker, Stephen Rooke ('Aerial Ireland', 'Sacred Sites', 'Wrecking the Rising', 'Waterways', 'Saving the Titanic') and the highly acclaimed international producer Deborah Kuleff ('Seven Women', 'Be Here Now: The Andy Whitfield Story', 'Made in Italy'). It is written and directed by the talented documentary-maker Martin Dwan ('Shay Elliott – Cycle of Betrayal', 'TK Whitaker', 'In the Name of the Republic').
Dr Ruth Freeman, Science Foundation Ireland's Director of Strategy & Communications said, "Science Foundation Ireland is delighted to support The Great Guide to The Future, a truly engaging and entertaining television series which takes us on a thought-provoking journey into our futures. The series showcases the high calibre of Irish scientists and their ground-breaking work which is meeting the challenges that are facing global society. We hope the series will inspire audiences to think about the role of science and technology in our future."
This series will challenge the audience to think about what the future holds and what we can learn from the past? Can science and technology help forge a better tomorrow? 'The Great Guide to the Future', promises to take the "fiction" of out Sci-Fi, and reveal the incredible realities of how science and technology is really shaping our future.
For the first time in TV3/be3's history this series will also give viewers the chance to take a 360-virtual tour with our Presenter, Jonathan McCrea, of the various stunning locations featured in our series. Highlights include, Shibuya crossing in Japan, Thermal Springs in Yellowstone National Park, the Chernobyl Nuclear Power Plant and more. These 6 x 1 min videos will be featured on social media websites and promises to thrill audience far and wide.
Produced by Tile Films (one of Ireland's leading international television production companies and the producer of acclaimed productions such as 'Aerial Ireland', 'Paramedics', 'Seven Women', and 'After Braveheart', this documentary series was funded by TV3, Science Foundation Ireland (SFI), Broadcasting Authority of Ireland's (BAI) Sound and Vision funding scheme and, Section 481, Ireland's Film Corporation Tax Credit.
Production Credits:
Production Company: Tile Films
Presenter: Jonathan McCrea
Executive Producer: Stephen Rooke
Producers: Stephen Rooke & Deborah Kuleff
Writer / Director: Martin Dwan
Lighting Cameramen: Ronan Fox & John Fay
Sound Recordist: Dave Dorgan
Editor: Kevin Cooney
Production Manger: Deborah Kuleff
Researcher: Helen Flanagan