Shot in Belfast over three days 'Beauty Queen and Single' is a dating show with a difference. The cast are all former Northern Ireland Beauty Queens who are single and willing to have a 'make-under' before a blind date, to see if it will improve their chances of finding love.
IFTN spoke to Joseph Campo Producer and Director of the show, he said: "Working on the show was incredible. I had a brilliant team, the cast was unbelievably giving and I think the key to what I think turned out to be a good product is we had loads of fun. That's the secret recipe.
"We shot entirely in Belfast. The shoot was 3 days long. I'm hoping viewers will love the girls because, in the end, they are all wonderful people."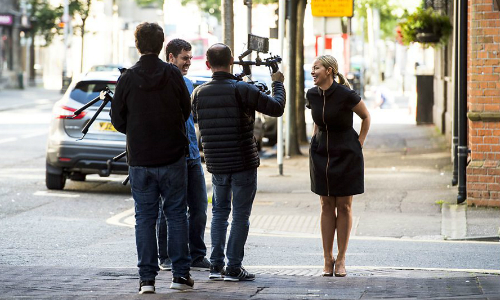 Behind the scenes of 'Beauty Queen and Single' - Gemma chats to the crew as she awaits her dates.
The main idea behind the programme is simple but catching, the former beauty queens go on five dates with five men they have never met before. But they aren't allowed any designer clothes or make-up. To help them find a connection that is more than skin deep.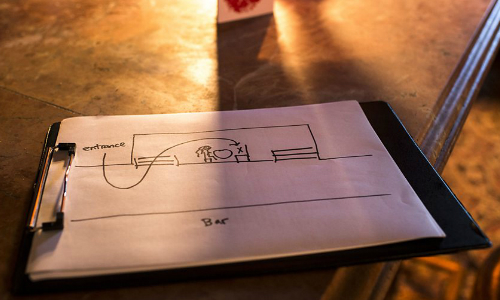 Floor plan for the dates. "Come in, go up the steps, and sit opposite Gemma".
The cast for the show is made up of the following:
Gemma Garrett, from Belfast, wore the crown of Miss Great Britain in 2008. She is no stranger to a glam lifestyle and currently works as a professional make-up artist. Talking about the programme, she said: "I want to find a partner who's funny, doesn't take themselves too seriously, and NOT in the beauty business!"
Orlaith McCallister, also from Belfast She has competed in Miss Northern Ireland, Miss Great Britain, and was crowned Miss Belfast in 1999. Orlaith said she is happy to broaden her horizons when it comes to dating and participate although, there's one thing she's adamant about when it comes to her future man's dating attire: NO TRAINERS!
Leanne McDowell, comes from the small town of Cookstown in Northern Ireland and was crowned Miss Northern Ireland in 2015. Leanne is not afraid to admit her obsession with all things beauty pageant, calling herself a "super fan." Beauty is such a huge part of her life and now works as a professional make-up artist.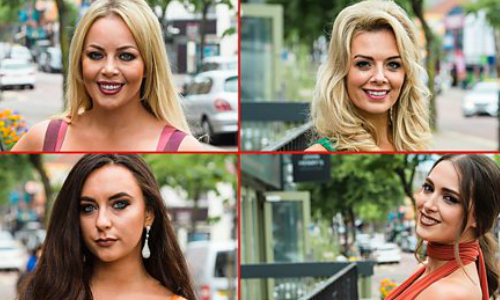 Rebecca Maguire, is a former Miss Ireland 2012 she comes from West Belfast. While having a full-time modelling career, Rebecca recently finished five years of university and her exams in pharmacy. She thinks it only right a woman combines her beauty and her brains, saying "I think it's a very intelligent thing for a woman to know what she has and use it to her advantage, I don't see why not."
Karen Montague, from Maghera won Miss Ireland at the Miss Supra National Pageant in 2015. Karen is hoping Beauty Queen & Single will help people to realise that just because she's a beauty queen, doesn't mean she's any different to anyone else. When it comes to finding love, "I wouldn't say I'm high maintenance, I would rather use the word 'particular."
Amira Graham, from Belfast is best known for the title of Miss Earth Northern Ireland. She is hoping to prove that there is more to her than just her crown and her sash. She currently works in legal investment banking. "I'd like to be treated like a princess, and I don't mean that in a diva way, but if the crown fits, you know, wear it!"
'Beauty Queen and Single' is a pilot programme produced by Stellify Media for BBC Northern Ireland. It airs Tuesday 14th February at 10:00pm on BBC Two.
Researcher: Maeve Mc Loughlin
Producer: Joseph Campo
Director: Joseph Campo
Executive Producer: Justin Binding
Executive Producer: Kieran Doherty