In a report issued by TV3 Group on Monday 13th February, the Group announced a significant growth in share of viewing in Ireland in January.
In particular the group's flagship channel TV3 recorded a 26% increase in share of viewing. The source for the report is TAM/ Nielsen January 2016/2017 All Day Channel SOV, Adults15+.
Commenting on the performance, Bill Malone, TV3 Group Director of Programming, said: "Giving viewers more choice is central to our three channel strategy. We are delighted with our performance to date. I'm particularly pleased that our numbers are performing so well in advance of last week's launch of Pat Kenny Tonight and Gogglebox Ireland."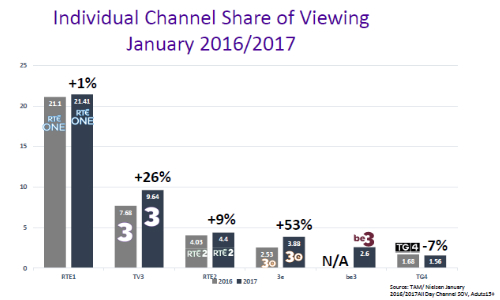 The TV3 group content strategy focuses on premium Irish programming and the best of exclusive, international acquisitions. Contributors to the strong performance in the month include; the return of home produced drama 'Red Rock', brand new 'Celebrity Masterchef Ireland', TV3 News programming provided by the new centralised hub '3News Ireland', the breakfast show 'Ireland AM' and exclusive soaps 'Coronation Street' and 'Emmerdale' alongside new Saturday night entertainment show 'The Voice UK'.
As exclusive home to 'Celebrity Big Brother' in January, 3e grew its share of viewing in the month by 53% from 2.53% to 3.88% and outperformed RTÉ 2 share of viewing for under 45's on 16 out of 31 days in January.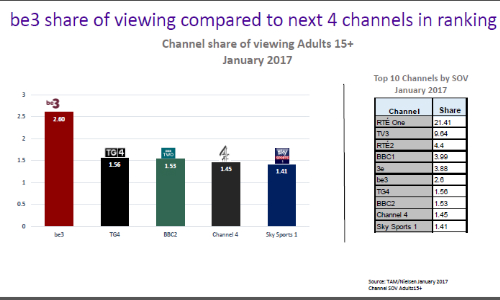 This year, 3e will also be the exclusive broadcaster of 'I'm a Celebrity, Get Me Out of Here Now' and 'Britain's Got More Talent' as well as being home to UFC.
Launched on January 9th, TV3 Group's newest channel be3 recorded a 2.6% share of viewing for the month, making it the 6th most watched channel in the country after RTE1, TV3, RTE2, BBC1 and 3e. The share of viewing for the channel was 67% higher than TG4 and 79% higher than Channel 4.
3player, TV3 Group's digital on-demand service also delivered growth in January, with plays of its online content up 94% in the month.
Sources:
TV3 Group +57%: Source TAM/Nielsen Jan 2016/2017, All Day Group Share, Adults15+
TV3 +26%: Source TAM/ Nielsen January 2016/2017All Day Channel SOV, Adults15+
3e +53%: Source TAM/ Nielsen January 2016/2017, All Day Channel SOV, Adults15+
be3: Source Tam/Nielsen January 2016/2017, All Day Channel SOV, Adults 15+
3player +94%: Source Ooyala Analytics January2016/2017