The seasoned locations scout received the FilmOffaly bursary award in October 2016 for his short script focusing on the filming of Kubrick's 'Barry Lyndon' in Ireland in the 1970s.
We catch up with the Writer/Director who has recently completed filming the project in the midlands, with continued support from the local community and FilmOffaly in a bid to promote filmmaking in the area.
As a locations scout his work includes 'Star Wars: Rogue One', 'Miss Peregrine's Home for Peculiar Children', 'World War Z' and 'Inception' to name a few. 'Kubrick by Candlelight' stars 'Red Rock' actor Darragh O'Toole alongside Amy Hughes (Vikings).
IFTN: The last time we spoke you had just received the Film Offaly bursary award for 'Kubrick by Candlelight', which you have based on the making of 'Barry Lyndon' in the 1970s. Talk us through your first steps into production after this.
After last we spoke we went into pre-production, gathering costumes, hiring vintage film equipment as well assembling our cast and crew. With fantastic support from Simon Surtees at Arri we managed to get an amazing Alexa package and MBS Pinewood were equally generous. We set up a Kickstarter campaign and were grateful to every single one of our backers who got across the line to secure the money in particular Georgette Turner.
The rest of the money came from companies we've worked with over the years and, putting my money where my mouth is, from my own pocket. With our backing from Film Offaly we had a good but seriously tight budget for a film encompassing two time periods and filming away from home for both us and almost all the crew. The boring and essential stuff - food, hotels, transport, bin bags, tea bags - would eat the money so we invested time and effort in securing the best equipment, locations, extras and vehicles for free.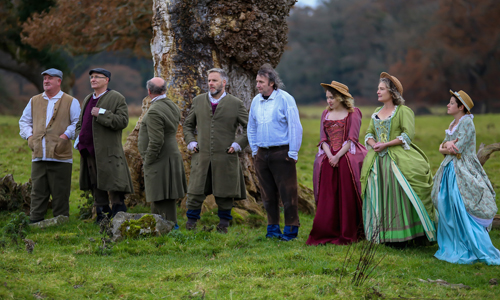 IFTN: Who are the key cast and crew now on the project since the casting of Darragh O'Toole and Amy Hughes?
Added to our great leads, Darragh O'Toole and Amy Hughes, were a roster of supremely talented Irish and U.K. based actors. Mark Webb (Colour Me Kubrick) and Lisa Moore joined me from the UK. Phelim Drew (Angela's Ashes, The Commitments, My Left Foot) joined us for a day and blew me away with his preparation, choices and performance. I was privileged to have him on our set. Mark Griffin played our 'villain' (despite being one of the nicest men you'll ever meet) and I can't wait to see what he does next. Alan Curran very graciously came along for a one liner and nailed it. Mike Nolan was our Stanley Kubrick and everyone was amazed by his transformation. And last but by no means least the brilliantly funny Al Foran joined the cast as Mick Molloy and stole scenes left, right and centre - he genuinely has a great screen career ahead of him.
The local support was humbling. We had some amazing extras that came back day after day in extremely cold conditions and I'm indebted to them for their commitment and patience. Equally the VW Camper and classic van and car community were so generous with their time and we couldn't have done it without them. I think and I hope they all had a great time and I can't wait to see everyone again in more relaxed conditions when we have the screening in Tullamore.
IFTN: You also mentioned previously that the beautiful locations in Offaly were the obvious draw to filming in the area. Can you describe the locations you used and what your experience has been like?
As you'd hope with my day job I hope the locations are good. The unbelievable support from Dudley Stewart and his team at Charleville Castle was invaluable and I think the production value of Charleville will speak for itself. Outside the Castle in the nearby fields the help of David Hutton Bury and his family was invaluable. In the town itself we filmed in Bob Smyths Pub and in the streets. We shot outside three churches across town with a vintage car in about 90 minutes. We recreated Dun Laoghaire port behind the Heritage Centre with a bit of smoke, a wet down and some of our extras and vintage vans (and some amazing camera work from Stil and his camera and grip crew).
So with all these 70s vehicles, a large group of extras, beautiful locations, vintage camera equipment in front of the camera and state of the art camera equipment behind the camera we set off for four long and cold days of filming in Tullamore. And like all filming it was a brutal fight against time, light and the level of ambition and scale I wanted for the film. The results, so far, are more than worth it - whether it's the beautiful performances of Darragh and Amy who have great chemistry on screen, the stunning cinematography from DOP Stil Williams and his super talented crew, all of our supporting actors and extras, costumes and locations.
IFTN: Have FilmOffaly been involved in the shooting process itself? If so, outline their role day-to-day
Film Offaly have been fantastic from Day One. Great advice on locations, crew and facilities, nothing was too much trouble whether it was a road closure at very short notice or contacts from the local area. I look forward to working with Clare and Ciara again soon and implore anyone who has a good script to enter this year's awards.
IFTN: How is post production being approached and who is involved in this?
Post Production has been, initially, slow - with the epic struggle to get the film finished, then the slow down to Christmas and New Year, we are just now recovering (financially and mentally!) and post production is starting. We have an editor starting soon, music and poster artwork being produced and visual effects being developed.
We've completed a short trailer or sizzle and already we have had some very encouraging meetings with production companies and producers who are keen to see the finished article as well as see what we might make of a feature version of the idea.
We're still working on securing a top talent for our narrator and Liam Neeson remains my ultimate choice so if you're reading Liam, and I know you must read IFTN all the time, then please get in touch!
IFTN: When can we expect to see 'Kubrick by Candlelight' starting its festival run?
I would love to premiere the short at a major Irish film festival (if, of course, the film is any good!) with Galway top of my list. But at the moment the energy is going in to making it the best film we can get with the time and money we have. The dream would be to play as a double feature with Barry Lyndon itself.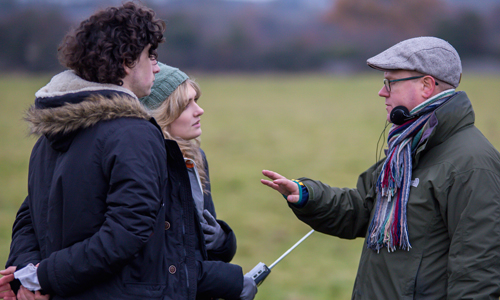 IFTN: Most finally, what else have you been working on recently, whether as a director, location scout or otherwise, and what projects should we look out for?
Most of the last few years of my life have been taken up with 'Rogue One: A Star Wars Story' which began with internet research in late 2014, took me through jungles and temples in Mexico, up rivers in Vietnam, beaches and caves in Thailand and on to desert islands in the Maldives.
Back in London we pulled off the filming on the platforms of Canary Wharf Tube Station over one night in August 2015 where behind one fence were people dressed as Star Wars characters heading to Secret Cinema and on the other was our crew with 50 Storm troopers, Imperial officers and droids. No one spotted us at all and the platforms opened the next morning without any sign we'd been there.
I spent the last two months of 2015 in the Maldives which was every bit as stunning and challenging as you can imagine with 40 boats, two landing craft, one helicopter and 300 crew. We literally jumped in our armada in the morning and landed on desert islands no bigger than a few acres and shot with Stormtroopers and Rebels - a bizarre and brilliant experience that I and I'm sure all in involved will never forget. The film hasn't done too bad at the box office either.
For the last year I've been working around the world on an equally exciting project which I can't talk about but will emerge in 2018.
In the filmmaking world I'm working on a feature script version of Kubrick By Candlelight, a feature version of another short film I made a few years ago about low budget Ryanair style time travel called "Club 2130" and a musical comedy set in the world of female interpretative dance troupes, à la Pan's People, called "Hot Sox".
You can always follow my exploits on my Instagram @kubrickperspectives and via our official Facebook page.