Sundance 2017 is set to kick off Thursday, January 19th with two Irish documentaries set to screen. We catch up with 'In Loco Parentis' Co-Director Neasa Ní Chianáin on the attraction of the Irish boarding school as a documentarist, the journey from concept to Sundance and her experience of filming in Co. Meath.
Ni Chianáin co-directed the project with David Rane. Her previous work includes 'Frank Ned & Busy Lizzie' which was honoured at the Celtic Media Festival in 2004, 'Fairytale of Kathmandu' which received the Best Documentary award at the Barcelona International Gay & Lesbian Film Festival in 2008, and which was also nominated for the Special Irish Language Award by the Irish Film and Television Academy in 2009.
'It's Not Yet Dark' on the life of Irish Director Simon Fitzmaurice (My Name is Emily) from Frankie Fenton is also set to screen at Sundance next week.
IFTN: Firstly can you talk us through how you came to consider the world of the Irish boarding school, and the lives of John and Amanda Leyden in Headfort, in particular?
My partner and co-director David and I both went to boarding school. I was a day pupil in a primary boarding school and then elected to go to boarding 'high' school and I had a great experience. David was sent from Africa back to boarding school in England at the age of 7, and had a traumatic time. As parents, and as documentary filmmakers, we were keen to know what a 21st century boarding school looked like, and to document the experience for children boarding today.
We spent a year intensively researching the project, we had an office in the school as we knew this was a total immersion project and in order to work we needed to become part of the school's daily life.
Initially the Leydens—John & Amanda, had no interest in us at all. They were teachers, we were filmmakers. Never the twain shall meet. Yet we always had a sense that there was something very special going on with them. One clue was the number of former students of all ages who continually returned to the school to visit them, and would just drop in unannounced and stay for days on end, like Olive, a music graduate, who you see in the film.
Even though I had a positive boarding school experience, I didn't have teachers like the Leydens, teachers that I wanted to go back and visit and socialise with.
It took a while for that door to open and the trust to build, but once they got to know us and like us, the relationship was built and they came fully on board. That's when we knew we had a film.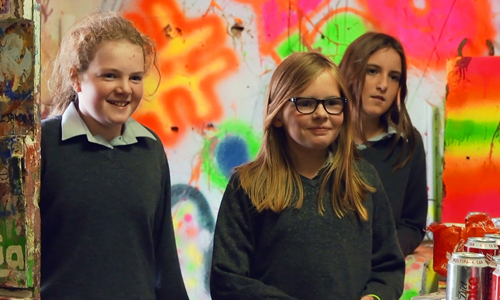 IFTN: The journey from concept to Sundance has been extensive, from EURODOC 2014 to four years of filming and a strong festival run just beginning. Can you talk us through the support your team received in the development and production of the project?
Firstly, we went the traditional route and wrote a detailed 40 page treatment of what we thought the film would be. But I think commissioning editors have possibly become cynical about written proposals and perhaps are not convinced by what the filmmaker is promising.
Then we shot some footage (1st year of shooting), introducing some of our characters and giving a general flavour of the world we wanted to portray. This piqued some interest from the Irish Film Board and the national broadcaster, RTÉ, and both committed some development money.
We were also successful in getting some Creative Europe development funding and this saw us through our first year of filming. From this material we were able to put together some assemblies of different sections of the school, which helped IFB and RTE to commit beyond development.
Meantime we also sought co-production partners in France and Spain. We managed to interest TVE in Spain when we pitched it at Miradasdocs Market. We then went to the Berlinale and pitched the project to various sales agents and gathered some letters of interest, confirming theatrical potential of the project.
We believe this gave the IFB more confidence in the project, as they like to fund projects with theatrical potential. With both the IFB and RTE fully on board we applied to the Broadcast Authority Ireland (BAI) for funding and we were successful on the second attempt. We now had RTE, IFB, BAI, Creative Europe and TVE. Their combined funding made us eligible for the Irish Tax incentive scheme, Sec 481, and completed our budget.
So the four years were divided like this: One year researching, two years filming with much of the 1st year trying to source funding and then one year editing. The 1st year's footage was used only to interest funders and the 2nd year's footage was used to make the final film.
IFTN: Talk us through the broad strokes of your filming process and experience of shooting in Co. Meath
We wanted to shoot a year in the life of the school, shot purely observationally, no interviews, no voice of God guiding the audience, etc. We knew it had to be a total immersion project for us to get the access and intimacy we wanted to capture. We decided not to work with a film crew but instead to work mostly alone.
I did the camera and David did the sound. (We called in a cinematographer and sound recordist on busy days when we knew we had too much ground to cover). David and I worked as the film crew for two reasons, the obvious financial implications of a long term project, and not being able to afford two year's cinematographer and sound recordist fees, but also because we were working with children, we knew we had to become part of their daily life in the school and we needed to 'disappear' and literally become part of the furniture. Because we didn't want to become pests in the school, hanging around waiting for something to happen 24/7, we asked if we could have an office on site so that we could react immediately to things that interested us.
The whole process was really enjoyable. The children and staff were very accepting and I think one would be hard pushed to find a more beautiful environment to work in. Headfort School is nestled on the edge of a lush woodland with about 40 acres of grounds, so it was sad for us to have to leave when we finished filming.

IFTN: 'In Loco Parentis' was the first Irish Film to be selected for the IDFA feature length competition last year, in the festival's twenty-nine year history—an amazing feat. What was the reception like in Amsterdam?
Audience-wise, there was an overwhelmingly positive response to the film. Most of our screenings were sold out, so over a thousand people saw the film and they just seemed to fall in love with our characters. A lot of teachers came to the screenings and said afterwards that they were really inspired by what they saw – by the teaching and by the school.
Industry-wise, it took a while for the film to get noticed, as most of our screenings were at the end of the festival when most of the industry have gone, so we were the 'sleeper' in the festival and the buzz about our film only started in the last few days and after the festival.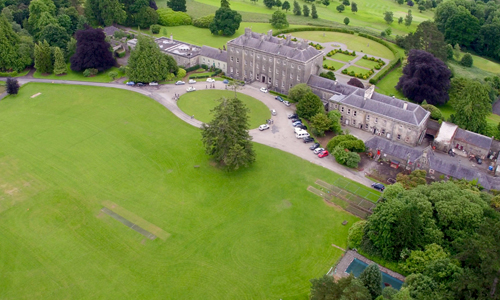 IFTN: Irish documentary seems to have experienced a creative awakening in the last number of years, with 'It's Not Yet Dark' joining you in Sundance and 2016 just behind us with 'Crash and Burn', 'Mattress Men' and 'Lost in France' to name a few. What do you think has evoked our interest in factual storytelling?
You know running Guth Gafa for the last ten years, I think there has always been interest in good storytelling, fact or fiction. We built a strong audience for the feature length doc over 7 years in Donegal. Our audiences were rural people, some hadn't been to a cinema in years. But they came to watch some of the world's best docs at Guth Gafa because they heard from neighbours and friends that they would see films that would make them think and stories that would stay with them long after they'd left the cinema.
Now that Guth Gafa has moved to Meath, we're finding the same thing, ordinary people, (not the typical festival crowd you find in cities) will come and watch factual films if the storytelling is good. I do think that worldwide that we are experiencing a renaissance in factual filmmaking and Irish filmmakers are becoming a part of that. What documentary makers need is more funding so that they can continue to flourish and compete on an international stage and maybe one day we won't bother differentiating between factual and fiction films, it will just be great storytelling in film!
IFTN: Lastly what are your plans for next projects and do you envision yourself staying with the documentary format?
It's too early for me to talk about my next project, as we're still in research mode. I know David is very interested in fiction and came from that world. For me I like the real world, I like completely immersing myself in another person's life and I enjoy the journey of understanding what that is like, so I don't have any immediate plans to change, but who knows if the right project came along…it's all storytelling after all!
In Loco Parentis has 5 screenings in the World Cinema Documentary competition at Sundance Film Festival with the North American premiere in The Egyptian Theatre, Park City on Friday 20th January at 8.30pm
The Irish Premiere of In Loco Parentis will be at the Audi Dublin International Film Festival in The Lighthouse Cinema, Dublin on Monday 20th February at 8.15pm, with a second screening also at The Lighthouse on Thursday 23rd February at 2.00pm as part of ADIFF's Fantastic Flix programme.
p>In Loco Parentis is supported by The Irish Film Board, RTÉ, the BAI, TVE (Spain), Grismedio, Meath County Council Arts Office, Creative Europe and Sec 481 Tax Incentives.
View the Sundance 2017 Programme