IFTN went behind the scenes at the recording of 'The Nathan Carter Show Christmas Special' in the Mansion House, Dublin this year. Finding out the production detail that goes into the recording of the programme and speaking with the Series Producer and Executive Producer.
'The Nathan Carter Show Christmas Special' airs on Wednesday 28th December, at 9.30pm on RTÉ One. Recorded in front of a lively audience, Nathan Carter hosts a special Christmas edition of his show which is jam-packed with music, laughs and chats including performances from Billy Ocean, KT Tunstall, Paddy Moloney with Eleanor Shanley and Al Porter all taking to the stage.
Tyrone Productions are the production company behind the making of the 'The Nathan Carter Show' series for RTÉ including this year's Christmas Special.
IFTN spoke with Patricia Moore, Series Producer of 'The Nathan Carter Show' and Patricia Carroll, Executive Producer and Managing Director of Tyrone Productions. To uncover some more detail about the the work that goes into putting together a show fronted by country music's favourite rising star.
IFTN: What preparation work goes into a Christmas Special Show like this?
Moore: "There's a lot of prep work that goes into a show like this. Being the series producer, I help put it all together with a great production team. I'd be across everything from the guest list, the rehearsals, the song choices, co-ordinating the band, dealing with Nathan's scripting, interviews and overseeing the production aspects involved in all of this.
"For the Christmas Special we've been in pre-production for about 5 weeks now. We start with a wish list of guest that we would like to come on the show and a song list. So we're doing a Christmas version of the show and a non-Christmas version that RTÉ can repeat at some point during 2017.
"So there's a lot of to and throw with music, we've obviously a few big Christmas hits in there and then we have songs that can be repeated at any time of the years. So it's really about getting the right mix of music so there's the right tempo and pace."
IFTN: How complicated is it to creating these two different shows out of the one recording?
Moore: "It totally complicates the recording because we have to do a different top and end for the two different shows. So the Christmas show is going to start off with a big Christmas number 'Santa Claus is Coming to Town' and finishes with 'O Holy Night' with a choir and strings.
"Then the non-Christmas show doesn't' start or finish with either of those, so we're going to do the top and end of the show separately. Then we have a Christmas song in the middle of the Christmas show that we don't obviously have in the other show so they are different durations as well.
"We just have a few additional links to do and then it's trying to work out our geography, if Nathan is doing a chat in the audience then we have him on stage at the right time if we need to cut between the two shows.
"There's no Christmas set on stage because then that would be impossible to have something that's repeatable during the year. Our title sequence we've just put a bit of Christmas sparkle on it for the Christmas version and we'll have a bit of Christmas music coming in and out of breaks, but we'll just have a regular title sequence for the non-Christmas show."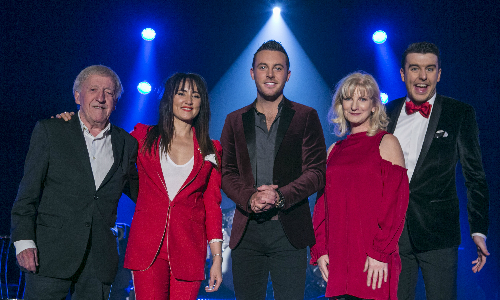 IFTN: Was the two show idea requested by RTÉ or was it something Tyrone Productions brought to the table?
Moore: "I think they wanted a show that they could have at Christmas and it's always great for them to be able to repeat a show during the year. So we suggested a few extra songs we could put into a version for Christmas so they were delighted with that."
IFTN: It's been a years since you recorded the first pilot for the Nathan Carter Show, can you talk me through what's happened since then?
Moore: Yes, well we did the Christmas special last year which was in effect a pilot which we recorded in November 2015. That went out just after Christmas and had a fantastic response with RTE and great ratings. Then we started talking to about commissioning a series and we we're trying to fit that in and around Nathan's schedule because he's on tour twelve months of the year.
"To do the four-part series we knew that we would need a five to six day window with Nathan, and that was really difficult to get. So it took maybe until probably May of 2016 to sign off that we we're definitely doing the series.
"Then RTÉ wanted it delivered for transmission in October, so that kind of meant we had to shoot it sometime between June and September and Nathan wasn't really available. So we went to record for the end of August. We were in pre-production for about eight weeks for the series and then we recorded that at the end of August start of September and then straight into the edit as the first programme had to be delivered within three weeks.
"So it's been a really busy year in 2016, when we think back it's been a Nathan Carter year for Tryone Productions. We've gone from doing the pilot to setting up the series, to recording the series and then immediately off the back of the series delivering the Christmas special. So we literally just delivered the last episode two weeks ago before recording this.
"I was across the edit on the last episode while I was also across pre-production for this so it's really has been a Nathan Carter Year for me too, which is great because it's been fantastic."
IFTN: Who does the post production work for the show?
Moore: Our post production was done in Ka-Boom Productions in Belfast. They are a fantastic facilities house we've used them quite a lot, so we did the offline there and the online grade and dub so we did everything in there. The music tracks were all mixed separately and then brought in but the whole post production was done and delivered by Ka-Boom.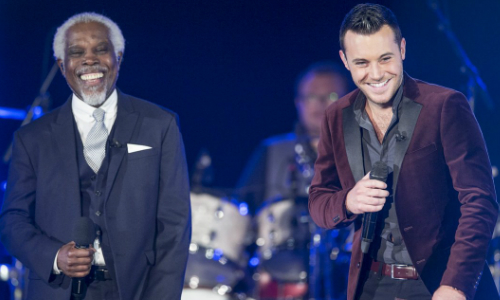 IFTN also spoke with Patricia Carroll, Executive Producer of the Nathan Carter Series and the Managing Director of Tyrone Productions:
IFTN: What was the shooting schedule like for the Christmas special?
Carroll: "Production wise for shooting this one-off show, we had a 'get in' day to rig the theatre with lights, sound and put the staging in. Because when you come into something like the round room here in the Mansion House it's just an empty hall.
"So you've got to build it to the way you want it. You do that on one day, and then you'd also get the band in. It's a fifteen piece band so it's a big set up, and they have to rig all their instruments up.
"Then on the second day we have the OB company Observe (NEP) who come in, they have a two hour window to rig all their cameras. Then we have the band spend the rest of the day doing a full band rehearsal.
"Making sure sound checks are done and then we have some of our guests coming in to rehearse with the band. So that when we call them back in on the third day it will just be the director doing all the camera rehearsals with all the cameras manned.
"Then for the fourth day it's recording day, so we will rehearse all day until our audience is called for at 5.30pm and then we will be hoping to record from 6pm onwards."
IFTN: How was the audience selected for the show?
Carroll: "We only put out the audience call for this show about two weeks in advance and had over 900 emails within less than 24 hours. I think it went up about 10 o'clock on Nathans website and by the following morning we had over 900 emails. Out of those we needed at least 300 for the audience here in the Mansion House. The tickets were all free and you had to be aged over 18. The audience are such a huge part of the atmosphere e for the show."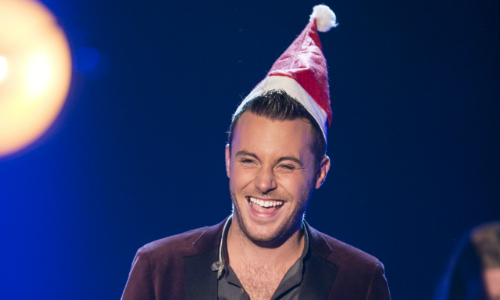 IFTN: Talk to me more about the format used for the Nathan Carter show?
Carroll: "People like entertainment and they really like live entertainment. If you think of the heartland RTE audience, you can look at Dublin and then you look at the rest of the country. "If you look at what people go to outside of Dublin, they are going to a lot of shows and bands. They are going to the likes of Nathan, Mike Denver a lot of country shows.
"Country music for a new generation of audiences seems to have made a comeback. It's the likes of Nathan Carter, Derek Ryan and Lisa McHugh who are recreating this trend. If you look at 'Stetsons and Stilettos' another programme about country music that's cross generational and our Nathan Carter show taps into that too.
"We have been lucky enough to have a great mixture of acts involved across the shows as well that aren't all country. For example we had Una Healy in one of the episodes, which created a huge buzz, because it's not a show that you would expect to see Una Healy on, but she wanted to do it and it went very well."
As part of the Christmas special Nathan will sing some of his favourite tracks, the legendary Billy Ocean drops in to perform two of his most popular songs, and KT Tunstall delights the audience with an acoustic version of her biggest hit, 'Suddenly I See'. Paddy Moloney and Eleanor Shanley join Nathan for a very special rendition of a 150 year-old folk song, while comedian Al Porter and his dancing Santas take to the stage for an unmissable performance of festive favourite 'Jingle Bell Rock'. The Line-Up Choir add their harmonies to one of the most loved Christmas carols of all time and Nathan introduces us to some of his most dedicated fans.
With something for everyone, The Nathan Carter Show Christmas Special is guaranteed to bring seasonal cheer to viewers of all ages. Airing on Wednesday 28th December, at 9.30pm on RTÉ One.