It has been unveiled that RTÉ's new drama 'Striking Out' starring Amy Huberman & Neil Morrissey is to air on New Year's Day, Sunday the 1st January at 21:30 on RTÉ One.
IFTN caught up with two of the cast members Amy Huberman ('Handsome Devil', 'Fir Bolg'), and Neil Morrissey ('British Men Behaving Badly','Waterloo Road') who will be starring in the new four-part Irish legal drama.
'Striking Out' follows the tumultuous professional and personal life of Dublin-based solicitor, Tara Rafferty (Amy Huberman) and her fledgling legal firm.
IFTN: When can we expect from 'Striking Out'?
Amy: "There's a different legal story behind each episode combined with the personal storylines of the characters. In the opening episode Tara's life is falling apart quite badly. Her life up until that point has been on track, she's had personal and professional success, she's getting married to the guy that she's madly in love with and then everything just falls apart. So the first episode is her scrambling to keep up, but she definitely finds her feet and learns more about herself as the story continues.
"Also within all the legal cases for the show, I find there's this human curiosity about human relationships. Be they in a work realm, personal or friendship based. I think there's some really strong storylines that really look at how those relationships can just break down and how people can cope in those situations.
"I think there's a curiosity with people about law and legal cases. There's an inquisitive empathy that we all have of 'what would I do? If I was in that situation'.
IFTN: What type of character is Tara and how do you connect with her story?
Amy: "Well because I hadn't done drama in so long, initially what struck me and what I really liked about the script and Tara's character was that I was going to have to be a solicitor. There's all this serious business within her career that I wasn't too sure on, but I wanted to learn more about.
"The legal side of things I definitely had to look into. I had no legal background coming into this. I had done social science at University and I'd looked at social work before, but there was always that question I had about whether I was right for the job or not. I always thought what if I would get too emotionally?
"So it was really interesting for me to look into Tara's character as somebody who is a solicitor, and how do they leave that at the end of the day. When your carrying people and things that are so important, but still you have to have a professional front and hold it together. All of that was fascinating to me, because it was something that personally for me I would struggle with being able to put that divide down.
"All of the legal stories that come to the fore in the episodes are subjects that she is seeing in a new light because of her own personal situation. The element of betrayal is something that keeps coming up for Tara throughout the storyline, and there's this kind of disbelief of what people can do to each other.
"I think she is the flip side of me, in that she would have looked at her cases quite clinically. Not that she wouldn't have been empathetic, but I guess going through her personal situation gave her more of an understanding of other people's lives and circumstances."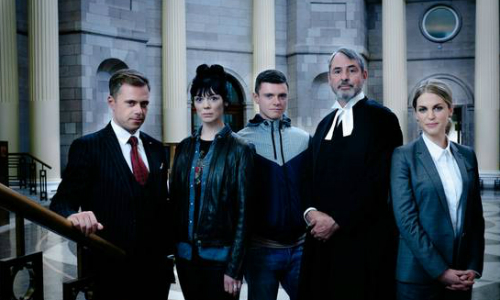 IFTN: What was it like to work with the cast on 'Striking Out'?
Amy: "The cast was so lovely. I've known Rory Keenan who plays Eric for years, so I was happy that he was a part of it. I actually worked with him on the first drama I ever did which was 'On Home Ground'.
Emmet Byrne I hadn't known before, but he was so nice and we spent a lot of time together because in the series I kind of take him under my wing and he kind of takes me under his wing initially. When I went into a legal firm for a day to get my bearings for the show, there were a lot of those types of relationships going on with young people doing work experiences and internships.
"I had never met Neil Morrissey before, but what an absolute delight to have on set. He's just so warm, engaging and supportive and filming days were long so it was nice to have chats and banter between the scenes to break it up as well.
"Fiona O' Shaughnessy was great I hadn't worked with her before as well and because it's Ireland you tend to know so many people on set or that are part of the crew.
IFTN: What was it like to film in Dublin & Wicklow and in places like the Four Courts?
Amy: "I think Dublin looks brilliant in this and it was lovely to see different parts of it throughout the filming. There are places you see in the show and I was like where's that?
"You know sometimes when tourists come in and they know more about the city then you do and you're like 'I live here, how do I not know about that?'. There was so many pretty places that I had never seen before.
"The courtrooms we filmed in at the Four Courts were so impressive, there's so much history there as well and you're kind of thinking 'I wonder what happened in this court room?'.
"It's definitely got its own presence and I found that definitely helped in the scenes as well. It was a great privilege to film somewhere like the Four Courts because it is so historical."
IFTN: What would you say to those at home looking to tune into the show on New Year's day?
Amy: "I think there is something for everyone in this show. There's always going to be Irish humour and charm in the script but I don't think it's just an Irish story and I think that's good. It's for people who are interested in human relationships and stories. I think the audience for this is quite wide reaching and hopefully they enjoy it because it's great."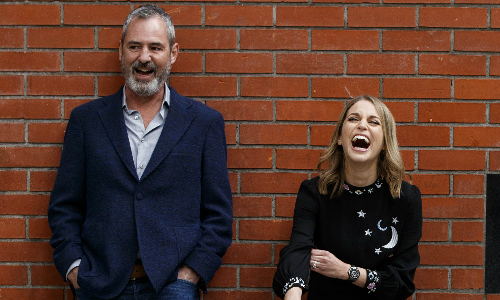 IFTN also spoke with Neil Morrissey the British actor who plays Senior Counsel Vincent Pike, Tara's mentor and friend, in 'Striking Out',
IFTN: What was like to be involved in an Irish show?
Neil: "I've never worked on an Irish drama before and in fact this is the first time I've worked on Irish television. I've been on shows like 'The Late Late Show' quite a few times but I've never actually worked on Irish TV with an Irish production company. And it was great, absolutely brilliant and a new experience for me.
"I've been coming to Dublin for over 30 years. This place is always full of surprises even the stories you hear in pubs, there's lot of little things that just compound my love for the town.
"And, I've watched a lot of Irish films and drama's like 'Love/Hate' when it came out in the UK. There are some great actors and directors here. I think Jim Sheridan is amazing and a lot of big movies are being shot in Ireland as well."
IFTN: Tell us a bit about the character you play, Senior Counsel Vincent Pike?
Neil: "My character is a maverick barrister who is obviously very good , clever and smart, but as the show develops you start to see the flaws appearing and he's a little bit naughty as well. He like's a bit too much whiskey.
"It was interesting, because when it comes to Irish law, I've not a sausage. I just had to learn what I could learn from what was in the script .
"I think the character story arcs in 'Striking Out' should really grab people and keep them interested and excited until the conclusion, that is if we have a conclusion? You'll just have to tune in to find out."
IFTN: What was filming in Ireland like for you?
Neil: "We shot last year around July and August. We had quite good weather for Ireland, because we shot a lot outside that was lucky. Shooting in the Four Courts and loads of locations across Dublin and Wicklow was a lot of fun.
"Filming in the Four Courts was brilliant as you are in the actual spot where the action happens. Just hanging out in the courts is pretty cool, sometimes because I was dressed as a barrister people would come and ask me questions."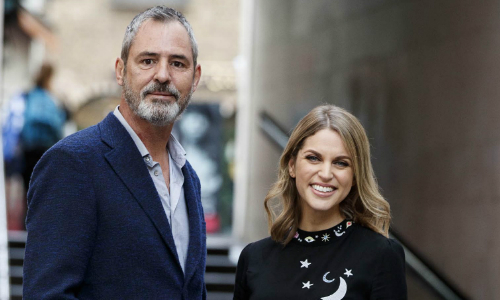 'Striking Out' follows the personal life of Tara when she discovers, on her hen night, that her fiancé and fellow solicitor Eric Dunbar (Rory Keenan) has been cheating on her with a colleague, she breaks up with him, quits her job at the prestigious law firm they worked at together, and sets about making her own way in a new life outside the inner circle of the legal profession. At first unsure how she'll cope, Tara begins to realise she is more than capable of being on her own, both personally and professionally.
With the help of Ray Lamont (Emmet Byrne), her street smart and opinionated client-turned-assistant; Meg Riley (Fiona O' Shaughnessy), tech guru and private detective; Pete (Brahm Gallagher), the easy-going owner of the cafe where she makes her new office; and Senior Counsel Vincent Pike (Neil Morrissey), Tara's mentor and friend, 'Striking Out' follows Tara in her often surprising, sometimes poignant cases, their findings, fallouts, and resolutions.
Other cast members include Emmet Byrne ('Red Rock'), Rory Keenan ('War and Peace'), Fiona O' Shaughnessy ('My Mother and Other Strangers'), Brahm Gallagher ('The Cursed Man'), Ingrid Craigie ('When Harvey Met Bob'), Nick Dunning ('Quirke'), Lorraine Pilkington ('Outnumbered') and Ciara O' Callaghan ('Fair City').
RTÉ head of television drama Jane Gogan said: "It's always exciting to bring audiences a new and original drama and Striking Out brings us a combination of emerging and established creative professionals. Delivering distinctive Irish drama is at the heart of RTÉ's remit as a public service broadcaster and we're looking forward to introducing audiences to this four part drama on New Year's Day."
RTÉ launched its new four part drama 'Striking Out' with a press screening in the Irish Film Institute in Temple Bar, Dublin on Monday 19th December.
'Striking Out' is produced for RTÉ by Katie Holly and Yvonne Donohoe of Blinder Films with international co-financing from DCD Rights and Acorn Media Enterprises. The series was created by James Phelan ('Wrecking the Rising'), written by Rob Heyland ('Between the Lines','Whistleblowers'), Mike O'Leary ('Eipic', 'Misfits') and James Phelan and directed by Lisa James Larsson.
The first episode airs on RTÉ One on Sunday January 1st on RTÉ One at 21:30 and will run for four weeks.