Lenny Abrahamson and John Crowley's multi-award winning titles were highlighted in the in a review of the organisation's successes at the recent Telefilm Canada public assembly.
The report emphases the significance of the combined seven Oscar nominations for the titles for Canada, including Brie Larson's Best Actress win for 'Room'. This marked the first year a Canadian co-production was nominated for an Academy award.
Upcoming animated feature 'The Breadwinner' directed by Nora Twomey of Cartoon Saloon, is also noted as a highlight project, and is a co-production between Canada, Ireland and Luxembourg.
Other areas of focus in the report are Telefilm's continued pledges to support Canadian talent, pursue gender parity and allocating budget to first and second time features.
Ireland was one of fifteen co-production partners to Canada in 2015. The report states parliamentary appropriation to Telefilm will increase by $22m in the coming five years, with funding set to further develop co-production as well as national and international promotion. Eurimages is also noted for the increased opportunities it presents to Telefilm Canada, to build partnerships with Europe.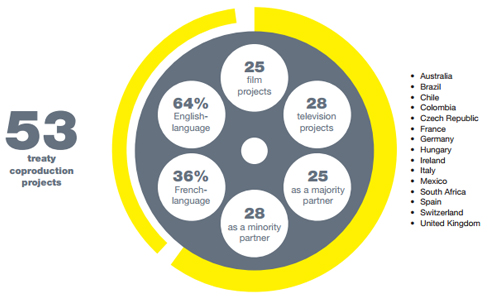 On the revision of the co-production treaty between Canada and Ireland, the report states the following, "Finally, during the fiscal year, Canada ratified a new coproduction treaty with Ireland, which replaces the previous Canada-Ireland audiovisual co-production treaty that dates back to 1989. The new Canada-Ireland treaty will open the door to greater opportunities for producers from both countries by offering more creative flexibility and better responding to new practices and technologies."
Michael Roy, Chair of the Board: "On behalf of the Board, I would like to thank the Government of Canada for the confidence it has shown in the industry by deciding, as part of the 2016 federal budget, to increase Telefilm's parliamentary appropriation by a total of $22 million over the next five years. In the spirit of our strategic plan, this amount will be devoted primarily to co-production and Canadian talent promotion activities."
Carolle Brabant, Executive Director: "We are all aware of the critical impact that coproduction has on the financial strength of Canadian companies, the reputation of our talent and the export of our products. Eurimages will foster Canadian partnerships with Europe, and will no doubt prove to be a driver of growth for the industry."
Read the Full Telefilm 2015-2016 Report