Galway City of Film will host the free screening of three seminal Irish documentaries chosen by filmmaker Paula Kehoe to screen at An Taibhdhearc, followed by a discussion with the directors on December 3rd.
Each of the chosen films speak to the theme of 'Documentary as Social Commentary' and 'Why Documentary Matters,' with the filmmakers behind them using to medium to participate in the national discussion on identity, social issues, art, culture, colonisation and revolution.
Although tickets are free, they are allocated on a first come first served basis.
Living in a Coded Land, Pat Collins A poetic exploration of what Ireland was, is or might be, over time, at different times, beneath all its layers. The film revolves around the notion of a sense of place and stories associated with place, reflecting the traces of the past that exist in the present and probing themes such as the impact of colonialism, emigration, famine, land, housing and the place of art in society. Making extensive use of archive from RTÉ and the IFI, the film beautifully manages to explore the more elusive layers of meaning that make up the country of Ireland.
The Road to God Knows Where, Alan Gilsenan This documentary is an edgy, iconoclastic, and at the time controversial state-of-the-nation snapshot of Ireland in 1988. This is a time of pre-Celtic Tiger Ireland, a transformational decade, a time of mass unemployment and emigration. The film captures the shockwaves in Ireland at the time, and the huge changes that the country underwent, and brilliantly uses stark visual imagery and arresting music track featuring U2, Aslan and the Pogues. The film reflects the idea that Ireland was on the move, on a journey, literally and figuratively, to unknown destinations.
Broken Song, Claire Dix A contemporary and observational documentary about a group of young male rappers who rely on poetry to survive. For these young men self-expression in the form of poetry, rap and song has become a spiritual experience. Their aim is simply to articulate the chaos that surrounds them, and to fight it with their words and voices alone. Along the way it has become their identity, their religion and, as they claim themselves, they are its high priests.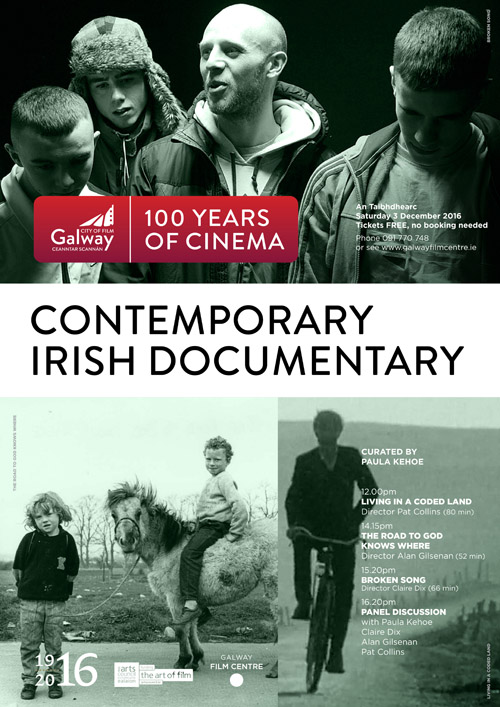 Visit Galway Film Centre Online