An MA Screenwriting student at the National Film School at Dublin's Dun Laoghaire Institute of Art, Design and Technology (IADT), Miriam was announced on Friday 18th November as this year's recipient of the Warner Bros. Creative Talent scholarship.
"I'm amazed and delighted in equal measure," said Miriam describing how she felt about being awarded the scholarship.
"Everybody's thrilled for me, my family and my friends it means a lot. Just to be recognised by Warner Brothers is incredible."
The Warner Bros. Creative Talent scholarship will, over the course of the year, provide Miriam with funding support and a short paid placement at Warner Bros. Ireland's Dublin offices, as well as access to screenings and mentoring support from Warner Bros. executives in the country.
"I think the placement and mentoring is a great opportunity, that will offer me further insight and hopefully a leg up into the industry," said Miriam as she talked about what the scholarship means for her and spoke of her recent VIP invite to a Warner Bros screening of the new 'Fantastic Beasts and Where to Find Them' film, " It was great to access a screening like that, I took my 8 year old daughter Robin who absolutely loved it."
Miriam who is originally from Sandymount in Dublin and has an undergraduate degree in Drama & Theatre Studies from Trinity College, told IFTN "I'm only 3-4 weeks in to the course at IADT but I really love the masters. The lecturers and practical elements of the course, work well and are really beneficial. We finish with our own fully written screenplay at the end which is great for opening doors when we leave ."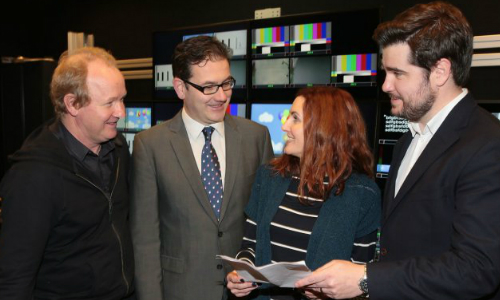 "Being awarded the funding support through the scholarship allows me to continue doing my masters. Financially it's a huge break as the majority of the fees are covered and it really was a needs must situation for me, as I didn't have a plan B. So, yes I am very grateful."
Josh Berger CBE, President & Managing Director, Warner Bros. UK, Ireland & Spain, said: "Warner Bros. Creative Talent is part of our continued commitment to supporting the next generation of talent from the creative industries and I am thrilled to welcome Miriam into the programme. Our previous two scholars have seen fantastic success and I look forward to seeing how our support will help to nurture and grow Miriam's impressive talent during these important first few steps of her career."
The two previous Warner Bros. Creative Talent scholars from Ireland have both gone on to enjoy successes, with Ciaran Dooley's short film "The Great Wide Open" receiving a nomination for an Irish Film and Television Award. The short, starring John Kavanagh, also picked up awards at the 60th Cork Film Festival and the San Francisco Ocean Film Festival. Daniel Kelly has also celebrated award success after winning an Irish Writer's Guild Award in 2015 for best Screenplay with his film 'Into Night'.
Rónán Ó Muirthile, Head of the National Film School IADT said "IADT is again delighted to welcome the continued support of Warner Bros for our MA in Screenwriting. The scholarship they provide is a recognition of the importance of good visual storytelling and opens an important door for our students to the world of professional screen writing."
When asked about the application process to apply for the scholarship, Miriam told IFTN that everybody accepted on to the MA Screenwriting course at the National Film School (IADT) was able to apply. After filling out her application form which included a 500 word personal statement, Miriam was then selected from a short-list of 5 students to attend an interview from which she was finally chosen.
The Irish scholarship is an extension of Warner Bros. Creative Talent, a key part of Warner Bros. long-term investment in UK creative industry skills and training. Announced in 2013, Warner Bros. Creative Talent's multi-layered investment encompasses scholarships at some of the UK's most respected higher education institutions; apprenticeships with roles ranging from set-lighting to post-production; trainee positions on every Warner Bros.' UK film production; year-long training course places for young people at inclusive theatre company, Chickenshed and work experience placements for schools local to Warner Bros.' London HQ.