On Thursday September 8th, the association representing Ireland's leading animation studios was launched.
Animation Ireland is the is the voice of the Irish animation sector whose core objective is to establish Ireland as a creative centre for Content and Technology by focusing on growth, developing an innovation culture and creating competitive advantage for members.
The board of the Animation Ireland comprises of Paul Young of Cartoon Saloon as Industry Chair, John Phelan of Halcyon Business Solutions as Independent Chair, Ronan McCabe of Double Z Enterprises as Treasurer and Caoimhe Ni Bhradaigh as Secretary.
Additional board members include Cathal Gaffney of Brown Bag Films, Gary Timpson of Kavaleer Productions, John Reynolds of JAM Media, Moe Honan of Moetion Films, Niamh Herrity of Pink Kong Studios and Stephen Fagan of Treehouse Republic.
A full list of Animation Ireland member studios is available below.
The Irish animation industry has witnessed substantial growth in the last decade. It is a central and important component of Ireland's digital and creative economy, employing 1,600 full-time staff. The Irish passion for storytelling and the arts are the flagship of our folklore and have created a culture which is ideally suited for the creativity of world class animation studios.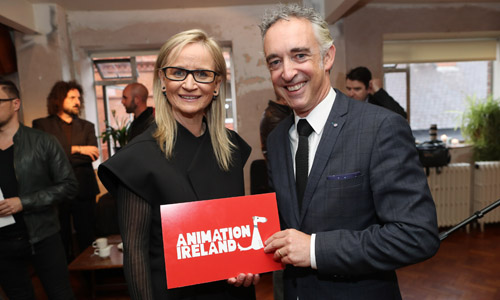 RTÉ Director General Dee Forbes: "Animation companies in Ireland are growing, attracting investment and ownership interest from overseas and, in turn, providing new opportunities for some of our most talented young creative graduates. The creation of Animation Ireland is an important step in strengthening the voice of the animation sector to communicate better and more coherently with policy makers.
I am very aware that the sector would like RTÉ to do more. In late 2015 RTÉ announced a new three-year strategy for animation which included initiatives for developing companies, increased investment in content and support for international co-productions. This strategy runs until the end of 2018."
Julie Sinnamon, Chief Executive, Enterprise Ireland: "Since 2005, Enterprise Ireland has partnered with Irish animation SMEs on a path of development and growth. The number of companies in the sector has more than tripled and is expanding with the emergence of new High Potential Start-Ups. We look forward to working with Animation Ireland companies as they scale internationally, creating jobs and growth at home in Ireland."
The Animation Ireland member studios are: Kite Entertainment, Boulder Media, Monster Entertainment, Pink Kong Studios, Telegael, Kavaleer, Wiggleywoo, Jam, Mooshku, Salty Dog Pictures, Igloo Films, Treehouse Republic, Giant Animation, Keg Kartoonz, Cartoon Saloon, Moetion Films, Ink and Light, Brown Bag, Geronimo, and Igloo Animations.
Visit www.animationireland.com for further information