TV3 crime drama 'Red Rock' is set to return to the small screen in Ireland next month, with the time slot to be confirmed at TV3's Autumn launch tomorrow, Wednesday August 31st.
As one of the most successful Irish dramas to date, 'Red Rock' has aired on TV3 and BBC One and was acquired by Amazon Prime in late 2015. Red Rock' is produced for TV3 by Element Pictures and Angel Station.
We chat with Cathy Belton, who portrays Patricia Hennessy on the hit show. She talks us through what to expect from the upcoming season, what the success means to her as an Irish actress and her upcoming theatre performance in Meadhbh McHugh's 'Helen and I'.
What has it been like for the cast going into the next season with such a positive response at home and abroad?
Belton begins describing her experience of 'Red Rock' with the day she first received a script for the show. She tells us it was clear to her at this stage they would be creating something special if they could deliver on the quality of the writing.
She goes on to describe the nervousness and excitement for both cast and crew during the first season, and how rewarding it has been to have their collaborative effort affirmed by audiences. Not only has the show been celebrated at home with an impressive seven nominations at the 2015 IFTA Gala Television Awards, but has maintained an almost perfect 5-star rating on Amazon Prime.
How did the cast and crew react to the response from UK audiences?
Belton tells us excitedly, "We shot that last year!" The reception in the UK has reminded the 'Red Rock' team of where they started off, and while they could not have anticipated viewing numbers of 1.1M couple with such positive media reviews, it can only be a good thing.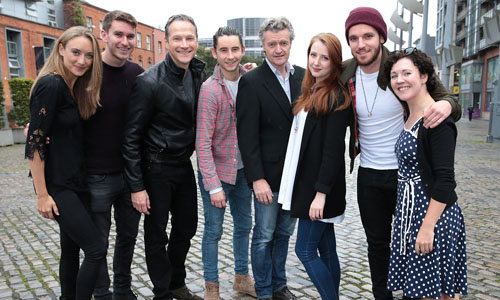 Former TV3 Chief Executive David McRedmond described the show as the most important thing that TV3 have ever done. What would you say to that?
"You know what, fair play to TV3 for taking a risk on a new Irish drama—you have to admire them for doing that."
On a personal level, Belton also says it is a joy to go on set everyday with the team, from the cameramen to the writers who continue to produce such fine-tuned scripts, written to the strengths of the actors.
"Despite all the IFTAs and reviews, we kept our heads down and threw ourselves into it. We have always had that great work ethic and collaborative effort."
What can Irish audiences expect from Patricia Hennessy in the next season?
As the Hennessy family continues to come under pressure, Patricia will also find herself entering a serious relationship which will have a great effect on the character.
"We are definitely going to see a softer side of Patricia," she tells us, and the upcoming storyline for her usually dark character has her, "…terrified but excited."
Again she emphasises the quality of the writing on the show, which continues both to nourish and challenge to her as an actress.
What has it been like to have productions like 'An Klondike' emerging from your home county, and more recently earning the title of European Capital of Culture?
"I wouldn't be an actress if I wasn't from Galway," she tells us, "I am walking into the Druid Theatre Galway right now and I feel so proud to be from here."
On the ongoing excitement of Galway 2020 she says, "I feel it in the streets! It is so encompassing, and so inclusive, across all walks of life. It is great for the city and so justly deserved."
Can you tell us about your upcoming theatre role?
Belton leads the cast of 'Helen and I' alongside Rebecca O'Mara (Jimmy's Hall) and Paul Hickey (Noble) and the young Seána O'Hanlon.
Penned by Meadhbh McHugh, this family drama will run in Galway from September 9th-18th and as part of Dublin Theatre Festival from September 27th-October 1st.
For tickets in Galway visit www.druid.ie For tickets in Dublin visit www.dublintheatrefestival.com