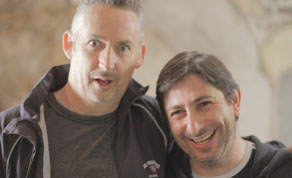 'The Stand Ups' is produced by beActive
Award winning TV, Film and Digital studio beActive has announced the TV Premiere of 'The Stand Ups', a two-part documentary series that examines the heritage of Irish stand-up comedy, from the birth of the International Comedy Cellar in the 1970s to the present day. The first episode will air on TV3 this Saturday April 16th at 10.20pm.
'The Stand Ups' features a host of new Irish talent, as well as stories from some of Ireland's best known faces with interviews from Ardal O Halon, Pauline Mc Glynn, Ed Byrnes, Jim Eoin and Al Murray among others, including international comedian Harland Williams ('Dumb and Dumber', 'There's Something About Mary').
The documentary series revolves around five up and coming comedians - Chris Kent, Alison Spittle, Niamh Marron, Colm Tyrell and Robbie Bonham, as the cameras follow them from Irish comedy circuit to the International Edinburgh comedy festival in a make or break year.
Directed by the Emmy-nominated Nuno Bernardo, the series was shot on location at the Kilkenny Cat Laughs Festival, the Vodafone Comedy Festival, Edinburgh International Festival and various locations around the country. It was produced by Kidscreen and IFTA nominated producer Triona Campbell and funded by the BAI and TV3. The series aims to offer a heartfelt look at the vibrant Irish comedy scene and the realities of life as a day to day comedian trying to make it big.