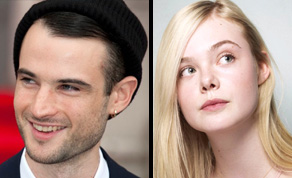 Tom Sturridge and Elle Fanning will both star in 'A Storm in the Stars'
'A Storm in the Stars', produced by Alan Moloney of Parallel Films in Ireland with financing from the Irish Film Board, has moved to shoot in Luxembourg after shooting in Ireland since February 21st.
'A Storm in The Stars' tells the story of Mary Wollstonecraft Godwin - author of one of the world's most famous books 'Frankenstein' and her fiery, tempestuous relationship with another creative soul, the poet Percy Shelley. Mary and Percy declare their love for each and much to her family's horror they elope together, joined by Mary's half sister Claire. At Lord Byron's house at Lake Geneva the idea of Frankenstein but society at the time puts little value in a woman writing such a literary masterpiece and Mary at the tender age of 18 is forced to challenge this society to protect her monster and forge her own identity.
The film stars Tom Sturridge ('Far From The Madding Crowd'), Elle Fanning ('Maleficent', Super 8') and Douglas Booth ('Noah', Jupiter Ascending'), as well as Bel Powley ('The Diary of a Teenage Girl'), Stephen Dillane ('Zero Dark Thirty'), Maisie Williams ('Game of Thrones'), Ben Hardy ('X Men Apocalypse') and Joanne Froggatt ('Downton Abbey'). The film is being directed by award winning Saudi Arabian director Haifaa Al Mansour ('Wadjda'). Irish crew includes Production Designer Paki Smith ('Viva').
The six-week shoot commenced on Sunday 21st February on location in Ireland and moved to Luxembourg on March 7th. The film is produced by Amy Baer of Gidden Media ('Last Vegas'), Ruth Coady ('The Food Guide To Love') and Alan Moloney of Parallel Films ('Jadotville', 'Brooklyn') along with co-producer David Grumbach of Juliette Films. It is financed by the IFB, the BFI and Luxembourg Film Fund along with HanWay, who will also handle the films international sales. UTA Independent Film Group will co -represent the US rights with HanWay.