The Kerry Training Centre delivers professional supportive training within a real-world production environment. At present they offer three full-time, year-long, media training courses in their Digital Skills Centre. These are their Broadcast Production Skills, Digital Media Production and Radio Broadcast courses.
While each of these courses is unique in its own right, they all have an emphasis on hands-on practical skills training. With over 25 years of experience in delivering industry led training, they offer a unique training solution that provides trainees with the skills that make them "Job-Ready".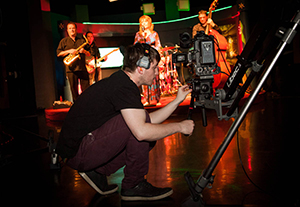 We talk to Brian Nolan at the Digital Skills Centre who gives us more information.
IFTN: First off – with the end of the year approaching – tell us a little about what 2015 brought for Kerry Training Centre?
Brian Nolan:'With the recent completion of our sound mixing studios and radio broadcast facility, our new Digital Skills Centre is now fully operational. This is the culmination of our long-term vision of building a national centre of excellence for practical media skills training. Over the past 12 months our media centre has been a hive of activity with our trainees actively producing and assisting in a variety of media projects. Highlights of the year include:
Trainees crewed and supported the making of three feature films
Trainees crewed on the ABC/Warner Brothers TV series 'The Bachelorette' on location in Kerry, Cork & Galway
Trainees crewed and supported the making of 'Lost and Found', a short film part of the Film Limerick initiative
Supported various IrishTV outside broadcasts (Ring Of Kerry, Ploughing Championships & GAA prematch show 'Mad for Sam')
Supported Bang Bang Teo in the production of a new Christy Moore documentary
Created and delivered five live-streamed events including, for the first time, The Listowel Writers Week awards ceremony
Partnered with Screen Training Ireland & Galway Film Centre in the delivery of a Multi-Camera Directors course with BBC trainer Tony Gregory.
Hosted and participated in a week-long practical lighting master class with renowned Chief Lighting Technician Mo Flam (Credits Include: English Patient & Cold Mountain).
Assisted in the production of a music video for the band Darling
Trainees participated in the production of the new 'EIR' television advertisement
Hosted a master class exploring the production of IFTA award winning documentary 'Close To Evil' with Director Gerry Gregg & DOP Seamus Deasy. We were delighted to have supported this historically significant documentary and to have our trainees actively participate in its production
Produced and broadcast a multi-camera 'Strictly Come Dancing' event for the Irish Cancer Society at INEC Killarney
Documented special effects make-up event for Look Good, Feel Better organisation.
Trainees travelled to Brazil to cover the World Skills Olympics for the Irish team and streamed over two hours of a multi camera live show from Săo Paulo
Trainees currently preparing to travel to Africa to produce media content for an international aid agency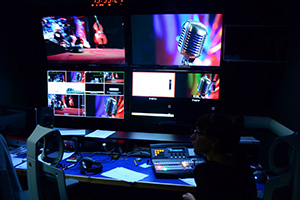 And you have new courses starting in 2016 – for which you are currently looking for high-calibre suitable candidates – what can you tell us about these courses?
'The courses that we are currently recruiting for are Broadcast Production Skills and Digital Media Production (full details can be found at this link: www.digitalskillscentre.com}. These courses are due commence in early 2016. Entry to all of our courses are by interview. The ideal candidate will be career focused and determined to work in the media sector. They will be self-motivated and a reliable team player. They should have a grounded understanding of what is required to work in the media industry.'
'The reputation of excellence that our courses enjoy within the media industry, is reflective of the calibre trainee that undertake them.'
Kerry Training Centre has long prided itself on its' facilities – what can you tell us about them?
'Our training facility is second to none! It includes Radio, Television and Photographic studios as well as multiple editing suites, a sound mixing room, grading suite, hair and make-up salon, green rooms, multimedia labs and classrooms. Our facility is equipped to industry standard and we are very proud that all the instructors have been involved in the design and construction of the centre. For those that are interested in our courses, if they contact us, we would be happy to show them around.'
What do you think makes Digital Skills Centre unique for anyone considering to attend?
'What differentiates us from others is our training approach; we deliver skills through total immersion training. Firstly, our class sizes are never larger than eighteen trainees for each of our courses. The advantage of this is, trainees are guided and mentored individually by the course instructor throughout the year. Secondly, every trainee has total access to the highest level of professional equipment and facilities. Most importantly however, from the earliest stages of the course, trainees actively participate in the production of real-world content, for real-world clients. Undertaking this work allows them to build upon a professional skill set within a professional environment. This also provides them with contacts and visibility within the media industry.'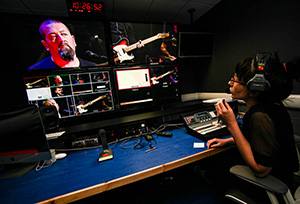 How do you make sure that students are as ready as they can be for real-world jobs when leaving the centre?
'The real-world project work provides trainees with a confidence in their newly acquired production skills while providing them with a bridge directly into industry.'
Anything else to add?
'If any media production companies are looking for either trainees or practical assistance with their projects, we would be delighted to hear from them.'
Contact Details for Kerry ETB Training Centre. Brian Nolan's (Broadcast Production) e-mail is bnolan@kerryetbtrainingcentre.ie while Jim Twomey's (Digital Media Production) email is jtwomey@kerryetbtrainingcentre.ie. They can both be reached on the line 066 – 7149600.