Sprinkled among the more established names of Deirdre O' Kane, Kerry Condon, Maria Doyle Kennedy and Sinéad Cusack in the four female acting categories at this year's IFTA Film & Drama Awards, are eight first-time nominees and fledgling actresses destined for stardom in Ireland and beyond.
Sarah Greene, Caitriona Balfe, Tara Breathnach, Jordanne Jones, Simone Kirby, Aisling Franciosi, Catherine Walker and Michelle Beamish all received their IFTA nods this year with their performances excellently facilitating the more varied and substantial currently being written for women in Ireland in recent years.
Already an established theatre actress with a Tony nomination to her name for Martin McDonagh's The Cripple of Inishmaan, Sarah Greene is a definite up and coming actress on the film and drama scene too as her IFTA nomination proves. Landing roles in films such as 'The Guard', 'Standby' and 'My Brothers' in recent years - Greene has also made a name for herself in television too with roles in 'Vikings' and 'Raw'. She is also set for a recurring role in the second series of Sky Atlantic's drama 'Penny Dreadful'. She will also make her US debut with an appearance in the comedy 'Adam Jones' opposite Bradley Cooper and Jamie Dornan.
Her nominated role in 'Noble' - Stephen Bradley's adaptation on the life of children's rights activist Christina Noble - has been well reviewed with Greene perfectly encapsulating the turbulent and transitionary period of Christina's early 20's. Speaking to IFTN last year, director Stephen Bradley said of Greene's casting: 'I auditioned her just once for Noble and her match to Deirdre was so perfect that I went into a panic because she was being offered all kinds of other roles and I needed to lock her in. Testy and pushy conversations with agents ensued and I finally secured Sarah's brilliant talents for the film.'
For one actress in particular, the news of her first IFTA nomination was the icing on the cake of a very good week – with 'The Fall' actress Aisling Franciosi also nabbing her first transatlantic role in the second series of the highly-rated US spy drama series 'Legends' opposite Sean Bean.
With awards, acclaim and adoration being heaped on 'The Fall' lead actor Jamie Dornan for his multi-layered portrayal of serial killer Paul Spector over the past number of years (resulting in two IFTA Awards, a BAFTA nomination and a lead role in the 'Fifty Shades' global franchise), this year's IFTA Awards have also recognised the actress that went toe to toe with him in some of the series more complex and critically lauded scenes.
Playing a teenage temptress with a twist, Franciosi made a very dark and multifaceted character her own, seamlessly complimenting creator Allan Cubitt's fantastic writing which refused to back its' female characters into the archetypical corner that befalls so many films and dramas.
Other roles of Franciosi's over the past few years include the BBC Drama 'Quirke' opposite Gabriel Byrne (with Gabriel and Casting Director Louise Kiely casting the young actress before 'The Fall' even aired) and Ken Loach's 'Jimmy's Hall'. Speaking to IFTN in November, Aisling stated that she is extremely selective when choosing roles which has left her with very few film and television credits despite being one of the most sought after actresses in Ireland.
Proof that she has chosen wisely however came in the form of Screen International touting her as "One To Watch" in 2014 – a title previously bestowed on Carey Mulligan and Benedict Cumberbatch – with both stars going on to blockbuster films and Oscar nominations.
Nominated in the category of Best Supporting Actress Drama, Franciosi has expressed her admiration for her fellow nominees which include acting stalwarts Charlie Murphy, Charlotte Bradley and Mary Murray. She said: 'To be considered in the same company as those women is all the reward I need and for that I am very grateful to the IFTA Academy for the nomination'.
Another first-time nominee who has seen her stock rise considerably in the US in the past few years is Caitriona Balfe. After small roles in films such as 'Super 8', 'Escape Plan' and 'Now You See Me', Balfe landed the lead role in the British-American time-travel series 'Outlander' which has aired to high ratings in the US on Starz. Her role in the series has landed her an IFTA nomination in the category of Best Lead Actress Drama.
Sarah Greene, Aisling Franciosi and Caitriona Balfe are not the only first-time female nominees this year however with the Best Lead Actress Film category in particular featuring three first time nominees in the form of Tara Breathnach, Jordanne Jones and Simone Kirby alongside five-time IFTA-nominee Deirdre O' Kane.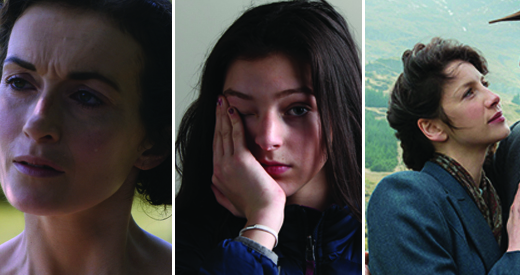 In the female led low-budget period drama 'A Nightingale Falling', Tara Breathnach shone as a woman who must outwit IRA and British forces and confront her personal rivalry with her sister in order to help a wounded British soldier. Breathnach's previous credits include 'An Bronntanas', 'Corp & Anam' and 'Holby City'.
14 year old Dublin actress Jordanne Jones is the youngest nominee at this year's awards with her lead role in Frank Berry's 'I Used To Live Here' her first and only role to date. With her performance as a troubled teenager flirting with the idea of suicide garnering a lot of buzz from publications such as The Irish Times and Variety however, this film role with not be her last. Jones has also procured a scholarship to the Bow Street Acting Academy, on invitation from casting director Maureen Hughes.
Simone Kirby is also capping off a very fruitful year by nabbing her first IFTA nod for Ken Loach's 'Jimmy's Hall'. The 'Season Of The Witch' and 'Hamlet' star will continue her prolific television work in 2015 with appearances in new RTÉ four part series 'Clean Break' and BBC Northern Ireland's drama 'The Truth Commissioner'.
The Supporting Actress Film category consists of Kerry Condon, Sinéad Cusack, Sarah Greene and Catherine Walker with Greene and Walker also procuring their first IFTA nominations.
Catherine Walker won acclaim for her role as a suicidal air hostess in Terry McMahon's 'Patrick's Day' and has also this year landed a major supporting role in Sky One's medical drama 'Critical' opposite Lennie James. Previous credits of Walker's include 'Leap Year', 'The Clinic' and 'The Silence'.
The Best Actress Drama category also has newbie nominee Michelle Beamish up for an IFTA gong for the first time.
Michelle Beamish was the female star of TG4's acclaimed Celtic Noir series 'An Bronntanas' which is destined to make the Cork actress's stock rise as it continues to sell around the world. Beamish has previously had roles in Irish dramas such as 'Corp & Anam', 'Love/Hate' and 'An Scup'. She faces competition from Maria Doyle Kennedy ('Corp & Anam'), Charlie Murphy ('Love/Hate') and Caitriona Balfe ('Outlander').
The IFTA Film & Drama Awards take place on Sunday, May 24. For the full list of nominees, click here.