With both Gold and '71 out this week, acclaimed Irish actor David Wilmot takes time out to talk with IFTN about trusting directors, finding good scripts, and how we need an Irish X-Men.
We need more actors like David Wilmot.
Like a quiet storm, Wilmot is one of those characters actors that is adept at not getting noticed whilst slyly wreaking havoc.
Again and again, the man has stolen the show, and in the process made a movie all that much more watchable, believable and downright likeable.
Having made his debut in the 1987 TV movie Lapsed Catholic - listed merely as Fan - Wilmot began to make his presence felt in such notable outings as 'I Went Down' (1997), 'Intermission' (2003) (for which he won an IFTA) and the Oscar-winning short 'Six Shooter' (2004), whilst on TV, recurring roles on the likes of 'The Clinic', 'The Tudors' and 'Ripper Street' have helped Wilmot become a famous face, if not quite a household name.
Perhaps that will change with Niall and Brendan Heery's bittersweet Irish comedy Gold, Wilmot sharing lead duties as the doleful prodigal father, Ray, hoping to reconnect with his ex (Kerry Condon) and their young daughter (Maisie Williams), his efforts blocked somewhat by the new man of the house, PE teacher Frank (James Nesbitt). It's an unassuming film, and one without a great big comedic hook to draw a large audiences in, but 'Gold' - a hit this year at both the Dublin International Film Festival in February and the Seattle Film Festival in May - is a slow-burning and tender treat. Who would have thought that melancholia and slapstick would go so well together?
PAUL BYRNE: With '71, Gold, Calvary and Ripper Street, you've been a busy man of late - lucky? Charming? Desperate? Or just incredibly talented?
DAVID WILMOT: Lucky. Its always luck in the entertainment industry. In reality loads of people can do what you do. So you work hard and turn up on time but luck throws a long shadow.
Given that it's the first out of the gate, let's talk about 'Gold', the Heery's brothers' fine cuckoo-in-the-nest drama where you're never entirely sure who's the most cuckoo. It's been described by one critic as 'something of a cross between an Alexander Payne and Wes Anderson film'. How did you see it when you first got the script?
That's a good description, I first would have seen it all from Ray's point of view because I was facing the challenge of auditioning for the role. But the script felt authentic and equally so did Niall when I met him. It also made me laugh, and I suppose it didn't feel like a typical Irish film.
It's a sweet cast, and they're well cast. James Nesbitt does Alan Partridge In A Tracksuit beautifully as the trophy-chasing Frank; 'Game Of Thrones' star Maisie Williams proves once again that she's rather adept at playing headstrong and independent young women; Kerry Condon is as charming and quietly brilliant as Kerry Condon always tends to be, and you play prodigal father Ray with the look, to quote Bill Hicks, of a dog who's just been shown a card trick. Ups your game when you're surrounded by the right people, right...?
Of course, it's always that way. I had worked a lot with Kerry before; she is one of Ireland's best actresses in my opinion. I had never worked with Jimmy and he had a real enthusiasm for the gig, so that along with his considerable knowledge and skill was a real plus. He was a massive boon for Niall and all of us on the job. And well, Maisie is the heart of the film and quite a remarkable talent altogether. A cool young lady too.
Mining that odd couple comedy with Nesbitt, his highly strung Frank naturally banging heads with your hardly strung Ray. Fun to mess with the very different volumes there?
Yes, indeed, that can be part of the buzz of getting stuff right. Right from our first rehearsal, Jimmy and myself had loads of ideas.
It's a sweet film that's already been warmly received on the festival circuit, but Irish films are a notoriously hard sell. Especially to Irish audiences. Just how it is, or do you toss and turn at night over the lack of patriotism or plain ol' curiosity in our native film lovers?
I don't toss and turn, no. Everybody likes different stuff. I mean, there have been Irish films that have done really well in Ireland that I wouldn't like. I'm sure if we made Irish X-Men films, they would probably sell a lot of tickets in Ireland.
Yeah, but Storm would have to change her name to Constant Drizzle. Not as sexy.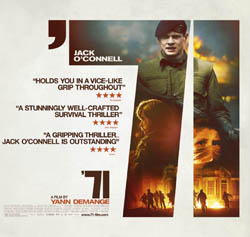 There's a very strong chance that '71 is going to reach a big audience, despite the fact that it's yet another drama set amidst the Troubles? Were you wary of playing old-school Republican Boyle, given that cinema has been here many times before, and rarely with much success...?
No, not wary, no, but I know what you mean. The script did feel very different though, and then I met Yann and he had tons of energy for the project. And when I finally saw it I was surprised by the final product. It's a very fresh take on that time and it very much feels like a movie that's in your face.
It's a kicker of a movie, with first-time feature director Yann Demange proving himself a talent of Greengrass proportions. Was that something you recognised right from the start, that '71 was going to be something special, or do you never know?
Well, you never really know. It's always a roll of the dice for everyone, not just the actors. But some of the most exciting moments for an actor are - and this happened on 71 and Gold - when it dawns on you how complete the director's vision is. So, you start to feel that trust, and very lucky too.
It's been noted that '71's core story of a young army rookie [Jack O'Connell] caught behind enemy lines could have taken place in any warzone. Nonetheless, did the film have any effect on your own personal views on the Northern Ireland conflict?
No. But when I first read it - a film about a British solider in Belfast and he is the hero - it stopped me in my tracks a bit. But now I feel that was a shallow response. Jack is brilliant though.
You've just finished shooting the new season of Ripper Street - surprised how fan power brought that one back from the brink by amazon?
Yes, I suppose so. It's my first experience of such a thing, but there is a lot of quality in Ripper, from the writing to the leads, to the various creative teams involved. That made it an attractive proposition for amazon.
With more and more people finding their kicks online, it has changed the way we consume, and now make, film. You're busy making shorts too - you have both Ruaidhri Conroy's 'Justlikeabitch' and Belfast bopper David Holmes' directorial debut 'I Am Here this year'. Favours, or a different kind of kick?
Well, not favours, no. David Holmes put together an amazing team to make something special and really personal to him. And 'Justlikeabitch' had some of the best dialogue I'd read in ages. I think Mr. Conroy is a very exciting new writer-director, and I hope he can get a feature off the ground - and gives me a part in it, of course.
Have you been tempted to step behind the camera? It's been 27 years since Lapsed Catholics - surely you've picked up some of the tricks of the trade by now...?
Well, I always thought, if I won the lotto, I'd make a film.
What next? You're currently in London? Theatre? TV? Film?
Not sure. I'm hoping John M McDonagh makes more films.
'Gold' (distributor Wildcard) hits Irish screens October 10th, along with ''71' (Studio Canal / Element)
'Ripper Street' airs on Amazon Prime on November 14th