The Royal Television Society (RTS) Northern Ireland Centre has announced the winners of the Student Television Awards, which took place in Belfast Metropolitan College on Tuesday March 25.
Students from the University of Ulster took away awards in two categories. The Entertainment award was presented to Laura Coyle for 'Breaking Convention', while the award in the Fiction category went to Mark McGuinness for his entry, 'Harbouring Hell'.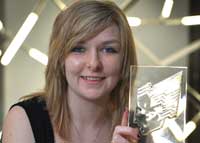 Laura Coyle from University of Ulster
The award in the animation category was presented to Michael White from Northern Regional College for 'A Christmas Surprise' and the Factual award went to Thomas McKeown and Johnson Orr from Belfast Metropolitan College for '£13 an hour'.
Justin Edwards, Belfast Metropolitan College's Assistant Chief Executive and Director of Curriculum, introduced the keynote speaker Kieran Doherty, Managing Director of Stellify Media, which last week launched their new production company in a joint venture with Sony Pictures.
UTV's Judith Hill presented the awards, which were given in four categories: Animation, Fiction, Factual and Entertainment.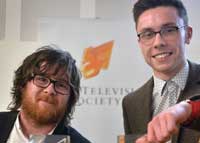 Thomas McKeown and Johnson Orr from Belfast Metropolitan College
Employment and Learning Minister Dr Stephen Farry, said: "Creative industries, and film and television in particular, have an important role to play in growing the Northern Ireland economy. These awards are testament that our further education colleges and universities are developing an exciting, inspiring and growing pool of highly skilled individuals who can play a key role in this sector."