Ka-Boom, the Belfast-based post production facility that provides ADR services for high profile productions such as 'Game of Thrones and 'The Fall', has expanded its operations to full picture & sound post services for both the North and the Republic of Ireland and the wider international market.
Founded three years ago by company director Zach Willis and re-recording mixer Will McConnell, Ka-Boom has grown beyond its initial headquarters to a state-of-the-art facility twice the size to accommodate increasing demand.
Mr Willis spoke to IFTN this week to describe the post production services that Ka-Boom offers its clients, from ADR and audio services to editing and grading.
'Since starting the business three years ago we have had the opportunity to work on some of the top productions to come out of Northern Ireland and Republic of Ireland. Such was the demand we had to expand our facility and services.'
Mr Willis recalled some of the productions they have worked on recently.
'We had Nikolaj Coster-Waldau, who plays Jamie Lannister in HBO series Game of Thrones, in here recording additional dialogue for the film 'Mama' - produced by Guillermo del Toro, creator of 'Pan's Labyrinth' - which he filmed in the off-season from 'Game of Thrones'. Using source connect, we connected with a studio in Spain for the director and producers to listen in. After we record an actor's lines, we transfer the recording to the studio using our 10GB fibre network,' he said.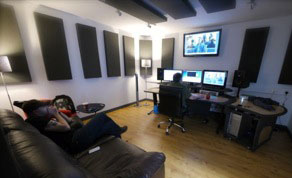 'We also work closely with HBO to record ADR for the series in Belfast as well as DVD commentaries for the 'Game of Thrones' DVD box set and online content.'
Mr Willis explained that Ka-Boom's sound stages can accommodate large crowd recordings at the same time, as they did with BBC serial killer drama 'The Fall', starring Gillian Anderson and Jamie Dornan and BBC Gangster drama 'Peaky Blinder', starring Cillian Murphy, Sam Neill and Helen McCrory.
'We provided ADR for 'The Fall' because we have such a large ADR stage, probably the largest in Belfast. At one point we had fifteen people on our stage all doing different crowd background noises, including some rioting sounds - with a lot of people shouting and roaring. And when, for example, someone is pretending to talk into a phone we recorded the off-screen dialogue.'
Mr Willis recounted many examples of situations where actors working in Ireland were contractually bound to provide audio material to another production abroad - enlisting Ka-Boom to bridge the gap.
'We have had people like singer Olly Murs in the studio to record voice overs and recently we had an actor from 'Dracula', Zach McGowan, who does a lot of the voice-overs for the TNT television network in America. He comes to Ka-Boom to record promotional material for TNT. We connected with New York via ISDN or Source Connect to deliver that content to them.
'We also had Verne Troyer, who played Mini-Me in Austin Powers, and Keith Lemon in here. Verne had done a show in America called 'Celebrity House Hunting' and had to do some voice-over recordings for it. And Keith Lemon had just released a book and WH Smith needed him to record some dialogue for their TV adverts, which we did.'
Following Ka-Boom's success in providing audio services they recently expanded their facility to provide picture editing and finishing services.
Two other recent productions that utilised Ka-Boom's picture & audio post production services were 'Stumpy's Brae' a one-off TV production produced by Six Mile Hill Productions for BBC Northern Ireland, and the feature film 'Made in Belfast' produced my KGB Screen starring Ciarán McMenamin, which premiered at the Belfast film festival.
'We provided a full post production service for 'Stumpy's Brae' and 'Made in Belfast' including both broadcaster deliverables and DCP deliverables for Cinema,' Mr Willis said.
Ka-Boom's extensive picture and audio services include a full Avid based workflow with Avid based Pro Tools HDX facility; sound design; voice over recording, ISDN and source connect; ADR/dialogue editorial; Foley editorial; sound FX editorial; music; dubbing mix in their 5.1 dubbing theatre; Offline and Online edit facility including Avid Symphony and Baselight.
Such is the calibre of acting talent passing through Ka-Boom that keeping track of them all for posterity is the tricky part.
'We have a board we all the actors signatures that have used Ka-boom, which has turned into a great focal point in our ADR stage,' Mr Willis added.
Further information on Ka-Boom's post production services can be found on their website by clicking on the link here.