TG4's core remit may lie in the tradition of the Irish language, but the management structure of Ireland's only native language broadcaster is unquestionably modern.
The niche station is on a par with any other Irish broadcaster when it comes to producing original content; and does so on a lesser budget.
Since its establishment in 1996, TG4 has made the transition from a three-hour-a-day broadcaster, to producing 1,700 hours of original content per year; has gone from being a rural-only station to providing more jobs in the TV industry for younger presenters than any other; and is leading the digital age of broadcast with a HD channel on UPC, and a worldwide online player.
Since 1996, TG4 has adapted to the environment around them; whether that meant changing its policy to avail of funding opportunities, or drafting in a ream of new presenters to target the younger market, or simply opting to fund on a content basis rather than a commercial one.
With a yearly budget of €32m, the station's commissioning director Micheál O'Meallaigh is the driving force behind TG4's commissioning decisions. The station puts out two calls for entries a year, and only allocates a ball park budget rather than a definitive one.

New programming isn't as flush as last year because we spent a lot of money. The rewards are being seen on screen "
Speaking to IFTN, the commissioning director outlined TG4's unique approach to commissioning budgets: "We don't really have a division of the budgets for numbers, we go with the best stories and the ones that can be told as gaeilge, so some years we may have more entertainment, and other years we have a lot more documentaries, because the stories are stronger.
"We wouldn't tie ourselves down and say 'OK we're going to spend €18m or €20m'. We cover all genres to some degree, but we wouldn't tie ourselves down."
This process in is contrast to RTÉ's commissioning policy, which sets down budgets before producers submit ideas. On one hand, this gives producers a realistic view on what kind of programmes they can submit, and on the other, it limits the amount of freedom they have.
If TG4 thinks a project deserves more of a budget than was initially allocated, it will pump more funding into that project, albeit at the cost of another. "In Ireland we're not a big organisation that we can change easily, rather than being a big ship like the Titanic where it takes a long time to turn things around, we can actually decide on the basis of one commission and say 'OK this genre isn't that strong we'll drop something there and we'll put more money into this'. We play it by ear basically," says O'Meallaigh.
One victim of TG4's cutting policy this year is the Anamnocht section, a series of hour-long single documentaries. O'Meallaigh says there are usually about 10 Anamnocht projects aired each year, however this year, "the submissions haven't been as strong as other years, so there'll be fewer of them being commissioned, but it means we're putting that money into entertainment and new formats that haven't been tried before.
"The most that TG4 can put in [to Anamhocht] on our own back is about €50,000. Most of those go towards the BAI and they can actually end up with a budget of €120,000, or if there are big creations in drama, it could be a little more than that.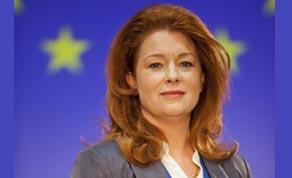 Blathnaid Ni Chofaigh stars in TG4 comedy 'Crisis Eile'
"In the case of drama, how long is a bit of string? Some of the more expensive ones would have budgets of maybe perhaps up to €400,000 an hour, or maybe a little higher," continued O'Meallaigh.
In the case of the Cogar section, a series of half-hour personal stories that are made by a local personality, an average budget of €20,000 is allocated. But if the project needs more funding, TG4 will accommodate: "In the case of a special reason, if this person has to go to America as part of the story to make sure we get the whole thing, we could add a couple of thousand to ensure it's done properly. Then another one would probably suffer because of that."
Original Programming
The 1,700 hours of original programming that TG4 broadcasts per year (commissioned 607 hours of new original Irish language content including 55 hours of drama in 2012), covers all genres, from entertainment to drama, factual, kids and sport.
Among its recent original programming slate is comedy series 'Crisis Eile', which was part filmed in Brussels last year; drama series 'Scúp', which premiered last night, and was penned by Colin Bateman; 'Rónán ar an Camino', a factual programme which was shot in Northern Spain, and entertainment format 'Scór Encore', which premiered last week.
In the pipeline, the station has a new drama series in pre-production, 'An Bronntanas', scheduled to begin production next week; another format called 'Taisce Tí', due to begin filming in April; and a large amount of documentaries, both feature length and single docs.
"These things really have been developing over a number of years. We have this ethos, this way of looking at things the last number of years, but sometimes it takes a long time to get projects developed and financed so it didn't just happen this year.

We don't want the same programmes that are being shown on RTÉ or TV3 as gaeilge, they should be different "
"Last year we happened to have a good shot with BAI and the ILBF and good programmes came through, so we're reaping the awards this year. This year we mightn't have money, new programming isn't as flush as last year because we spent a lot of money last year. The rewards are being seen on screen, and we now have a good slate of programmes on until the end of the year, and in fact, even some going in to next year," says O'Meallaigh.
O'Meallaigh has been commissioning programmes at TG4 since its establishment in 1996. Back then, the station was allocated £10m and two hours of programming, with one hour of programming coming from RTÉ.
"We thought two hours is not enough, no one's going to check in for that, and we decided to make the money go somewhat further and we commissioned two hours per day plus the one from RTÉ, so it was three hours per day," says O'Meallaigh. It wasn't long before the station began to bring in commercial money from advertising, and the original programming slate was increased.
"We were able to buy programmes that weren't made as gaeilge but could be bought for small money and could be re-voiced or re-dubbed," he continued.
It was around this time that TG4 relied on two main funding avenues; the BCI (now the BAI) and the Irish Film Board.
Almost four years ago, the IFB changed its policy and stopped supporting one hour-long documentaries, which were a strong staple in TG4's schedule.
Ever the adapters, TG4 changed its own policy to match the IFB's, and still managed to avail of its funding services. "The IFB used to support one hour documentaries, but then things changed under Simon Perry, and they would only support feature length documentaries, so we decided we might as well try feature length docs," explains O'Meallaigh.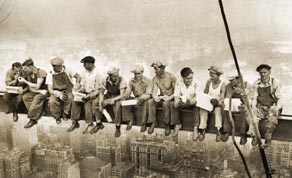 Feature doc 'Lon sa Speir' won an IFTA in 2013'
"We didn't hang around very long. We co-financed a number of feature length docs, which is quite unusual because most broadcasters feel that the hour is a better duration for a TV broadcast," he continued.
Today, Irish language projects have a number of funding options available to them; BAI, IFB, NI Screen, ILBF, BBC NI and Eurimages.
Commissioning
O'Meallaigh makes it clear however that budgets alone will not make for a TG4 commission, and a project of quality content and originality will get picked up first.
He says: "We don't want the same programmes that are being shown on RTÉ or TV3 as gaeilge, they should be somewhat different to give another view, the 'súil eile', another way of looking at things."
This 'súil eile' has served the station well in recent years. While viewing figures may be kinder to RTÉ and TV3, and indeed UK stations that are made available on pay TV services like UPC and Sky, TG4 has managed to bridge the gap between Irish and English language viewers, as well as rural-only viewers, by adapting to its environment.
"The image that was given at the time was that we were exclusive for a small minority of people, but we decided to actually project a youthful image rather than to cater to the rural population; that would have been our core audience," O'Meallaigh continues.
"We may have turned off some of those core audience by going that direction, initially, but it was important that we try and give the language a new image and that we break that link between the language and schooling.

You don't have to have the language to understand in TG4 "
"To make it young and appealing, the first night we opened up we had two girls, Grainne Seoige and Gillian Ní Cheallaigh, and they were going to be the new newsreaders. This is new Irish language."
TG4 also bridged the gap between young Irish speakers and those that weren't fluent in the language, by investing in international series like 'Gossip Girl' and 'True Blood', which premiered on the station before any other Irish broadcaster.
The use of subtitles on all programmes also ensures TG4 content is accessible to all – "You don't have to have the language to understand in TG4," says O'Meallaigh – and the TG4 online player is available not only in Ireland, but worldwide.
In the aftermath of the Saorview switch over, when it was thought TG4 would lose even more rural viewers, O'Meallaigh thinks the opposite has happened, as TG4 was made available in Northern Ireland for the first time. "Only about 10-15 per cent of the country is dependent on Saorview, the rest of them have UPC or Sky," he says.
Despite all these modern influences, is TG4 still true to the Irish language? According to O'Meallaigh: "the language of the house is Irish".
Read our Irish language IFTA Focus Q&A's:
IFTA Focus: Q&A With 'Rásaí na Gaillimhe' Producer Niamh Fagan
IFTA Focus: Q&A With 'Bernard Dunne's Bród Club' Producer Conor Moloney
IFTA Focus: Q&A With 'Lón sa Spéir' Director Seán Ó'Cualáin
IFTA Focus: Q&A With 'Congo: 1961' Producer Brendan Culleton
IFTA Focus: Q&A With 'Lorg na gCos - Súil Siar ar Mise Éire' DoP Fergal O'Hanlon