The Irish animation bubble continues to float around the world, with the latest animated series from Irish shores, 'Henry Hugglemonster', premiering on Disney Junior tomorrow.
The pre-school series, developed by Irish author Niamh Sharkey and Dublin-based Brown Bag Films, kicks off a 48-episode run on the popular children's channel, with the series commissioned in an additional 149 territories.
Main character Henry, which originated in children's books 'I'm a Happy Hugglewug', written by Sharkey, is the protagonist of the series, with audiences living every moment through his eyes. Henry is joined by his Hugglemonster Family, comprised of his mother and father and three siblings, as well as his monster friends.
Disney commissioned the series after Sharkey's book publisher, Helen McAleer, put her in touch with Brown Bag, and the pair developed an animation bible. Henry and his Hugglemonster Family, through Sharkey's original illustrations, were brought from print to screen by workshopping with children, coming up with fresh story ideas, writing a script, and eventually creating animation tests which they could show to Disney.

I feel like there's a nurturing of talent in a way. I think there are really talented animators in Ireland and you can't deny that a lot of great work is being done in Ireland "
"What was different about Brown Bag was that we very much worked together on it. So for me as the author, they really wanted to know everything I knew about Henry, and that was really interesting to me, because I had learned so much through it. I wouldn't have come from a television or animation background at all so I learned a huge amount from meeting with Brown Bag. They kept saying to me 'You will know all these things' even with the bible, they'd ask me what might the mom do during the day, what did the dad do?" says Sharkey.
"What we really fell in love with," adds Beth Gardiner, vice president of Disney Junior EMEA, "was this sense of a loving family of monsters. We always think about [Henry] as a really likeable kid, just like our audience, he's experiencing the same things, he's relaying to us how he's feeling, how he's handling it. He's an optimistic character, but it's always in a sort of chaotic, funny family."
This chaotic, funny family the team has created is based on Sharkey's own family, she explains: "I really wanted to do a book about monsters and I always keep a notebook full of ideas, and one of the first drawings I did was a family of monsters. My publishers really liked that and I wanted the book to be interactive; there's singing, and stories, and making art and different things like that. It's inspired partly by my own family; growing up in a big family, I've two brothers and two sisters, and there was always lots going on in our house."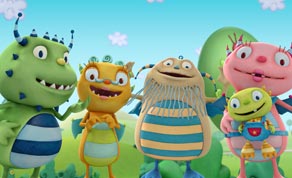 The Hugglemonster Family
The series came together by Sharkey setting up shop in Brown Bag's studios in Smithfield, and by all members of the production team contributing. Brown Bag, renowned for its award-winning animations, including the Oscar-nominated 'Give Up Yer Aul Sins' and 'Granny O'Grimm's Sleeping Beauty', is also known for nurturing young talent, such as IFTA Rising Star nominee Gerard Barrett (Pilgrim Hill), who has been working at the company on a freelance basis.
Sharkey says: "What's been different in Brown Bag is that we've got the story editor, the director, and the creator in one building, and then Beth is just in London, so we've a creative collaboration. Sometimes when you're working, the writers would be based all around the world, but having the three of us in the same room, we come up with all of the content because we can see each other everyday. The team that they have are just unbelievable."
As well as the Brown Bag team, 'Henry Hugglemonster' is directed by Norton Virgien, the Emmy-nominated animator who directed Nickelodeon's multi award-winning series 'Rugrats', and Brown Bag's previous animation, 'Doc McStuffins'.
Apart from Brown Bag's team spirit, Gardiner says Irish animators in general are "very talented", something she puts down to having the support from those around them. "I feel like there's a nurturing of talent in a way. I think there are really talented animators in Ireland and you can't deny that a lot of great work is being done in Ireland," she says.
'Henry Hugglemonster' premieres in Ireland, the UK and Turkey on Disney Junior tomorrow, February 8, at 5.15pm. The series will air in the US in April, followed by an additional 140+ territories.