Dave Quinn has been appointed managing director of Dublin-based post-production facility Windmill Lane Pictures.
In a reshuffle for the post house, CEO James Morris also assumes a new role as non-executive chairman, creative director Ian Jacobs takes over the commercial department, while Locky Butler takes over as head of Windmill's audio division.
Quinn, who ran the commercials division at Windmill for many years, will now take responsibility for the groups' entire business, with new service offerings and international markets being key to the company's growth.
Jacobs' new role as head of the commercials department will see him provide a more focused and creative-led offering to agencies and production companies.
Butler will now be responsible for the day-to-day running of the Windmill studios.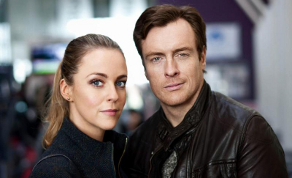 'Vexed' was one of the productions that posted at Windmill in 2012
Welcoming these announcements at the end of a busy 2012, which saw the post house work on high profile projects such as BBC series 'Vexed', ITV's 'Thirteen Steps Down', Samson Films' 'The Sea' and multi IFTA-nominated RTÉ series 'Love/Hate', Morris said: "I look forward to my new role and continuing to work with Dave and his team and further building Windmill's future".
Jacobs said: "We have a fantastic team of creatives and producers, and our focus is to continue to improve the quality of both end-product and the working experience for our clients here in Windmill".
As well as working on homegrown shows, Windmill Lane has also been making waves on the international circuit with international co-productions such as 'Albert Nobbs' and 'Haywire'. Quinn said: "Over the past few years Windmill has been making huge inroads in the international arena with film and drama projects such as 'Lock-Out', 'Titanic: Blood & Steel', 'Albert Nobbs' and 'Haywire'.
On home soil, Windmill is being recognised by the Irish Film & Television Academy, with Dermot Diskin nominated for an IFTA in the Editing category for his work on 'Love/Hate'.
"In audio there has been great collaboration with the growing animation sector in several high profile projects," continued Quinn.
"On the commercials front, Windmill has had several very strong years in the local market, post-producing many of the most memorable campaigns on TV, whilst internationally providing post-production on two high-profile Strongbow Cider campaigns for worldwide territories."
Quinn added that the relocation of Windmill's studios from the docklands to Herbert Street in the city centre has been a major advantage in securing such high profile clients: "Moving has been a great success for Windmill, particularly in these challenging times. We now have a purpose-built facility of truly international standing and a digital post-production pipeline which is second to none. Combined with our highly talented and hugely dedicated teams, this allows us to continue to remain at the forefront of post-production in Ireland, whilst also building a solid reputation internationally."
For more information on Windmill Lane Pictures and all its productions, see the company profile on IFTN.