ITV drama 'Life of Crime' has begun post production at Dublin post house Screen Scene after a successful six-week shoot in Dublin.
Screen Scene is looking after full picture and audio post production on the three-part series, which wrapped filming on December 16.
Selina Macarthur is editing, with Gary Curran grading and Warren Dowling providing the online edit. Dee Collier is the post supervisor. Michelle Fingleton is the sound supervisor, while Niall Brady is cutting dialogue and Ken Galvin mixing. Foley will be done in Ardmore Sound recorded by Jean McGrath.
'Life of Crime', an Irish/English co-production between Octagon Films and Ecosse Films, stars British actress Hayley Atwell as rookie policewoman Denise Woods, who becomes obsessed with tracking down the killer of a 15 year-old girl over the course of 28 years.
Atwell plays Woods at three stages in her life; 1985, 1997 and 2012.
The majority of filming took place in a house in Donnybrook in Dublin, which served as an incident room from 1985 to the present day.
English director Jim Loach directed the three episodes from Declan Croghan's script, with James Flynn (Vikings) producing for Octagon alongside Emma Kingsman-Lloyd (DCI Banks) and executive producers Douglas Rae (Nowhere Boy) and Michael Parke (Raw) for Ecosse. Oliver Frampton also co-produced.

I think with 481 it made a very big difference in terms of where we were going to film "
Additional Irish crew attached to the project were DoP Ruairi O'Brien, production manager Jo Homewood and costume designer Leonie Prendergast.
Martin Goulding (Byzantium) was the art director, who was tasked with creating the incident room over three decades, Owen Magee (Trivia) the first assistant director and Niall Martin (Titanic: Blood & Steel) the locations manager.
Producer Kingsman-Lloyd spoke to IFTN the day after principal photography wrapped, and praised the "really fantastic crew and facilities" in Ireland.
'Life of Crime' is the fourth major ITV production to have filmed in Ireland in 2012 and benefit from Section 481. It joins 'Foyle's War', 'Thirteen Steps Down' and 'Ice Cream Girls, which also posted at Screen Scene.
Kingsman-Lloyd said it "really made sense to film here" due to the facilities and the advantages of the tax incentive. "In these tough times with budgets we have to be as careful as we can with money and I think with 481 it made a very big difference in terms of where we were going to film, but it's not the only reason," she said.
"Ecosse have worked here before (on RTÉ series 'Raw') and knowing how good the crews are, it made perfect sense," she added.
The freelance producer, who had never worked in Ireland before 'Life of Crime', said the fact that the UK had also extended its tax incentive would not deter production companies from filming in Ireland. "Interestingly the English one, it's only for budgets over £1m an hour, and actually, that is an incredibly high tariff. The majority of ITV and BBC tariffs are not £1m an hour so I think although it seems a very good thing that the British industry has done, I don't know how many people are really going to benefit from it.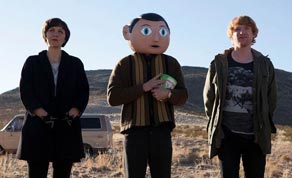 'Frank' is currently shooting in New Mexico
"I don't think it's going to make any difference, I think people will still be looking to come here (Ireland), as I say because of the crews and the infrastructure, I think people will definitely still be looking to come over and shoot here. It makes really good sense," she said.
'Life of Crime' will air on ITV later in 2013 as three one hour episodes. Although Kingsman-Lloyd admits there may be no scope for a second series – "it was always conceived as a three-parter, it doesn't really work in terms of the story" – she admits she had a great time working in Ireland: "I really really enjoyed it. Obviously we'd love to do another one, we were able to find some fantastic local actors, the majority of the crew was Irish."
Screen Scene also announced today that it will work on full picture and audio post of Element Pictures' latest feature 'Frank', which director Lenny Abrahamson and producer Ed Guiney are currently shooting in New Mexico.
'Frank' is scheduled to move production to Ireland at the end of the month, with Maggie Gyllenhaal, Michael Fassbender and Domhnall Gleeson in the three lead roles.
Screen Scene meanwhile is currently celebrating after offline editor Nathan Nugent, and sound team Paddy Hanlon, Steve Fanagan and Niall Brady were all nominated for 2013 IFTA Awards for their work on 'What Richard Did', another Abrahamson and Element collaboration.