If you had been driving down Con Colbert Road in Dublin this summer, or were a passenger on a train through Heuston Station, you would never have suspected that just a stone's throw away, gruesome murders, arrests, and activities involving brothel madams, were taking place.
But deep in the troughs of Clancy Barracks this summer lay Whitechapel residents, who were knee deep in corsets, petticoats and bodices; and that was just the men who frequented the brothel.
For Clancy Barracks, once home to Ireland's soldiers, was the residency of BBC drama 'Ripper Street' for 19 weeks, where crew from the BBC, Dublin's Element Pictures and the UK's Tiger Aspect Productions and Lookout Point were set up.
The cobbled location, which is situated between Heuston Station and the Phoenix Park, contains a number of terraced houses which now lie idle. The grounds are cobbled with authentic 15th century stones, while the location is bordered by a high stone wall.
'Ripper Street' creators, writer Richard Warlow and executive producer Will Gould, said the Victorian landscape "gave us half of our street. It already existed, so we had to go and build the other half."
The man in charge of building the other half was Irish production designer Mark Geraghty, who, with a team of 40 construction workers, built a Whitechapel prison, autopsy room, bar and brothel in just eight weeks.
Mark Geraghty on set with Jerome Flynn & Matthew Macfadyen
Speaking to IFTN, Geraghty said: "We knew it was going to be very difficult to shoot it on location, so we looked for locations, locations, locations. We'd have had a very small scale movie if we didn't build, so really we needed a base, we needed a couple of streets to give the series a signature, and we came to Clancy Barracks and we found this place.
"We knew [it had] existing buildings; they're army buildings, not streets; but with a mid-size build we could turn it into something special. So we sat down and we made models of how this place would work, with add-ons and we'd a couple of streets and interiors here, so as long as everyone agreed on the model and the price and everything. There were 40 construction crew, all Irish, and we had model makers, drafts people, art directors, assistant art directors".
Warlow said: "It worked very well and it's a very clever design. We try to have half of our stories on a location, so it was a real gift."
Unlike other Jack the Ripper tales, which focus on the murderer himself, 'Ripper Street' is based on the detectives tasked on tracking him down. This unique subject was a big selling point to get the BBC on board, the creators said:
"When we started development, it was this kind of an easy sell, Jack the Ripper helped sell the show, we weren't interested in telling that story, we were interested in these characters who had gone through something and felt that they had failed massively and they had failed the community," said Warlow.

We've been quite research heavy, but we've pushed the limits. Finger printing was two or three years later so we can never do finger printing on the show, it's really infuriating "
The series, which unfolds over eight episodes, focuses on Inspector Edmund Reid, played by Matthew Macfadyen, Detective Drake, played by Jerome Flynn, and Captain Homer Jackson, played by Adam Rothenberg.
"Each episode is a different case, you go into a different world each week," says Gould. "The whole idea is that it's a cop show, the metropolitan police was just over 50 years old, it's about cops trying to keep order and chaos basically," adds Warlow.
"Some episodes are very Jackson-centric, some are very Drake-centric, and Reid is all the way through, which is something we were very happy to do, to let characters step forward and take on an episode. The 'box' is that it's a cop show; each week there is a crime and they solve the crime; the big thing is all this fascinating stuff going on around the edges," he said.
This fascinating stuff, according to the writers, is Reid's interest in all things technology. Gould said: "The show is quite fascinated by technology, and Reid himself, I think he's convinced that if tomorrow's policing was here today then we would have got Jack. They were on the cusp of so many advances in policing, but he's fascinated by all things technology. The first episode is all about very early cinema, with pictures that move. I think he's got this kind of belief that it will all come together around the corner."
Warlow said: "We've been quite research heavy in making sure that in terms of what's available, autopsies and forensic knowledge, is absolutely bang on, but we've pushed the limits, to a year or so. Finger printing was two or three years later so we can never do finger printing on the show, it's really infuriating. There are lots of other things that you can gently push, but we're pretty bang on in terms of what was scientifically available."

Reid is convinced that if tomorrow's policing was here today then we would have got Jack "
The actors themselves admit that before they signed on for their roles they weren't too immersed in the Jack the Ripper story: "For me [I was only familiar] from TV and films really, the Michael Caine Ripper, I remember seeing on TV," said Macfadyen; "I was a big fan of Alan Moore's film, which was a work of genius, but that's about as familiar as I was with it," said Rothenberg; "I didn't know much except they never caught him," said Flynn.
So why did they sign up? Macfadyen: "The writing, I think we'd all agree that usually it is the writing that gets you, unless it's a really new and different idea. The writing is brilliant, the way it constructs its sentences, it's not [actually] about Jack the Ripper."
Flynn agreed: "It's the world in which he paints, it's a very rich and textured world of London at that time, and as an actor it's not just a kind of episodic to have a crime and solve it, yes that tends to happen, but the characters, that's the strong element that runs through."
As previously reported on IFTN, all three actors revelled in filming on location in Ireland. Flynn had previously worked on location in Northern Ireland for 'Game of Thrones': "The Irish element for me has been an important part of [filming here], and I also worked on 'Thrones'. It's noble, the Irish influence in terms of the crew and the family feel. It really makes a difference, especially if it's a long job like this.
"There does feel, I shouldn't sound sentimental, but there does feel like a lovely atmosphere with the crew, and maybe it's that a lot of things are filming here and there's been a resurgence in big companies, it just feels like a lovely place to work," said Macfadyen.
"I think the family culture in Ireland is stronger than the British, so that rubs off here, and that's something that's very strong," added Flynn.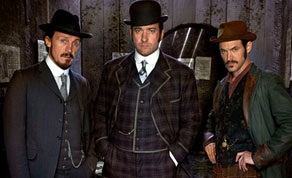 The cast of 'Ripper Street' in Lorna Marie Mugan's costumes
Among the British and American cast and crew, Irish crew made their mark on the Whitechapel set, with Irish cinematographer PJ Dillon (The Runway, Game of Thrones) working on two episodes, Emmy-nominated costume designer Lorna Marie Mugan kitting out the hundreds of cast members and extras, MovieExtras.ie supplying the extras, and Irish actors Charlene McKenna and David Wilmot featuring.
Screen Scene VFX and Egg Post Production also looked after post on the series, which wrapped filming in Dublin last July.
The production is estimated to have brought €8m revenue to Ireland in total, making it the second largest international co-production to benefit from Section 481 this year, behind The History Channel series 'Vikings', which raked in about €20m for Ireland.
'Ripper Street' episode one airs on BBC One on Sunday, December 30 at 9pm.
Read what happened when IFTN visited the costume department of 'Ripper Street' last May, with costume designer Lorna Marie Mugan.