An entire series of popular YouTube animations 'Sminky Shorts' is currently in development, with 'Take Me Out' producer Dee Ellis and writer of 'The Jason Byrne Show' John Henderson.
'Sminky Shorts', created by Cork-based animator Jason Sullivan, using the pseudonym Andrew James, began as a series of shorts featuring animals with distinct Irish accents.
After the shorts notched up more than 12 million views on YouTube, Sideline's new comedy venture The Comedy Division snapped up the opportunity to develop a series for an adult audience.
With the working title 'Where the Sun Don't Shine', James has now completed the initial treatment for the series. Dee Ellis, who has produced Sideline shows such as 'Take Me Out' and the pilot show of 'The Rubberbandits' for Channel 4, is producing the animated series, while script editor John Henderson, who is heading Sideline's new The Comedy Division, is also on board.
Creative director of Sideline Billy McGrath said: "Ireland is full of comedy talent across a gamut of genres and I suppose what we are trying to do is to target and work with the best and see what we can do to bring them on to the next level.
"As you can see with The Rubberbandits, Hardy Bucks, Damo and Ivor and now Sminky, the web is proving to be a great testing ground for new comedy talent – not just performers but also animators, producers, directors and writers. It's a great way to attract an audience and kick start a broadcast career that in the Hardy Bucks case has also spun off into the big screen."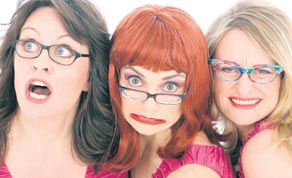 Sideline is also developing a studio show with comedy act The Nualas
Speaking of his animations, James, who recently signed with the Unites Agents talent agency in London, which has the likes of Ricky Gervais and James Corden on its books, told the Irish Times in September: "The stuff I have released is only the tip of what I have already created. I've been working on this for years on my own, and the plan was to make a pilot for a cartoon. That has been put on the long finger now, as everyone wants more of these shorts. I know this is a phase right now, and it mightn't last forever, so I need to capitalise on it."
Sideline developed The Comedy Division earlier this year, officially launching it in October. As reported on IFTN last week, one of the early developments is an Irish language version of 'Cheers', which is currently in the casting stage. As well as the 'Sminky Shorts' project, McGrath and his team are also developing a new studio series with comedy music act The Nualas, and a new sitcom with 'Moone Boy' director Declan Lowney.
Commenting on Sideline's recent comedy developments, McGrath added: "Also an eye opener for us was the amount of Irish comedy writers that had UK agents or based their sitcoms in the UK even though they were written in Ireland. So they knew where the market lies for original comedy scripts. One Irish writer we met even had a LA based manager."