Casting is currently underway for the Irish language version of popular US sitcom 'Cheers', IFTN can exclusively reveal.
Dublin-based production company Sideline, which is behind Irish formats of 'Mastermind', 'Take Me Out' and 'Family Fortunes', completed a deal with CBS in LA to re version the classic 80s sitcom just this week.
The original series, which ran for 11 seasons from 1982 to 1993, and cemented itself as one of the most successful sitcoms of all time, made stars out of Ted Danson, Kirstie Alley, Rhea Perlman, Kelsey Grammer and Woody Harrelson, who all went on to have successful film and television careers in Hollywood.
Casting, script editing and translation are now underway on the 275 scripts that Sideline has got its hands on. The Irish language version has the working title 'Teach Seán', and Micheál Ó'Meallaigh, commissioning director with TG4, who was across the CBS deal from the start, will back a full production submission to the BAI in January 2013. The project has already been approved for Section 481 funding.
Speaking to IFTN, Billy McGrath, creative director of Sideline, said: "I know some people think it's crazy but Sideline is now focused on both scripted and non-scripted formats. Is re-producing 'Cheers' any different than us producing a version of 'Mastermind', 'Take Me Out' or 'The Great British Bake Off' for Irish viewers?"
McGrath, who is a former commissioning editor for entertainment at RTÉ, and has extensive comedy script writing, editing and training experience, added: "Actually with a scripted format we have a lot more freedom and while we will have access to the original 275 'Cheers' scripts we do have the OK to adapt the 10 or 12 we need and change them for the Irish market.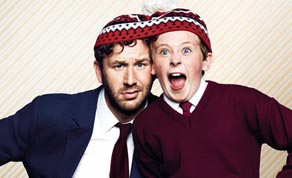 Sideline is also in talks with 'Moone Boy' director Declan Lowney for a new show
"The decision to option 'Cheers' is also a strategic one as the deal gives us a brilliant insider education on the execution, casting, writing and top class production values of one of most celebrated studio shows in TV comedy history. Where else in Ireland would a young sitcom writer get such training?"
McGrath has revealed he is currently working with three new sitcom writers as well as more experienced writers for additional projects. "The fact is that there are no studio sitcoms being produced by Irish broadcasters and haven't been for years. We also have access to one of the most experienced sitcom consultants in Hollywood and if the production [of 'Cheers'] does go ahead he will fly over to workshop the Irish writers employed to work on the project in a team writing exercise. Those Irish sitcom writers – new talent developed or optioned by [Sideline's] The Comedy Division – will then bring that unique experience and set of skills back to their own scripted sitcoms.
"The deal also is a two way opportunity for Sideline and CBS so Irish sitcom writers that we nurture have the chance for their best work to be read by CBS comedy executives, and from there who knows? We are opening doors in the UK for Irish comedy writers so why not the USA?" said McGrath.
McGrath set up The Comedy Division at Sideline last October, as revealed on IFTN. Having already made a name for itself in the format world, the production company now aims to produce a wide range of original Irish comedy projects for radio, TV, online and film.
As well as the 'Cheers' sitcom, McGrath told IFTN he is also working on another show with 'Father Ted' and 'Moone Boy' director Declan Lowney attached, and is awaiting confirmation that Channel 4 will greenlight an entire series around The Rubberbandits, whose pilot episode aired on the UK channel in November.
Sideline is also giving aspiring screenwriters the opportunity to develop their own comedy scripts, by holding a mini commissioning round for new original Irish sitcoms. The round, which will be held in March 2013, will see six of the best scripts read in front of a live audience with professional actors.
Due to the larger than expected volume of submissions, The Comedy Division is now only accepting at least a pilot episode script or some pages of dialogue along with a treatment, CV etc, via email at comedy@sideline.ie. More information will be posted on the Sideline website on Tuesday January 8 2013, but the closing date for submitting scripts is not until March 30.