Irish talent such as Brendan and Domhnall Gleeson, Robert Sheehan, Vincent Browne, Rachel Allen, Maureen O'Hara and Brendan O'Carroll, will all feature in homegrown specials this Christmas across RTÉ, TG4 and TV3.
all three stations have revealed their Christmas line ups, with a host of new shows and some Christmas classics to get Irish audiences in the festive frame of mind.
Brendan O'Carroll will light up both RTÉ and BBC screens with a Christmas special of 'Mrs Brown's Boys', which will see mother-of-five Agnes Brown attempt to cook a turkey and ham for all the family while finishing off decorating her house.
As already announced on IFTN, RTÉ will also air Christmas specials of 'School Around the Corner', hosted by Ray D'Arcy, and 'Local Heroes', which will see Joe Duffy step in front of the lens to find Ireland's most charitable people as they create jobs in their own communities.
TV personality and 'Big Brother' presenter Brian Dowling will front his own family quiz show called 'I've Got Your Back', which is being produced by Adare Productions, while Jedward are back for a new series of Tyrone Productions' 'OMG! Jedward's Dream Factory'.
Father and son acting trio Brendan, Brian and Domhnall Gleeson will be joined by 'Love/Hate' star Robert Sheehan, 'Threesome' actress Amy Huberman, 'Shadow Dancer' actor David Wilmot, plus more, for charity-based sketch show 'Immaturity for Charity', where the actors will help raise money for St Francis hospice in Raheny.
RTÉ has catered for foodies too with TV chefs Kevin Dundon, Rachel Allen and Donal Skehan hosting their own Christmas cookery progammes, demonstrating how to cook the perfect turkey, pudding, and all the trimmings.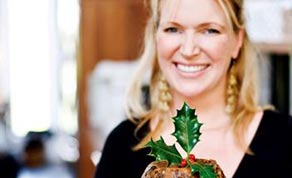 Rachel Allen will host a Christmas special of 'Cake Diaries'
TG4 is nurturing Irish talent with a raft of new documentaries, including Sé Merry Doyle's 'Dreaming the Quiet Man', which takes a look back at John Ford's iconic 1952 film 'The Quiet Man', and features interviews with actress Maureen O'Hara and filmmaker and Ford's friend Peter Bogdanovich, and 'Mise Éire- Lorg na gCos', a film which takes a look at the impact of one of Ireland's most famous films 'Mise Éire'. Long-running Irish language soap 'Ros na Rún' brings a host of surprise visits, unwelcome visitors, unsettling news, celebrations, bonding and drifting apart on Christmas Day, while TG4 continues with its all-year-round sports coverage with hurling and football All-Ireland finals.
TV3 meanwhile has enlisted journalist Vincent Browne to give a rundown of the highlights of 2012 in a 'Review of the Year' show, while Irish-born comic Graham Norton will interview 'Doctor Who' actor Matt Smith, Dustin Hoffman, Jennifer Saunders and Billy Connolly for 'Graham Norton's Christmas Special'.
TV3 will also air the highly-anticipated 'Downton Abbey' Christmas episode, as well as more homegrown shows 'Ireland's Favourite Christmas Toys' and 'One Direction: The Story So Far', which sees the boyband interviewed in TV3's new Sony HD Studio Dublin.
All three channels will air film classics such as 'The Snapper', 'The Full Monty' and 'Caddyshack' as well as more recent films 'Avatar', 'Lost in Translation' and 'Up' over the Christmas period.
See what Irish productions have made the UK stations' Christmas schedules here.