The 57th Corona Cork Film Festival wrapped after eight days yesterday (November 19), with a celebration of the best Irish and international short films in an awards ceremony.
Eamonn O'Neill took home the top spot in the Best Irish Short Film category for his film 'Left', which is based on two childhood friends who choose different paths.
Finnish filmmaker Jussi Hiltunen came out on top in the Best International Short Film category with his short 'All Hallows Week' (Hiljainen Viikko). The 18-minute film captures the trauma following a random act of violence.
The Cork Short Film Nominee for the European Film Awards was Cathy Brady's 'Morning', a film which mixes a power struggle alongside grief and ambition.
Barry Gene Murphy won the Best First-Time Irish Director of a Short Film for his project 'Two Wheels, Good', while Shaun O'Connor took home the 'Made In Cork' Award for Best Short Film for his film 'Uisce Beatha'.
Special Mentions went to 'Ballet Story' by German filmmaker Daria Belova in the Best International Short Film category; 'A Removals Job' by Nicholas Keogh in the Best Irish Short Film category, and Sean Breathnac for his film 'Solitude' in the First-Time Irish Director category.
The Cork Festival kicked off last Sunday (November 11), with the Irish premiere of Martin McDonagh's 'Seven Psychopaths'. It continued over eight days with a number of international screenings, including 'The Oranges' starring Hugh Laurie, and 'In Another Country', starring Isabelle Huppert.
Irish films screening at the annual event included Kirsten Sheridan's 'Dollhouse', ahead of its December 7 release date, and Donald Taylor Black's documentary 'Skin in the Game' which received its world premiere at the festival.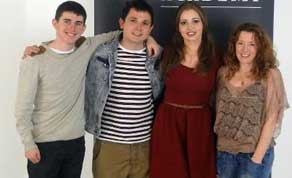 Kirsten Sheridan & the cast of 'Dollhouse' attended the screening
Among the other highlights of the festival were a Canon masterclass with IFTA-winning director Declan Recks; a writers panel with Kevin Lehane, Gerard Barrett and Audrey O'Reilly; and a post-production workshop with Screen Scene's Jim Duggan.
For all events at this year's Corona Cork Film Festival, please visit www.corkfilmfest.org.
The full list of winners from last night's event are below:
Best International Short Film
'All Hallows Week' (Hiljainen Viikko)
Jussi Hiltunen
Finland
Special Mentions
'Ballet Story'
Daria Belova
Germany
'Premature' (Prematur)
Gunhild Enger
Norway
Cork Short Film Nominee for the European Film Awards
'Morning'
Cathy Brady
England, Ireland
Best Irish Short Film
'Left'
Eamonn O'Neill
Special Mention:
'A Removals Job'
Nicholas Keogh
Claire Lynch Award for Best First-Time Irish Director of a Short Film
'Two Wheels, Good'
Barry Gene Murphy
Special Mentions:
'Solitude'
Sean Breathnach
'Buried In Light'
Siobhan Perry
'Made In Cork' Award for Best Short Film
'Uisce Beatha'
Shaun O'Connor
Award of the Festival for Best Short Film
'Oh Willy...'
Marc James Roels, Emma de Swaef
Belgium
Audience Award for Best International Short Film
'Rhinos'
Shimmy Marcus
Ireland
Audience Award for Best Irish Short Film
'Motion Sickness'
John McIlduff & Jessica Kennedy
OutLook Award for Best LGBT Short Film
'Next Door Letters'
Sascha Fülscher
Sweden