It's easy to see why Roger Deakins is often considered the finest cinematographer of all time. Revered in the movie industry, a glance at the nine-time Oscar nominee's filmography reveals a master whose camera has, more often than not, been behind some of the most iconic moving images of the past 20 years.
There's Andy Dufresne's lightening bolt-lit burst back into the outside world in 1994's powerful prison drama 'The Shawshank Redemption'; Frances McDormand's local police chief captured on film trudging through the stunning, sparse, snow-filled landscapes of North Dakota in 'Fargo'; the atmospheric tension of the beautifully shot 'No Country for Old Men' as Javier Bardem hunts Josh Brolin; or of the bleak re-imagining of the Wild West as Jeff Bridges' Rooster Cogburn chases down the Pepper gang in 'True Grit'.
In between, Deakins has worked his magic on a host of minor classics including 'The Reader', 'Doubt', 'The Village', 'The Hurricane', 'Dead Man Walking', 'Sid & Nancy', 'A Beautiful Mind' and the under-appreciated 'The Assassination of Jesse James by the Coward Robert Ford', for which he received one of two Oscar nominations in 2008 (the other being 'No Country for Old Men'). Notably, he's also been the go-to-guy for the Coen brothers, working on just about every one of their movies since 'Barton Fink' in 1991.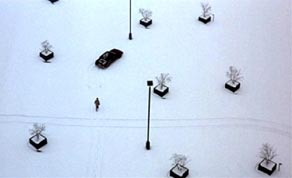 One of Deakins' shots from 'Fargo'
Speaking from his home in Devon, England, you'd almost forget how influential a canon of screen work the 63-year-old has helped create. Calm, humble and down-to-earth, Deakins comes across as almost nonchalant when pressed about his undoubted skills as a cinematographer. The sense is that he just does what he does. "I have an overall kind of approach to cinematography," Deakins has said, "that it should be as simple and submissive to the script as possible because I think that so much of it is the relationship between the camera and the actors."
The Torquay-born cinematographer's latest film is, with little doubt, the most highly anticipated release he's worked on. 'Skyfall', the 50th James Bond movie, is being rightfully acclaimed as one of the best in the franchise's 23 film history. Marking Deakins' third collaboration with director Sam Mendes (Jarhead, Revolutionary Road), 'Skyfall' is also Deakins' most mainstream work to date and by far the biggest feature – in terms of budget – that he's worked on in his near 40 year career.
"It was kind of longer than many [shoots] I've worked on," recalls Deakins of the eight-month shoot. "It was a much more complex schedule, but just on the day-to-day working of it, it didn't really vary that much.
"Obviously there are some sections, which are kind of complex and required second units and splinter units, stuff like that. I haven't done that many films where we've worked with a number of units like that. Mainly the opening sequence was heavy second unit. A lot of it was prepared by Alexander Witt (director of photography: second unit). He shot the whole sequence. We, the first unit, joined him in Turkey at the end of our schedule and then we went back and shot stuff with the actors to replace some of the action. In that sense it varied, in that the film was very much a jigsaw. It's not only different people shooting things, but it's also that the time you are shooting is so far apart, it becomes a jigsaw. That said, you know, most of the film we shot, basically with one camera so it didn't vary that much."

We would do a bit of pre-lighting so that by the time that I walked on the set with Sam [Mendes], the basic lighting would be done. That's the only way to do it on a film like that. "
From the subtle moves of that one camera through to a number of beautifully lit sequences, Deakins' stamp is all over 'Skyfall', particularly on a stunning neon-lit sequence in Shanghai where Bond chases a villain up a skyscraper.
"Originally that was kind of mooted as being shot in Shanghai," says Deakins of the sequence that ended up being shot in Pinewood Studios in England. "We were going to go to Shanghai for quite an extended period and shoot a number of sequences but then, for me, the problem with doing that [scene] on-location is that I couldn't control the kind of look that I was hoping to get.
"I talked to Dennis Gassner, the production designer, and I said 'well I really like the feeling of this being lit by these great big advertising screens, you know'. I said I don't see how we do that on-location. We talked about it and I said, 'why don't we do it on stage.' Gradually, most of the stuff that we were going to do in Shanghai ended up being done on stage.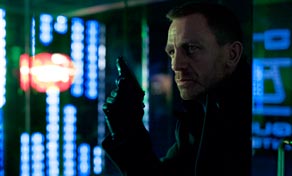 'Daniel Craig as Bond in the neon-lit Shanghai night scene
"The trick with the section was finding the right kind of big LED screens," he continues. "These were the ones that my gaffer John Higgins and I researched. We then actually shot tests over a number of months. It was then a matter of choosing the right one which gave us this size, but also the pixel resolution, which you have to be careful about when you're shooting, especially when you're shooting on a digital camera. It was a matter of finding exactly the right tool to light that set. Basically, once you've got that, the set is lighting itself. I mean that was the light source."
Remarkable lighting is one of the key traits of a Deakins-shot feature. Pick any one of the films he's worked on – from 'The Man Who Wasn't There' through to 'Skyfall' – and there are dozens of shots filled with shadows and silhouettes to create stunning images. As you might expect, most of the success in his execution of setting up and lighting a shot stems from his preparation.
"On a film like 'Skyfall', just about every shot was lit [in pre-production]," he says. "I basically worked out a plan before and talked it through with my gaffer, John Higgins. We would then go in the evenings, after a shoot was done, on to the next set and do a bit of pre-lighting so that by the time that I walked on the set with Sam [Mendes], on the morning of the shoot, the basic lighting would be done. I mean that's the only way to do it on a film like that. You certainly can't wait for the day. It's all too complicated.
"I mean some of the sets, like the Macau Casino [in 'Skyfall'], I spent a full two days pre-lighting that with an electrical crew. Hopefully it looks like it's just lit with a few candles, but actually a lot of work went in to it to make it look like that. But there's no way with sets like that that you can just walk in on the day. You start prepping them weeks in advance. I do anyhow. I talk with the set designer and the set dresser. We design lights - specific lights to go on the set - that I can use. It's a very long process."

I like to have a plan, even if I throw it out the window on the day because I have another idea… I like to have done everything that I need to do to have that prep ready for the morning's work "
This long process of preparation is an approach Deakins brings to every project he works on, even the smaller features.
"I do take the same approach. I mean I operate the camera myself so I feel that there's a little bit more pressure on me, on the day, so I really like to be prepared before the day. I like to have a general plan about how I'm going to light even the simplest of sets so that I don't have to walk on and sort of create things from the scratch. I like to have a plan, even if I throw it out the window on the day because I have another idea, but I like to have a plan that I know is going to work and I like to have done everything that I need to do to have that prep ready for the morning's work."
Deakins' preparations for 'Skyfall' also involved a switch from shooting on emulsion film to digital. This project marked his second feature in a row to opt for the ARRI Alexa over a 35mm camera.
"Well I'd shot that one film 'In Time' digitally on the Alexa, and I'd been testing the camera for quite some time as Alexa were developing it," he says of his decision to opt for the camera. "Frankly, I'd been thinking for a number of years that it's only a matter of time before digital capture is going to have more benefits than film and just shooting that first film 'In Time', I really felt.....When Sam talked about 'Skyfall' and the locations and the kind of look - a lot of low lighting; the underground world of London; or Shanghai at night - I just thought, well digitally is the way to go.
"I also thought that with the complexity of the piece I would probably feel more confident shooting digitally. I didn't go in with the pre-conception that I'd shoot it digitally. I showed Sam stuff that I'd shot and we talked about it and he said 'well let's go for it'.
"I think what attracted him to it was, not only the clarity that you get on an actor's eyes. I mean that really does show - the sharpness and the clarity of an actor's eyes on digital, compared with film - but also for the idea that you can keep the camera rolling a bit longer. You don't have to keep re-loading magazines. The fact also that on-set you can have a colour-calibrated monitor so Sam can see exactly what I'm intending, so I think that that's a really good bonus."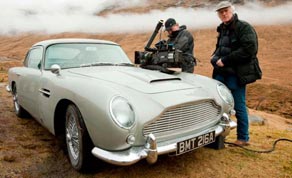 Deakins on the set of 'Skyfall' with his ARRI Alexa camera
Will he continue to shoot digitally? "I think so really. I think so, especially after 'Skyfall'. I mean we had so many different situations from really blinding, bright sunlight exteriors to the darkest of dark night interiors to a huge variety of colours. We put it through so many different challenges, I thought, and frankly I've been really impressed by the camera. I think that digital cameras will only develop and become even more sophisticated. Personally I think that that tipping point has come that digital is now a far superior capture medium than film really."
While many are tipping 'Skyfall' as the feature to finally land Deakins an Oscar at the tenth time of asking, it is his enduring relationship with Joel and Ethan Coen that he will, perhaps, be best remembered for. Over a 21-year working life he has made 11 features with the Coen brothers. "They're just great friends," he says. "I'd work with them anyway. They do such fantastic stuff, you'd be mad not too.
"I've worked with people I haven't got on with and I've worked with people that I just hit it off with from the word go. That's what happened with Joel and Ethan. We just got on from the moment we met really. I suppose there's a chemistry there and, in some sort of way, I can see things in their writing. I can read one of their scripts and I can see what they intend and that's obviously good for them."
Citing 'The Man Who Wasn't There' as his favourite movie with the Coens - ("We shot on a colour stock and then printed it on black and white") – he says that, despite his work being focused on the visual look of the film, it is always the script, rather than the visual possibilities a project might offer, that draws him to a job.

I'm not really interested in something just for its visuals alone, it's always about the script "
"I'm not really interested in something just for its visuals alone, it's always about the script," he says. "When Tim Robbins asked me to do 'Dead Man Walking'' - we'd worked together on 'The Shawshank Redemption' - and he said 'well you might not be interested in this because it's a prison movie. It's set in prison and I don't want it to be visually interesting. I want it to be really bland and matter-of-fact and banal.'
"I said, 'well that's great'. That really interested me. The worst thing would have been if he'd have come over and said, 'well I'm doing a film and I want it to look like 'Shawshank Redemption'. That's not interesting to me.
"I mean every script is very different, and it does really come from the script - the kind of visualisation. To work with the Coen Brothers, or to work with Sam, you can kind of see it in the script. It's kind of there, well I do anyway. It all starts with the script."
Despite the Oscar nominations, the multitude of career rewards and the accolades he's received, true to any skilled professional, Deakins says he's still striving to make his perfect film as a cinematographer. He stumbles when asked to pick a work of his own that he believes stands apart.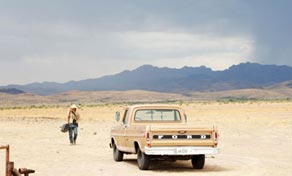 A shot from 'No Country for Old Men'
"I suppose I always kind of seem to think about the lost opportunities," he says of his reflections on finishing a project, "especially when you finish a movie, it's never as good as you thought it might me. Then you'll go back to it a few years later and think 'well actually it wasn't bad'. But when you're working on something, you're so close to it and you want it to be so perfect. You have such an idealistic idea of what it could be that it's very hard to look at a film objectively.
"I think that when you work on a film, there's never enough time, the weather's not exactly what you want it to be. There's always a compromise. As soon as you pick up the camera - whether it's a still photograph or film - as soon as you push that button you're compromising it. It's never exactly as you dreamed it could be, but that's the nature of the beast."
"There's films I've shot and worked on that I think are really great," he says when pushed to not be so humble. "I'm probably more pleased with them than others but they never got an audience. You go 'I don't know how that happened, but I still like them.' Even 'Jesse James' really didn't get much of an audience or 'The Man Who Wasn't There'. That's one of my favourites actually."
'Skyfall' is released tomorrow (October 26) through Sony Pictures International.
Watch the filming of the Shanghai night-scene in 'Skyfall' below: