Nordic crime drama is on-fire right now. From David Fincher's US adaptation of Stieg Larsson's novel 'The Girl with the Dragon Tattoo', to the US remake of 'The Killing' starring Joel Kinnaman and Mireille Enos, to the British remake of 'Wallander', Swedish crime has been rewritten, recast and rebooted more times than an ABBA song.
'The Bridge' is one series which had managed to escape this feat, until now. Originally embraced by Britain and Ireland when BBC Four aired it last year, 'The Bridge' was broadcast with subtitles and still managed to attract over 1 million viewers. It is now being remade in France and the US, as the second series of the original starts production.
Ahead of his Nordic Noir Masterclass at the Galway Film Centre's Seminar on Writing for TV Drama on October 5, creator and main writer Hans Rosenfeldt spoke to IFTN from his home in Sweden. We discussed what little research he did on the characters which have made him a household name in Britain and Ireland, how Swedish production traditions differ from those in Ireland, and how "thrilled" he is to visit Ireland for the first time.
Hans, I believe you're half way through writing the second season of 'The Bridge'?
Yes we are exactly in the middle actually. It starts shooting October 1, normally they shoot the first four so I guess around February or March somewhere I'll be finished.
How hands-on are you when it comes to production? Do you visit the set regularly?
No, I'm not on set at all actually! I see the tapings, I see the dailies, they put them up on a site, I'm not involved on set. We don't really have a tradition in Sweden, the writer is just the writer, they are very seldom on set. I trust the directors, we have a very close relationship. We had a long meeting yesterday about the four episodes, we talked about everything and what we wanted it to be and so on. We were on the same page there. You have to trust them, because now when they're shooting, I'm in the middle of writing, so I can't be on set.
How has writing the second series compared to the first one?
I think it's actually a little more difficult. It's easier in the way that you know the characters, but at the same time, because it's been successful, now people have expectations of what you should do. So it's a little more pressure. You feel you have to live up to the first season and hopefully do it better without repeating what you've already done.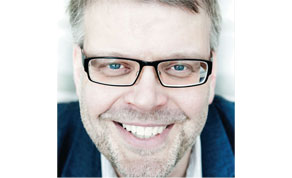 Hans Rosenfeldt
Can you give us any hints on what the second season might offer?
Saga and Martin are back of course. They work together again, it's been a little more than a year after season one, so it's been a year when they haven't worked together. When we meet them, Saga is pretty much in the same place, Martin has had a year away from all of it, but they're both together working a case, not on the bridge, but under the bridge. Saga is living together with a boyfriend, that's actually new for this season.
What can you tell us about what they find under the bridge?
It's not a body under bridge, but it's something that they have to deal with. We really thought of that, 'what should we do', and we thought that what we had to do. The last villain we had, Yens, he was in a way a larger than life [character], there were amazing stunts that he got away with, so we didn't want to put them on robberies or rapes. We had to create this kind of logical life scenario once again without repeating what we did last year, so it's also been a little harder than we [anticipated]. We wanted the same kind of scene around the case without it being the same case.
Where did the original idea for the series come from?
The original idea came from me, together with two of my colleagues (one being 'Spung' director Bjorn Stein). We were asked by a company in Sweden to write a series, they had another series that they decided not go for and then they had room for another one, so they turned to us. They said it would have to be something in Denmark because it would be funded from there and that was kind of all, they said 'do whatever you want' and we came up with 'The Bridge'.
How much research went into the characters of Saga and Martin? Saga has issues with social skills, many believe that she has Asperger's syndrome, and Martin has his own personal issues to deal with at home.
We did very little research on her. I know everybody says that she's got Asperger's syndrome, and although everybody's probably right in that, we never in the series say that. There's too much, if we say that this is a woman with Asperger's syndrome then you have to do your research because what do they do, what don't they do? We just created a person with absolutely no social skills. She does everything by the book, but if you make her interact with other people she's lost. When we did that, wherever she shows some kind of social behaviour, it's like, wait, she can't do that.
We started with Martin, because we have a long tradition of male characters in Sweden, we were trying to get away from everything that we'd seen before. It's [usually] pretty much the loner, estranged from his family, not in contact with his kids, drinking a little too much, doesn't really understand the times that we're in. We've seen that a lot. So we thought 'OK well this is a family man, this is a social guy, this is someone who, when he talks with his colleagues, he likes to talk about what he did last night, small talk'. So he came first as a sort of opposite in what we'd seen in all the Swedish male detectives in stories. Then we said 'OK, what is he up against?'. And then we came up with 'what about a woman with no social skills?' And we went from there.
Was it the intention to make Saga and Martin the really good guys, when everything else going on was so inherently bad?
They have flaws in their personal lives, but we wanted to make them good officers definitely, because we also felt that if that's what they're up against we have to feel like there's actually a chance that they could catch this guy sooner or later. So we wanted them to be the best.
Was the idea to show how, although these characters have many obstacles in their lives, they power through to achieve something great?
I see now in retrospect that it was, especially now that we've gotten some contact from the Asperger's Society in Sweden and they really liked the character just because, yes, she has this handicap, but she's good at her work. She's actually a boss over a small group of colleagues. I don't think it was intentional, but eventually we thought that if we give her this social handicap we really have to make her good at her job otherwise I don't think you'd like to see [the series] if she was socially handicapped and not very good at her job!
In season two will Saga and Martin's relationship develop more as partners?
She learned a few things during the time away. She does come out of her shell a little bit more, but not too much, because you really don't want to spoil the character and make her too normal. There are new things for her, especially the boyfriend thing, is totally new to her and she's not really in control of that part of her life. You will see new sides of her but without really changing the character.
Where did your own interests in crime and detective drama stem from?
I don't know I've always been interested since I was a little kid. I used to watch crime shows when they were on television, way before I actually think I should. Most of [my writing] is either crime or supernatural, I think that's where I get my ideas, I'm not very good at these two-hour family dramas.
Do you spend time in these crime/supernatural environments when you're writing to get inspiration?
No. I'm not one of those who has to do everything right, because I think to create a universe, and make it believable, if it looks great it works fine for the story. I'm not really good at the research.
Why do you think Irish and British audiences adopted 'The Bridge' over here, especially when it was subtitled? It attracted over 1 million viewers in its first episode on BBC Four.
I think the plotting and the way it was shot, it was beautiful to look at. It is very complex plotting which you usually get in an hour show. Here you have 10 hours, you have characters that don't have to be the same, you have character development, you have plot development over time. I also think we are kind of on a wave where Scandinavian crime is kind of big.
Why do you think that is?
I think that we've been doing it for quite some time so we got pretty good at it. I also think that we have a certain kind of darkness, some kind of moodiness. I mean usually when it's something dark it goes to 'Criminal Minds', you know, a lot of psychopaths, it's a little more dark in Sweden, we're not that happy. It's a little darker, it's a little more gloomy. I think what attracts is that it's not an evil dark, it's more like an emotional dark. We've been doing that a lot. I think we are quite good genuinely at producing characters. We spend a lot of time with our characters, as much time on characters as we do on plot.
The US are remaking a version of 'The Bridge' set on the Mexican border. Are you involved with this version?
I'm not at all involved in that. I know that they're doing it in Mexico, and that they have a cast.
How do you feel about somebody else writing the script you originally conceived?
Oh I'm happy, it's a huge honour that it can go forth. Two remakes is a great honour so I'm happy whatever it comes out as. I hope they take care of it, but I'm sure they will.
'The Bridge' has been compared to another Nordic crime drama 'The Killing'. Which came first 'The Bridge' or 'The Killing', and how do you feel about the comparisons?
Actually 'The Killing' came out first, but 'The Bridge' was in production about six years before. It was bought in 2005 and that was before 'The Killing', but 'The Killing' was faster out of the starting blocks. I've seen very few [episodes]. I think it's great, I saw some single episodes here and there, I should have of course seen more but I haven't.
You're giving a talk on Nordic at the Galway Film Centre on October 3. What can we expect from your talk?
It'll be my first time in Ireland, I'm thrilled! I hope there are a lot of questions. You can hear about the development of the series from me starting out in 2005 until six years later, about the production, about how we developed it plot wise and character wise. I hope a lot of my speech will be from audience [interaction]. You get to know everything you want about 'The Bridge' because I'm there, so anything you want to know I'm there!
Hans Rosenfeldt will take part in an in-depth look at Nordic Noir TV Writing at the Galway Film Centre on October 5. Also involved with this session are Declan Croghan, one of Ireland's leading crime writers and Richard Cottan, writer of two seasons of 'Wallander UK'.
This event is part of a two-day Seminar on Writing for TV Drama taking place on Friday/Saturday Oct 5/6 in Galway. Also taking place at the event is an interview with 'Game of Thrones' story editor Bryan Cogman, a look at the Irish drama landscape with Irish heads of drama and many more talks and panels. View the full event programme here.
This event is run in partnership with GMIT, Fás Screen Training Ireland and the BAI.