Commissioning a second series of a show before the first one even airs is virtually unheard of in the TV world. Chris O'Dowd and Nick Vincent Murphy's 'Moone Boy', however, has achieved this feat ahead of its air date tomorrow night (September 14) on Sky One.
It is no secret that British broadcaster Sky is currently making moves to cement itself in the comedy, reality and format worlds, with plans for more in-house productions like 'Trollied', and format shows such as 'League of Their Own' and 'Wall of Fame' airing in prime time slots. What may come as a surprise though, is an Irish-grown comedy, that is Irish-set, Irish-produced and Irish-starring, airing on a Friday evening slot on a British-based broadcaster.
Naysayers may equate this to the fact that Steve Coogan, who shifted his Alan Partridge-based comedy from BBC to Sky Atlantic, is backing Chris O'Dowd's 'Moone Boy' with his Baby Cow Productions.
Head of comedy at Sky, Lucy Lumsden, has different opinions. Speaking at the 'Moone Boy' premiere in Boyle, Co Roscommon last month, she said: "We love the show so much we decided to bring it back before transmission has occurred. If Chris's short film 'Little Crackers' was a postcard back home, then 'Moone Boy' is his love letter to Boyle and to his family."
'Little Crackers' was a series of comedy shorts Sky One aired in December 2011. O'Dowd developed one based on his own childhood growing up in Roscommon.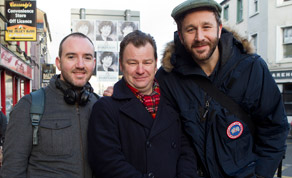 Nick Murphy (left), Paul Donovan & Chris O'Dowd filming Moone Boy in Boyle
'Moone Boy' takes a slightly different approach, with young Irish actor David Rawle playing Roscommon-native Martin Moone, who relies on the help of his imaginary friend Sean, played by O'Dowd, to get him through life with his three older sisters and the local bullies.
A stellar Irish cast makes up the Moone family, with 'Intermission' actress Deirdre O'Kane playing Martin's mother Debra; Peter McDonald playing the Moone father Liam; 'Earthbound' actress Aoife Duffin playing sister Trisha; Clare Monnelly (Electric Frank) as sister Fidelma and newcomer Sarah White as youngest sister Sinead.
O'Dowd wrote the script with Kilkenny native Nick Vincent Murphy (The Running Mate), a college friend who O'Dowd had previously worked with on 'Little Crackers'.
"It kind of made sense when the whole ['Moone Boy'] thing came up to get Nick involved because he had written a script that I really liked and we were trying to get off the ground. When we were given the opportunity to write a show I really wanted him to write it," said O'Dowd.
Murphy was just as pleased to work with his friend again: "It's absolutely great writing with Chris. Is there any competition? Absolutely not, but when he writes a killer scene I tell you I am a little bit jealous. I think it motivates us both to be as good as we can."
While Chris O'Dowd may have been what drew the youngsters to the casting auditions, it was the writing that attracted the experienced actors to Boyle. O'Kane says: "You do get a feeling for a job. I get it on the very first read through. I remember the first read of 'Intermission' and thinking 'Oh this is very special'. There were a lot of good people in the room, and I had the very same feeling with this when we did the read through. You can't go wrong if you get the mix right and the team is right and the writing is good. I think the writing on this is spectacular."
McDonald echoed that statement: "It was just real entertainment just to read it. I don't think any of the characters are like 'Oh my God look at the state of this character'. They've all really got their own world. Personally, I'd love to watch this." O'Kane agrees, adding: "There isn't a member of the family that you don't like, that you don't want to spend some time with."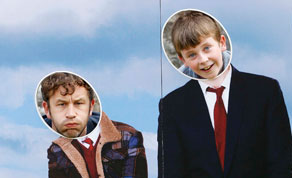 Chris O'Dowd and David Rawle
Production on series one of 'Moone Boy' mainly took place in Boyle in Co Roscommon, as well as Ardmore Studios in Wicklow and locations in Dublin. The authenticity of his hometown was most important to O'Dowd according to his fellow cast members Sarah White and Clare Monnelly: "He was there everyday. It's his baby so he was very involved and always available if you had questions… If you were confused about anything… It was just brilliant. It was great to have the writer on set."
Norma Sheahan, who worked with O'Dowd on 'The Clinic', and plays Debra's best friend in 'Moone Boy', said: "I am so impressed with the way he has worked. I knew he was talented, but I never thought he had the drive and ambition. He is so dedicated to this, I don't think the boy sleeps at all. He's producing, directing, writing, acting, he's phenomenal. He keeps an eye on everything because it's his life, he's so particular, in a very admirable way."
And the residents of Boyle only have admiration for O'Dowd too, as thousands flocked to Lough Key for an outdoor screening of the 'Moone Boy' premiere last month. Taking it all in his stride, O'Dowd commented: "People are excited and it's all so surreal. It's all such a novelty value, it's very odd, but it's great."
So how will a Roscommon-themed comedy show set in the 80s, airing as the first Irish show ever on Sky, go down with British audiences? The cast seem to think really well: "It is really funny though, I think it's universally funny. There is something nice about the Irish sense of humour that is kind of self deprecating and travels well. If you look at 'Father Ted' and those kinds of shows, I think it's going to go far."
Judge for yourself this Friday whether Sky is the limit for 'Moone Boy' when it airs on Sky One HD at 9.30pm.
Declan Lowney directed series one of 'Moone Boy', with Ted Dowd producing for Baby Cow Productions with Ireland's Grand Pictures. Chris O'Dowd and Nick Vincent Murphy' wrote the script. Baby Cow's Henry Normal was the executive producer.
David Rawle, Chris O'Dowd, Deirdre O'Kane, Peter McDonald, Norma Sheahan, Aoife Duffin, Clare Monnelly and Sarah White all star in the series. Johnny Vegas, Ian O'Reilly and Simon Delaney all feature, with special guest appearances from Steve Coogan and a number of Irish actors and comedians including Maeve Higgins. Series two of 'Moone Boy' is currently filming in Ardmore Studios in Wicklow.
Read an interview with 'Moone Boy' executive producer Henry Normal here.
Read an interview with 'Moone Boy' actor Johnny Vegas here.
View our 'Moone Boy' premiere gallery here.