Tackling two remakes in the space of two years, the first being 'Fright Night', and the second 'Total Recall', resulted in Colin Farrell declaring he would not act in a reboot or retelling of a story again, even before 'Total Recall' was completed. Listening to the Dublin-born actor share his experiences of working on Len Wiseman's set however, proves that a story worth retelling can still bring new experiences.
Despite the blockbuster status the plot of 'Total Recall' inevitably brought, Farrell admitted it's more about "intellect" and "emotional life" that draws him to a project: "I don't want to say a greater level of craft is needed [for a small film] but they affect you in a more emotional and intellectual way possibly than bigger films. [I'm] always looking for big films which have an intellect or have some kind of emotional life."
The role of Douglas Quaid/Carl Hauser not only brought physically demanding challenges, but forced Farrell to get into the mindset of such a complex character from a non-traditional way. With no back story from the character to draw on, due to his memory being erased, Farrell admitted it was a "tricky one to approach". He continued: "It's kind of an exercise in just staying present and trying to chart when and how the character was waking up to either memories of the past or to feelings of the past. I had over five months, I had loads of room to play around with that, when exactly and how exactly he's waking up to the idea that he was in love or is in love with Jessica's (Biel) character."
Jessica Biel, who plays Melina, the tough female character initially portrayed by Rachel Ticotin in Paul Verhoeven's 1990's original, also worked hard to get into character, working closely with both Farrell and director Len Wiseman. "Everyday Len and Colin and I would stand together and speak about where are we in the story, how much does he (Quaid) know, does he remember anything, what does she (Melina) feel, how does she feel? There was constantly this tightrope walking balancing of how do you handle this man, are you patient with him, are you aggressive towards him, are you just pissed off? It's basically all of those things wrapped into one because it's such a confusing reality for this person so it was a daily thing that Len had to walk me through and to sort of get there emotionally," said Biel.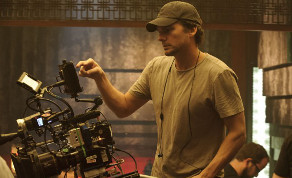 Len Wiseman on the set of 'Total Recall'
Farrell said he "didn't feel like there was any competition straight out of the gate" with his version of Quaid and Arnold Schwarzenegger's 1990 version. "Arnold Schwarzenegger was such a unique performer, down from the accent, the size, the dead pan one liners and stuff. I felt like I could go and do my own thing with it. Once we started shooting I completely forget there was an original it just became about, the same as it always is, taking a script and bringing it to life."
A large part of bringing it to life for both Farrell and Biel was down to director Wiseman's insistence on using as many tangible props as possible, as he thinks it's a "better experience". Biel says working with a real environment around her rather than relying on CGI and VFX in post-production helps get her into character: "It helps you to transform yourself and to be transported into the time and place that you need to be in. It's essential for your process."
Farrell echoes this statement: "I'd prefer to work on real sets. If you're shooting in a house, a house where somebody has lived or a house that actually exists on a street, second to that would be a room built in a studio, and I think third would not be a room at all, having to create it all with your imagination."
With the majority of filming taking place on practical sets, there was an opportunity for the cast to engage in some fun during fight and action scenes. Kate Beckinsale, who plays Lori in the film, acts out fighting sequences with both Biel and Farrell, as well as chase scenes in hover cars created especially for the shoot, involving all three main characters.
"It was fun to shoot. We had these incredible cars that they built for us and they were situated on top of race cars. Race car drivers would then drive us around all over this giant military base at 60miles an hour. We'd be screaming down, literally slamming into each other, practically making it happen so it felt so unbelievably real, and it was one of those moments where we'd all look at each other and just think 'wow we have the best job ever'," recalled Biel.
Working closely with Wiseman on set, who had a say in everything from set building to prop gathering and post-production was beneficial to Biel, who felt "supported" by the hands-on director: "When a director cares that much and gives you all of his attention when you need it, and is also able to give himself to the production team, to the art department, to the prop department, he's able to be in a million different places at once. It's the sign of somebody who just cares so much about what he's doing and you just feel supported. You feel like you can take this risk with this person and he will lead you to the end somehow in a positive way," she said.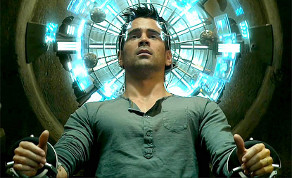 Colin Farrell in 'Total Recall'
Speaking of his future career choices, Farrell said trying to create a world with your imagination would "maybe work out", and that he will "have it to try it someday and find out."
Farrell is yet to take on such a role, despite starring in a number of fantasy adventures, such as 2003's 'Daredevil'; 2009's 'The Imaginarium of Doctor Parnassus' and 2011's 'Fright Night'. In between these roles however Farrell has peppered his career with smaller character-based films, such as Irish comedies 'Intermission' and 'In Bruges' and Neil Jordan's romantic drama 'Ondine'.
He says this mix of genres is a "conscious decision I make job to job". "I'm not standing back and looking at it in a meta way and going 'OK now I see where I've come, now it's time to do a small movie, now it's time to do a bigger movie'. I certainly know that there'd be people in my life like agents and stuff that'd be like 'you should probably do a bigger one', they'd be more looking at it on the grand scale of things.
"But I think naturally I'll never end up doing two or three big ones back to back and too many small ones, without trying to get a bigger one that comes up, something that I like. It's just nice to mix it up and it's nice to be part of different size films and genres. I garner a lot from each experience in different ways," he said.
Biel, who has dipped in and out of drama and action genres with roles in 'The Illusionist'; 'Blade'; 'The A-Team' and 'Valentine's Day', admitted the challenge of taking on an action role is "where the fun is", but that drama is the genre she most yearns for. "I do love drama, like a good old fashioned drama. Emotional tragedy, that kind of thing. I think it's inspiring to be afraid of not being able to pull it off and working under your own self-imposed pressure like that. I think for me that is a good place to start a film.
"I do feel like [Melina] is kind of a rare gem in a film like this, and many many actresses I think would have liked to play her. I think there could always be better meatier roles for women."
'Total Recall' is released in cinemas from tomorrow (August 29).
Read an interview with 'Total Recall' director Len Wiseman here.