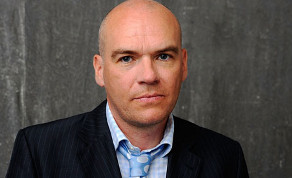 John Michael McDonagh
John Michael McDonagh and Octagon Films have been offered a €975,000 production loan from the Irish Film Board (IFB) for his upcoming feature 'Calvary'.
The film is among a number of feature films, animations and documentaries offered funding in the latest round of IFB funding.
In total more than €3.4m has been offered in production loans by the IFB. The Film Board has also offered more than €300,000 in development loans and nearly €59,000 in distribution funding. The total funding on offer is €3.84m.
John Michael McDonagh was previously given a provisional offer of commitment by the Board in April for the comedy, which stars Brendan Gleeson, Chris O'Dowd, Aidan Gillen and Kelly Reilly and is due to shoot in Ireland in September.
Scriptwriter Andrew Davies (Bridget Jones's Diary) and IFTA-winning writer Conor McPherson (The Eclipse) have also been offered €450,000 for 'Quirke', the feature film based on John Banville's crime novels of the same name. Gabriel Byrne will play lead Benjamin Black in the screen adaptation which is set in 1950s Dublin. Dublin's Element Pictures is backing the production.
Darren and Colin Thornton's (Two Hearts) debut feature film 'Ten Dates with Mad Mary' has been given a provisional offer of commitment in the latest IFB funding round following its recent success at the Berlinale Co-Production Market. The feature was the production that earned the most meeting requests at the event in February, and is based on the stage production of the same name by Yasmine Akram.
Element Pictures is on board to produce the screen adaptation which brothers Darren have Colin have wrote. Production is expected to begin in autumn this year, with Ed Guiney of Element producing.
Dieter Auner has also been given a provisional offer of commitment for documentary 'Circus on the Road', which is being backed by Siún Ní Raghallaigh's production company Ikandi Productions. Ní Raghallaigh has just been appointed Chief Executive of Ardmore Studios.
Auner previously worked with Ní Raghallaigh on documentary 'Off the Beaten Track', which was nominated for an IFTA Award this year. The documentary followed the changing world of shepherds in Romania.
Steven O'Riordan has been awarded €8,000 in a first stage production loan for his documentary 'No Limb No Limits'. The film charts the journey of O'Riordan's sister Joanne as she travels to New York to give the keynote speech at the UN's International Telecommunication Union, despite being born with no limbs. O'Riordan is directing the documentary with Adrian Devane of 2000AD Productions producing.
Other highlights of the IFB's latest funding round include 'The Day I Tried to Live' which received a €40,000 development loan in the fiction category. Lance Daly (Life's a Breeze) is directing, while Fastnet Films is behind the production.
Little Hen Television received a development loan for its animation 'Rykers World'. Cat Little will direct the Izzy Fox-penned script. Treasure Entertainment also received €15,000 in a development loan for 'Wild', which has been written and will be directed by Vivienne DeCourcy.

Production Loans




Project
Director
Writer
Production Co
Funding
First Draft Loans
The Internal World
David O'Reilly
David O'Reilly & Vernon Chatman
€16,000
Anglo Republic
Eugene O'Brien & Neal Rowland
€16,000
Tough Love
Matthew Roche
€12,000
Vere Goold
Rachel Lysaght & Glenn Montgomery
€16,000
The Boys
Virginia Gilbert
€12,000
Bloom
Barbara Deignan
€12,000
Fiction Development Loans
Wild
Vivienne DeCourcy
Vivienne DeCourcy
Treasure Entertainment
€15,000
Traders
Peter Murphy & Rachael Moriarty
Peter Murphy & Rachael Moriarty
Coco Television
€13,000
Ten Dates For Mad Mary
Darren Thornton
Darren Thornton & Colin Thornton
Element Pictures
€10,000
Blue City
Rebecca Daly
Rebecca Daly & Glenn Montgomery
Fastnet Films
€25,000
Nineteen Days And Counting
Kirsten Sheridan
Anne Marie McCormack
Black Sheep Productions
17,500
A Month In The Country
Jonathan Kent
John Banville
Treasure Entertainment
€20,000
The Day I Tried To Live
Lance Daly
Lance Daly
Fastnet Films
€40,000
The Zone
David Gleeson
David Gleeson
Wide Eye Films
€22,500
Honoured
Jasmina Kallay
Ripple World Pictures
€15,000
Scumbot
James Cotter
Ciaran Foy
Black Sheep Productions
€15,000
Animation Development Loans
The H Files
Tom Caulfield
Hugh Travers
Paper Dreams
€25,000
Rykers World
Cat Little
Cat Little & Izzy Fox
Little Hen Television
€16,000

Development Loans

Project
Director
Writer
Production Co
Funding
Fiction Feature Films
Ten Dates With Mad Mary
Darren Thornton
Darren Thornton & Colin Thornton
Element Pictures
Provisional Offer
Calvary
John Michael McDonagh
John Michael McDonagh
Octagon Films
€975,000
Quirke
Andrew Davies & Conor McPherson
Element Pictures
€450,000
The Cherry Tree
David Keating
Brendan McCarthy
Fantastic Films
Provisional Offer
Creeping Zero
Billy O'Brien
Jeff Noon
Grand Pictures
€300,000
The Price of Desire
Mary McGuckian
Mary McGuckian
EG Film Productions
€300,000
Fiction Creative Co-Production
Brand New You
Simon Pummell
Simon Pummell
SP Films
€150,000
Food Guide to Love
Teresa De Pelegri & Dominic Harari
Teresa De Pelegri, Dominic Harari & Eugene O'Brien
Parallel Film Productions
€275,000
A Thousand Times Goodnight
Erik Poppe
Erik Poppe
Newgrange Pictures
€300,000
Animation
Wildernuts
Andrew Kavanagh
Andrew Kavanagh
Kavaleer Productions
€250,000
Documentary
Three Men Go To War
Kim Bartley
Crossing The Line Films
€85,000
Waking
Morag Tinto
Soho Moon Pictures
€90,000
Sparlo
Keith O'Shea
Crow Hill Films
€25,000
Hill Street
JJ Rolffe
Warrior Films
€15,000
Circus On The Road
Dieter Auner
Ikandi Productions
Provisional Offer
Tied Up In Silk
Pat Murphy
Soho Moon Pictures
Provisional Offer
Way Out
Gerard Mannix Flynn
Farcry Productions
Provisional Offer
Absolute Derby
Laura McGann
True Films
€90,000
In the Name Of Dignity
Loic Jourdain
South Wind Blows
€40,000
Completion Fund
Me & Me Dad
Katrine Boorman
Merlin Films
€25,000
The Good Man
Phil Harrison
Phil Harrison
Treasure Entertainment
€26,000
Pilgrim Hill
Gerard Barrett
Gerard Barrett
Nine Entertainment
€15,000
First Stage Documentary
Memphis Project
Ian Palmer
Seafield Productions
€10,000
No Limbs, No Limits
Steven O'Riordan
2000AD Productions
€8,000
Pussycat Wars
John Murray
Crossing The Line Films
€10,000
The Last Taboo
Tom Roberts
Soho Moon Pictures
€10,000
Rex Ingram
Andrew Legge
Underground Films
€15,000
Distribution Loans
Project
Director
Writer
Production Co
Funding
Print Provision
Dreaming The Quiet Man
Sé Merry Doyle
Loopline Films
€3,500
Marketing Support
Dreaming The Quiet Man
Sé Merry Doyle
Element Distribution
€17,235
Silence
Pat Collins
Pat Collins, Sharon Woolley & Eoghan Mac Giolla Bhride
Element Distribution
€18,225
Direct Distribution
Barbaric Genius
Paul Duane
Screenworks
€7,235
My Brothers
Paul Fraser
Will Collins
Treasure Entertainment
€12,500