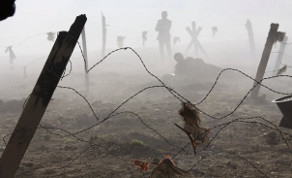 'Shellshock'
Irish short film 'Shellshock' has won the jury prize at the Bangkok International Student Film Festival, ahead of being screened as part of the festival's main competition from July 11-15 at the Bangkok Art and Culture Centre, Thailand.
The short focuses on a young Irishman struggling to readjust to normal life after fighting in the British Army during World War One. It stars Donal Gallery ('Game of Thrones), Jane McGrath (The Clinic) and Pascal Scott (Grabbers).
'Shellshock' was written and directed by John Corcoran as a graduation film at Dublin Institute of Technology's School of Media. The film was produced by Jean Igoe, and executive-produced by Gerry Johnston. Additional crew include director of photography Dean Kavanagh, art director Luke Benson, assistant director Sile Culley, editor Ruaidhri Magfhloinn and Burschi Wojnar, who looked after sound post-production.
In recent months, the film has also won at the National Student Media Awards, the Celtic Media Festival, the Royal Television Society Student Awards, and the Waterford Film Festival. Further information on the film can be found at its blog: shellshockfilm.blogspot.com