The John Ford Ireland Film Symposium concluded last night in Dublin with scholars and filmmakers from across the world ending a four-day celebration of cinema's most-lauded Irish-American director "in the land that he wished that he had been born".
Lively debates, incisive lectures, public interviews with filmmakers, documentary premieres, anecdotal stories on Ford, live music events and, of course, a series of screenings of Ford classics marked a hugely well-received inaugural event, which was organised by the Irish Film & Television Academy (IFTA).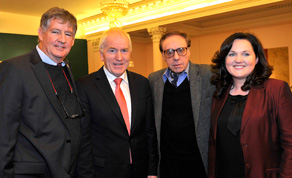 Dan Ford, Minister Jimmy Deenihan, Peter Bogdanovich and IFTA Chief Executive Aine Moriarty
Oscar-nominated Irish director Jim Sheridan, who took part in the Ford
Filmmakers Hub Directors Panel on Friday afternoon, commented that "the whole symposium has been great," adding that it was "fascinating" to hear in-depth discussion of Ford's work.
Sheridan added of the director – whose parents hailed from the West of Ireland: "I think that it [the Symposium] will help set Ford as an Irish director, as opposed to solely an American director. I think that it's an important event in bringing Ford home."
 Honorary Irishman and fellow Oscar nominee John Boorman commented that the four-day celebration of Ford's work was "a marvelous thing" adding of the series of screenings that included such classics as 'The Searchers,' 'Fort Apache,' 'The Quiet Man' and 'The Informer': "Ford's films play much better on the big screen than they do on DVD so it's fantastic that people have had the opportunity to see them again."
The Symposium was also attended by Ford's grandson and author Dan Ford who told IFTN that his grandfather "would have been tickled pink to be so appreciated and honoured in his ancestral home." He added: "I think he would have been delighted to have been here and he certainly would have appreciated the interest people are showing in his work today."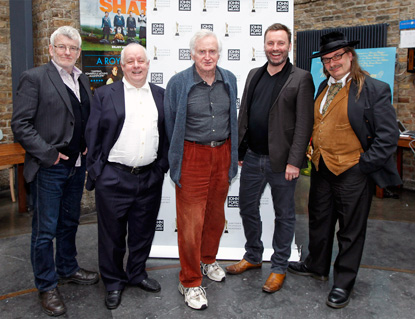 Ford Directors Hub with Thaddeus O'Sullivan, Jim Sheridan, John Boorman, Brian Kirk and MC Kim Newman
 As well as Sheridan and Boorman, the list of guests, filmmakers, academics and panelists who took part in the Symposium offered a series of interesting takes on Ford's work and the filmmaking process in general.
The guests included Oscar-nominee and 'The Last Picture Show' director Peter Bogdanovich; renowned film historian and Ford biographer Joseph McBride; Oscar-winning editor and long-time Clint Eastwood collaborator Joel Cox; musicians and film score composers David Holmes, Christopher Caliendo and Kyle Eastwood; screenwriters Colin Bateman, Pat McCabe, Eoghan Harris; directors Stephen Frears, Neil Jordan, Ian Power and Brian Kirk as well as a host of leading Ford academics which included Gaylyn Studlar, Charles Barr, Luke Gibbons, Kevin Rockett and Waylon White Deer.
While academic discussion and analysis of Ford's huge body of work saw the director rightfully hailed as a "master of the craft", the well-balanced Symposium saw critical appraisal of the Irish-American director include some less flattering analysis of Ford the man.
Peter Bogdanovich recalled - with some humour - Ford's frustrating unwillingness to open up on his work, which he would only refer to as "a job of work," something Ford's biographer Joseph McBride also discussed.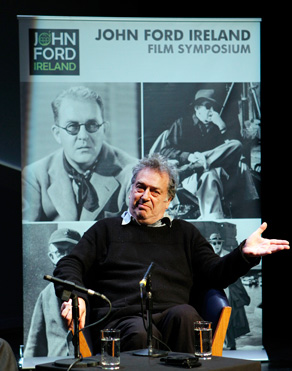 Stephen Frears in Conversation at John Ford Ireland
The Symposium had got underway last Thursday (June 7) with a rapturously received Irish premiere of Ford's 1924 silent masterpiece 'The Iron Horse' at Dublin's National Concert Hall with live musical accompaniment from US composer Christopher Caliendo and the RTÉ Concert Orchestra.
It continued on Friday with a series of events that included a Directors Panel, a Public Interview with Peter Bogdanovich and an Opening Lecture from Ford biographer Joseph McBride, whose 'Searching for John Ford' biography has been described by Martin Scorsese as a "treasure".
McBride's opening lecture – entitled 'John Ford: Poet and Comedian' – offered a take on Ford that examined his Irishness; his often cantankerous responses when probed by interviewers about his career and the use of comedy in this work to counterpoint tragedy. McBride commented that Ford seemed to "contrast the tragic with the ridiculous" all his life.
Saturday's highlights included the RTÉ Guide's Michael Doherty In Conversation With… with Oscar-nominated director Stephen Frears (The Queen), in which the director discussed his work and early career and recalled his years filming 'The Snapper' and 'The Van' in Ireland.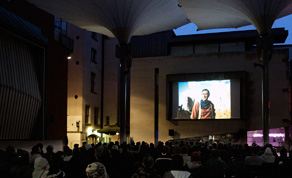 The Searchers outdoor screening
The day continued with a lively Writers Panel with screenwriters Colin Bateman (Divorcing Jack), Pat McCabe (The Butcher Boy), Ian Power (The Runway) and Eoghan Harris (Sharpe) as each writer discussed a series of chosen clips from Ford films.
 The near two-hour debate touched on Ford's influence on modern cinema; the use of rhetoric in his films and screenwriting as an art form with Harris using the scene in which John Wayne's Captain Brittles is presented with a watch in 'She Wore a Yellow Ribbon' to highlight Ford's power at handling sentimentality between his male characters. Each of the writers were quick to praise Ford's ability to tell his stories using images as opposed to dialogue and, as Power noted, at times "say so much using so few words".
As screenwriting was debated at the Symposium, editing supremo and long-time Clint Eastwood collaborator Joel Cox (Million Dollar Baby/Gran Torino) then held a Masterclass in Dublin's Project Arts Centre. The sold-out event, attended by a host of Irish editors, saw Cox discuss his working relationship with Eastwood and offer advice to would-be film editors.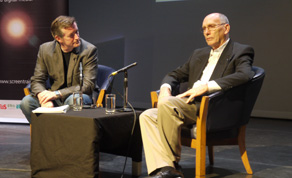 ScreenScene's Jim Duggan steers the Masterclass with Oscar winning editor Joel Cox
The Symposium concluded last night with the Dublin premiere screening of Sé Merry Doyle's 'John Ford: Dreaming The Quiet Man' and a 60th Anniversary screening of 'The Quiet Man' as talk among the guests and attendees turned to next year's event.
 Set to be an annual event, the Symposium and celebration of Ford's work will continue next year with plans already underway for the second edition of John Ford Ireland.
 Looking ahead to 2013, IFTA Chief Executive Áine Moriarty said: "The Academy is so proud that the John Ford Ireland Film Symposium will now be held in Ireland each year. The huge enthusiasm and high level of debate, discussion and re-engagement with Ford's work over the past four-days has reemphasised the importance of learning from this master-filmmaker. The Academy would like to thank all the guests, attendees, Ford enthusiasts, filmmakers and film fans who helped make the first John Ford Ireland Film Symposium such a success."
 For full gallery of images visit www.johnfordireland.org/ or www.facebook.com/iftaonline
A gallery of images from the event can also be viewed on the IFTN website here.
.........................................................
John Ford Ireland is an initiative of the Irish Film & Television Academy (IFTA) in association with the John Ford Estate in the US, with the support of Ireland's Department of Arts, Heritage and the Gaeltacht.

Saturday's industry events [Stephen Frears In Conversation and The Writer's Hub] were presented in association with the Irish Film Board; 'The Informer' and the 60th Anniversary Screening of 'The Quiet Man' were presented in partnership with the IFI; and the Joel Cox masterclass was supported by ScreenScene and FAS Screen Training Ireland.