Few areas around Ireland offer such variety of locations and accessibility as South Dublin. With a bustling city centre to its north, miles of coastline to its east and the Dublin Mountains in its southern most quarter, the area has proven a rich stomping ground for national and international filmmakers.
Recent high-profile productions in an around the South Dublin region have included the Sean Penn-starring 'This Must Be The Place;' gritty gangland series 'Love/Hate' (the most watched series on Irish TV in 2011), and John Ridley's much-anticipated Jimi Hendrix-biopic 'All Is By My Side.'
Located on the fringes of a bustling capital city, South Dublin also boasts a dedicated infrastructure to support film crews of all sizes, as well as offering Ireland's usual 28 per cent tax incentive through Section 481 to TV and film productions, making the region as attractive from a business sense as it is from a filmmaking one.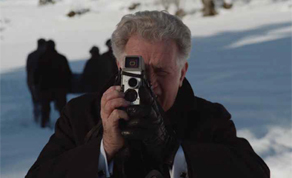 Martin Sheen in Stella Days
Of particular interest for international producers, however, is the region controlled by South Dublin County Council. Bounded by the Dublin Mountains to the south, this 222.74sq/km region stretches from the River Liffey at Lucan through Palmerstown, Clondalkin, south to Rathcoole and Saggart. It also includes Tallaght and stretches east to Templeogue and Rathfarnham.
Gail McGibbon, managing director of South Dublin County Tourism, describes South Dublin County as "a country experience on the edge of the city". It's hard to disagree. The nearby Dublin Mountains offer lush, scenic locations including the Glenasmole Valley, which boasts breathtaking views and was recently used during the filming of director Thaddeus O'Sullivan's 'Stella Days' starring Martin Sheen.
Located in a hollow just 12km from Dublin and at the foot of Kiltipper Mountains, the picturesque valley is a patchwork of small fields and hedgerows, open heath and wet grassland. There are two lakes on the valley's floor, one of which - Bohernabreena Reservoir- was also used in 'Stella Days.' For filming purposes, it offers panoramic views down into the valley and up into the surrounding hills and is devoid, for the most part, of modern infrastructure meaning it sits well in rural period pieces.
"You could be anywhere at any time," says location manager Dermot Cleary who used a farm house on the valley to double for 1960s rural Co Tipperary. "Bohernabreena could easily double for say, 1960s Co Donegal. It's just nestled in the valley and it feels like it's anywhere. There are loads of little pockets of great rural locations in South Dublin like that. It's hard to imagine that you are only a couple of minutes from Dublin."
However, only a couple of minutes from Dublin city centre you are, and McGibbon deepens that sense of a rural region on the outskirts of the city in pointing to a number of heritage spots that would sit well in rural and period productions. These include the old stone architecture of the Pearse Museum in St. Enda's Park with its riverside walk, waterfall and walled garden, to the grandeur of Rathfarnham Castle, first built in 1587. Both could double for just about anywhere at any period of time, particularly Britain or Ireland.
When it comes, however, to acting as a period town or city from another country, few regions in Dublin can top Dun Laoghaire, which falls under the control of Dun Laoghaire Rathdown County Council. The coastal town is currently mirroring swinging sixties London for director John Ridley's Jimi Hendrix-biopic 'All Is By My Side,' a city it is often re-imagined as by talented set designers.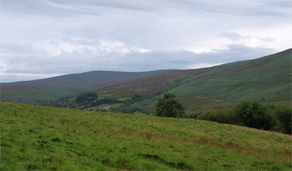 Glenasmole Valley
"I've used the Dun Laoghaire Rathdown area for various productions," says location manager Eoin Holohan, who is currently working on 'All Is By My Side.' "We used a house on Clarinda Park as our primary location on the BBC drama, 'The Silence,' which was set in Bristol. The terraced houses in Clarinda were an ideal match for Bristol. In general the houses in Crossthwaite Park, Belgrave Square, Clarinda Park are great for any drama that is set in residential London / Bristol. The style of these terraces is very similar to what you would find in the UK.
"It's also worth noting," Holohan adds, "that Cabinteely House and Marlay House belong to Dun Laoghaire Rathdown County Council. I've used Cabinteely House on productions as varied as 'The Clinic' and 'Honeymoon For One'. It's particularly suited to period films, and the staff there are great to deal with."
If such locations in the region are key to its attractiveness to filmmakers, Holohan's fellow location manager Dermot Cleary points to the proximity of locations in the South Dublin region to Dublin city centre and the savings in production budgets that this brings.
"All the crew are usually based in Dublin and Wicklow," he says, "So by getting locations in that area, you don't have to pay for travel for the crew to get there. So we would always try and get as many of our locations as possible around Dublin or Wicklow. In terms of that rural 1960s look in 'Stella Days,' places like Bohernabreena and Glenasmole worked a treat. It just has this lovely rural feel to it, but it's just 10 minutes from the M50."
Savings in travel costs is a bonus for tight production budgets, but it also helps that the country's main TV and film production hubs lie within touching distance of the region meaning the transition from location set to studio space can be carried out with ease.
RTÉ, the Irish state broadcaster, has its base in Donnybrook, south of the city centre, while TV3, its biggest Irish broadcasting rival, is situated in Ballymount, to the south-west of the city centre.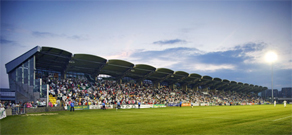 Tallaght Stadium
The country's two biggest film and television studios also lie within reach of the South Dublin region. Ardmore Studios, established in 1958 and recently home to huge productions such as 'The Tudors' and 'Camelot,' is located in nearby Bray, around 30 minutes drive from Dublin city centre and about 10 minutes from locations such as Bohernabreena. Further south of Ardmore lies the newly-opened Ashford Studios, an hour's drive from Dublin. The studio will shortly house the forthcoming multi-million TV series 'Vikings,' which is being made for The History Channel.
Eoin Holohan notes that the proximity of the studio is also attractive to using locations in the South Dublin area. "We always try to keep our locations as close to our production offices as possible," he says, "so any production based in Ardmore, will inevitably consider Dun Laoghaire Rathdown for locations."
While South Dublin County amply caters for period pieces and productions seeking to re-create idyllic locations in the past, it also offers some of best locations in the Dublin region for film and television productions seeking to recreate gritty, urban realism.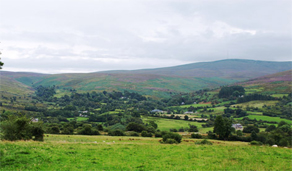 Glenasmole Valley
Areas such as Tallaght, Clondalkin and Saggart have a large number of areas offering gritty, urban locations in contrast to those nestled in the Dublin Mountains. Locations such as Tallaght and Clondalkin were widely used in RTÉ and Octagon Films' hugely popular gangland television series 'Love/Hate' to add natural realism to the production, a fact that benefited not only the overall finished result, but also helped immerse the actors in their roles.
'Love/Hate' actor Tom Vaughan-Lawlor noted that the "locations that we've been using are the real deal," adding that he found it relatively easy to get into the character of gangland boss Nidge because "we're living in the world so much so, where as in the first series I suppose we were in much more middle-class communities. This year we've really hit the streets."
Tallaght's use as a location has also extended to mirroring other regions. It recently acted as a double for 1990s Northern Ireland in 'Man On Wire' director James Marsh's 'Shadow Dancer,' which stars Clive Owen and will be released this August. Producers for the movie found that "the grittiness" of a lot of Tallaght's council houses worked well for Northern Ireland.
The Tallaght area of course is not just about gritty urban realism when it comes to film and television production. New additions to the area such as Tallaght Stadium have also regularly drawn film crews, while TV3's 'Tallafornia' used locations such as The Playhouse Nightclub and Tallaght Leisure Centre to show off one side of modern life in the area.
Any production that seeks to use Tallaght or any region in South Dublin County must go through South Dublin County Council, who play a central role in the use of any area for filming in the region. "We would be accommodating as best we can for film and TV crews," says Willie Sheils, senior executive officer with South Dublin County Council. "We try to help them and accommodate them as best we can. Unless it's something absolutely outrageous, it doesn't present a problem."
Sheils says South Dublin County Council are well versed in accommodating and facilitating the needs of film and TV crews having seen demand for use of areas in the region grow, particularly in relation to the Tallaght area and Tallaght Stadium. The council has also liaised with small international crews who come to film sporting events at Tallaght Stadium, which was opened in 2009.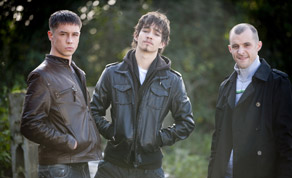 RTE Drama Love/Hate
"Because of the development of Tallaght Stadium, we've developed an even better relationship than we've already had with the local gardai," Sheils adds when asked how SDCC can offer invaluable help to location managers and film and television productions. "We work very closely with the gardai. So often you'll get a crew who need to close off a particular stretch of road and the local gardai are a key element of that to ensure that it's done properly. The fact that we've a good relationship with them means we can literally ring up the superintendent there and sort all those things for you."
Pat Nangle, location manager on 'Love/Hate' backs up Sheils' assertion of the council's willingness to help out film crews. "I find them very accommodating," he says of SDCC. "Anything that they can assist productions with, they're very happy to do. They obviously make sure there's no undue disruption to the public and insurance and all that is in place, but they're very good especially if you have to contact them at short notice. They always give you a dig out. When you have a friendly local authority, it's a real bonus."
With a willing and helpful county council on-hand and an ample variety of locations in South Dublin County, the region is only going to grow in appeal to international filmmakers, particularly if – as expected – the newly-built €22million Ashford Studios draws a stream of film and TV productions to the South Dublin and Co Wicklow region.
It helps then that infrastructure is in place to accommodate international cast and crew, with South County Dublin boasting 13 premier hotels with 2,800 bedrooms per night ranging from two-star to five-star properties. Gail McGibbon notes that, through South Dublin County Tourism, group packages and an online booking system is available to film crews with SDCT on-hand to provide logistic and marketing support. It just couldn't be easier.
Accessibility:
South Dublin is 30 minutes from Dublin City, Dun Laoghaire Ferry Port, Dublin Docklands and Dublin International Airport, right on the main motorway the M50 and linked to the gateway to roads to the rest of Ireland. The region is fully serviced by broadband and telecommunications.
Locations Ireland:
Locations Ireland - a thorough and comprehensive guide to Irish film locations has information on more than 60 filming locations to be found in South Dublin. To start exploring visit the IFTN locations guide.
For more details on South Dublin County see:
South Dublin County Council - www.sdcc.ie
South Dublin County Tourism - www.southdublincountytourism.ie