'Ballymun Lullaby' is a new Irish feature length documentary which tells the story of music teacher Ron Cooney, who has been working in Ballymun - the country's only high-rise housing estate - for fifteen years and his youth choir. Over the last few years the area has undergone significant change and Ron, along with his choir set out to produce a collection of music that gives a voice to their story.
The documentary, which saw director Frank Berry win the Director Finder Series Award from the SDGI this year, is now on general release in Irish cinemas. IFTN spoke to director Berry ahead the release about "the story that needs to be heard".
IFTN – Hi Frank, what can people expect to see when they buy a ticket for this documentary?
Frank Berry – Well, they can expect a film about an inspirational music teacher who is changing perspectives of young people who are taking part in his music programme in Ballymun. It is a film that reinforces the idea that people in a community can make a difference. It's a quality in the film that I think many people will respond to, particularly in these times.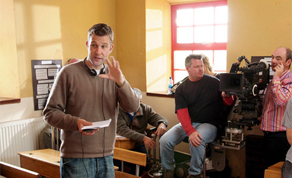 Director Frank Berry
IFTN - What was Ron Cooney like to work with?
Frank Berry - He is great to be around. We made the film with no production budget and it was very much inspired by Ron. He is quite an inspiring character. He operates a music programme on very little money and has a lot of passion for what he is doing, and I was inspired by him. I would go out and film him over a period of time, and you know he is very sincere and he has a very clear vision of what he wants to achieve and I think they are just great qualities. His music programme has really gone from strength to strength in the last ten years because of those qualities. I think people can tell when somebody is genuinely making a difference and when they are sincere.
IFTN - How did you actually get involved in the project?
Frank Berry - I had been making community videos for years for community initiatives around Dublin and charities. I made one of those community videos for Ron and the Ballymun Youth Programme in 2003 and I stayed in contact with them, over the years I would go out and film the odd event for them.
In February 2009, I went out to them because they were launching their brand new music room built as part of Ballymun regeneration for Ron and his programme. I was just bowled over by the degree of success he'd had at that time and I decided to make the film at that point. I just felt it was a very important story. When I got involved in the film I asked Ron would he maybe be interested in a year in the life of this new music room, something like that and he said, "It's funny you should say that Frank but we are working with a composer called Darragh O'Toole on a collection of music and Darragh is working with the young people - maybe that might be of some interest to you?". So I started following that which led to the creation and release of the EP 'Ballymun Lullaby' which is a collection of extraordinary music that comes from the hearts of the participants of this programme and that's the story of the film really.
IFTN - As you say, you've done community videos but this is the first feature documentary you have ever done. How was that for you as the director?
Frank Berry - It was great because we were using the same tools used in the community videos. Cameraman Kevin Duffy and I have been working together for many years and I felt I had a lot of freedom because it felt like we were making a piece of community film, it was an artistic work because it didn't have any client. We were telling a story that we wanted to tell. We always wanted to make a documentary, obviously, and the community videos we made were all like little documentaries anyway. We felt this was the story, this was the one that we wanted, so we just pursued it in the way we made the community videos - but we knew we were making something for the cinema so it was really exciting.
IFTN - What was the shoot itself like? How long did it last?
Frank Berry - We started in February 2009 and then we finished filming in September or October of 2010 so we were filming for quiet a while, the process took quiet a while but the shoot was hassle free because it was literally myself and Kevin and then our Executive Producer Joanne O'Hagan, who was really supportive, but still that was the only element.
So when you are dealing with such a small amount of people and a great subject matter then the film was really in our hands and we just filmed when we could, and made sure we were there for all the primary events in the story. It was great to try cinematic techniques, you know, in terms of shooting the film and to rush back and to take a look at them to try and achieve as much as we could, with no money really.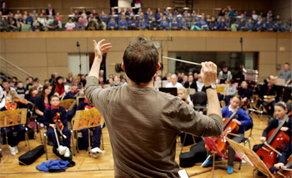 Ballymun Lullaby
IFTN - What did you enjoy most about the experience do you think?
Frank Berry - The part of the experience that was most enjoyable was probably the filming. Throughout the film the direction of it changed a little bit when I noticed that the composer Darragh O'Toole was asking the young people what story would they like the music to tell, and the young people said they would like to tell the story of old Ballymun and new Ballymun and those themes started to emerge in the film.
I started researching Ballymun and looked at whatever archive footage I could find. It became incredibly exciting during that period because I felt something very special was happening. I felt like a project that was very socially important was happening and I was there to film it. At the beginning when we started filming I was very much inspired by Ron and his music programme, but then as the project EP developed and these themes were coming out in the music I felt the film should also reflect those themes and so the film also tells the story of Ballymun, the rise and fall.
IFTN - You won the Directors Guild of America 'Directors Finders' Series this year, was that a big moment for you?
Frank Berry - Yes, it was an amazing thing to hear. It certainly brought the film to the attention of a lot of people internationally and at home and it was an incredible experience. I am very grateful for that. We went over in September and showed the film in the Directors Guild of America theatre to lots of Hollywood industry people and it was an incredible experience. It was a real boost to the film.
IFTN - It obviously garnered the film a lot of attention because it is now coming out on general release. How did that come about?
Frank Berry - Well the film is getting released through direct distribution by the Irish Film Board and it's screening in the IFI and Cineworld, who are actually showing it six times a day, so it's amazing. The Irish Film Board have been really, really supportive of the film and it's an inspirational film so I think it is good timing. We are having a premiere in the IFI on Friday and the Ballymun choir is going to be singing Christmas carols at the premiere so it's going to be a very special occasion - they are also singing at the Sunday screening as well so it is going to be a nice Christmassy event
'Ballymun Lullaby' was produced by Pulp Productions. It was directed by Frank Berry. Producers on the film were Frank Berry, Joanne O'Hagan and Alan Maher of the Irish Film Board. It goes on cinematic release on the 16th December.