Invited to come along to the set of 'The King of the Travellers' [previously entitled 'Grooskill'], IFTN last week journeyed to Inchicore, Dublin to catch a preview the film's final scenes before it wrapped in Galway at the weekend and caught up with the features cast and crew, among them director Mark O'Connor (Between The Canals), lead actor John Connors in his debut feature role, Peter Coonan (Between The Canals, Love/Hate), Michael Collins (Pavee Lackeen, Man About Dog) and producer Cormac Fox of Vico Films.
It's a wet and wild day in Inchicore and to look at the dreary exterior of the Inchicore social club you wouldn't think that inside there is all the glitz and glamour of a traveller wedding reception going on. With over 90 guests in attendance from every generation in their glad rags it really does feel like a party atmosphere as extras chat away while they wait in an adjoining room for a steady cam shot to be set up.

'The King of The Travellers', a co-production between Mark O'Connor's own production company Stalker Productions, John Wallace's Black Sheep Productions and Vico Films, tells a tale of Shakespearean proportions. With a mix of everything from King Lear to Hamlet the story centres around John Paul Moorhouse, played by John Connors, a young man haunted by the death of his father 12 years on and who has flashbacks which increase when a rival family, The Powers, a family he believes are behind his father's death, move back to the area. There is also a Romeo and Juliet style romance story intertwined into the story as John Paul falls for one of the Power girls. When we enter the social club, we head into a darkened pool room where director O'Connor is intensely watching back the rushes from earlier in the day, they show Michael Collins walking through a hallway on his way to the reception, it's eerie but watching the rushes one can't help but become entranced.
Director Mark O'Connor
With only four weeks of filming scheduled it's been a hectic few weeks for cast and crew but to look at them you wouldn't think so, spirits are high as the cast break for lunch with everyone chatting and laughing with each other. Cormac Fox of Vico Films tells IFTN, "It's been quite a long journey but it's been really good. I am surprised at how smoothly it's going actually. The first day of shooting however was that crazy wet day and we were out in a field late at night, so it was great craic", he laughs, "Apart from that, it's been grand." Chatting on set with cast who have been involved from the first conception of the film, there is a sense that this project has been a long time coming and that everyone is happy to see it come to fruition - a story about travellers, told by travellers rather than actors.
A big trademark of Mark O'Connor's directorial career has always been his steadfastness in the pursuit of portraying realism. In 'Between The Canals' he cast relative unknowns but made sure they were from Dublin's North Inner City. For 'The King of the Travellers', a story written by Mark and developed with traveller Michael Collins it is no different. As Mark says, "I am telling a story but also want to be true to the community." As such over 90 per cent of the cast come from the travelling community including main cast and extras and there is a real sense of family among them, most of them coming from the Collins clan.
Cormac tells IFTN, "with so many non-professional cast we thought it would be an issue, with them not used to being on set for long days." Some of the cast were unable to read so in order to get over this challenge the production team had to be a bit inventive, putting the script on to MP3 and CD so they could listen to their dialogue to learn it. "Mark is all about authenticity, there are obviously downsides to that, just a lot more rehearsal times but you discover some great talents," Cormac says.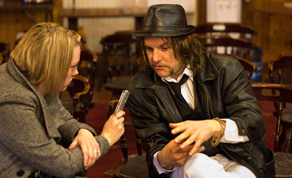 Actor Peter Coonan
interviewed by IFTN
One such undiscovered talent who comes to the fore in this movie is John Connors, who plays John Paul and who IFTN caught up just before he headed for lunch. "I'm finding it brilliant, a great new experience," he tells us.  John, who is dressed for a wedding with a full three piece suit and white rose corsage is being warned not to get his suit wet in the rain by the wardrobe team, so we wait in a mini bus for the weather to die down and he begins by telling us that he heard about the film through his cousin and contacted writer Michael Collins about getting involved in the project. As the story developed between Mark and Michael a new lead role became available; so John auditioned landed the part. .
When asked how he was finding working with Mark O'Connor he can hardly contain his admiration, "Absolutely brilliant. He just gives you so much freedom and he'll just let you do what you want to do. If you feel something he'll just let you go for it. He is just looking for creativeness and spontaneity. That is what he likes."
Actor Peter Coonan who is best known for his part in RTÉ's hit drama 'Love/Hate' as gangster Fran and who also worked with Mark before on 'Between The Canals' stars alongside Connors as his adopted (of sorts) brother Mickey 'The Bags'. A far cry from the image conscious Fran, Coonan dons gold teeth and a matching black leather trench and fedora. IFTN asked him what it was like to work with Mark again, "It has been brilliant. Mark had this idea in his mind and he's been putting it together and said he had written a character for me in it, which is obviously every actors dream so there was never any doubt that I would do it. Once again its been a great experience, seems like every time we are doing something we are doing it within a community and you learn something new about people who are living so close to you."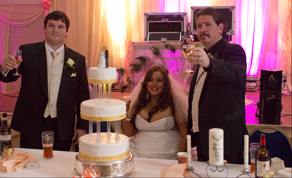 King of the Travellers
Peter's character Mickey 'The Bags' is not a traveller by birth. He was found by Black Martin, who is John Paul father, living with dogs at the age of three or four. He was then brought up by Martin's sister as one of her own. Peter says, "Mickey is kind of a wild character, some of the family accepts him, Francis (played by Michael Collins), doesn't really accept him and Mickey's torment lies in that, he over compensates with dress and behaviour. Being one of the only settled people in the film in some scenes it was easy to get the feeling of being an outsider."
A big contributor to 'The King of the Travellers' was traveller actor Micahel Collins who helped develop the story with Mark and plays Francis, uncle of John Paul and Mickey in the film. "I have to say I really enjoyed the filming of it." he says.  "The story is fictional, there are some elements you could link to the travelling community but it is fictional."
Capturing the travelling community honestly is at the foreground of everyone's mind, "The realism in it needs to be captured, even if there are some elements that some travellers will say, 'why did you show that?' or some of the traveller organisations might say 'you didn't have to show a fist fight', but that is something that is part of who we are and where we come from. Having the film done by travellers will mean people will accept it more as something that is there. It will work that way." All stunt scenes including the fist fights scene were choreographed by Paul Valentine (Jack Taylor, Your Highness) and John Sheridan (King Arthur, Your Highness).
"It was always a pleasure working with Mark… he's a lovely man and he is very open and he listens to everything people are saying. A ten year old traveller child walked up to him the other day and said, 'that wouldn't be in a traveller's caravan' and Mark said, 'would it not?' And he took it out," Michael recounts with laughter.
Writer and Actor Michael Collins
Later, over a cup of tea, Director Mark gives another example of their attention to detail when portraying the travelling community saying, "I am constantly learning on this film. We had this wine on the tables in the wedding scene, but Michael told me that they wouldn't have wine at a traveller wedding so it had to go."
With the shoot almost over, the entire production team has high hopes for this low budget Irish film, which was shot of RED cameras and was funded by the Irish Film Board, BAI and TV3.
Next it will go into post production at Screen Scene and Ardmore Sound in March and it is hoped it will be ready for the festival circuit in 2012. Producer Cormac enthuses there has already been interest from Sundance and Collins says "Everybody seems to work very well on this project. Everybody seems to be gelling together and there is a lovely buzz. I hope that buzz continues on after the film and it does well. I would love to see travellers and settled people coming and seeing this film and saying I enjoyed that. That would be the achievement for me and Mark."
To visit the films website click here
Keep reading IFTN for more information about 'King of The Travellers'